From seekingalpha.com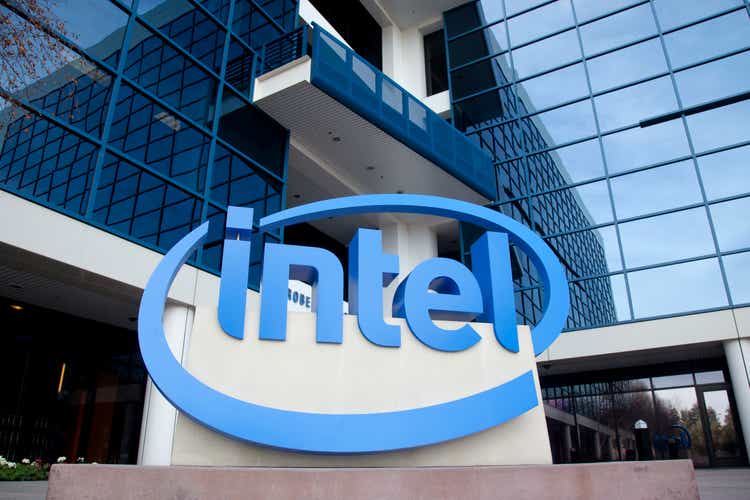 Investment Thesis
The Pat Gelsinger IDM 2.0 thesis for Intel (INTC) hinged on the combination of two distinct, yet complementary, investments. The primary one is of course the return to process leadership, which should act as a rising tide that lifts all other boats (business units) within Intel. Secondly, in order to really emerge as a growth company from this investment phase, Pat Gelsinger focused on three newer, currently small growth businesses that could grow rapidly over time.
One of those businesses is AXG, an investment that began two CEOs ago when BK hired Raja Kaduri from AMD (AMD) in order to build a full-fledged GPU business.
This business got a rough start last year given that the first wave of products (Alchemist for consumers and Ponte Vecchio for HPC/AI) was already delayed. Now, Intel announced another major delay in the post-Ponte Vecchio roadmap.
Overall, these kind of execution stumbles weaken the thesis, although they do not (yet) refute it since the primary thesis of regaining process leadership remains on track. However, product delays may prolong the thesis since it might take longer to derive shareholder value from this process leadership asset.
Background
This article incrementally updates the thesis laid out here: Intel Stock: Compelling New Xeon, Dividend Reduction (NASDAQ:INTC).
Falcon Shores XPU delay
In a blog post released during the weekend, and which is a bit reminiscent to the one in 2021 that announced the Sapphire Rapids delay (which ultimately wasn't the last Sapphire Rapids delay), Intel announced some changes to the data center portion of its AXG GPU business line.
The primary announcement was that Intel going forward would move to a two-year launch cadence, in the process cancelling a few products that had been in development. It is likely safe to guess that this change was made as part of the ongoing cost reduction efforts.
To be sure, this actually wasn't the real or noteworthy news, since Nvidia (NVDA) has been on a two-year cadence for its own business, and obviously Nvidia has quite a successful track record in all aspects from financials to shareholder value creation.
In addition, some outlets reported that Falcon Shores had been delayed from 2024 to 2025, but this was also not a really new item, since its predecessor Rialto Bridge (which has been cancelled due to this new two-year cadence) was last year announced for a 2024 launch, which obviously indicated already then that Falcon Shores had been pushed out to 2025.
Instead, the real news wasn't even in the blog post, but was revealed to the tech press. Intel stated that Falcon Shores would initially be just a GPU product, not an XPU. While not officially confirmed, this obviously seems to push the full-fledged Falcon Shores launch out to 2026, which is a noticeable delay from the initial (late) 2024 announcement.
For some context, Falcon Shores is Intel's response to Nvidia's Grace Hopper "superchip" which is scheduled to launch this year. Grace Hopper is a combination of Nvidia's Grace CPU and Hopper GPU on a single package, vastly improving memory bandwidth between the two chips. Since then, AMD has also announced its own MI300 chip, scheduled for late this year. So overall, this means Intel will be over two years late compared to its competitors even assuming a Q1'26 launch.
In fact, Falcon Shores is even more ambitious than both Nvidia and AMD's products, as Intel intended Falcon Shores to be a more flexible platform: it will be able to accommodate other chiplets as well besides just a GPU and CPU.
Significance
To be sure, actually I would not necessarily lend too much significance to this delay. Even Nvidia itself has admitted that it was not going to become a major competitor to Intel Xeon and AMD Epyc with its Grace CPU, which by extension indicates that overall Nvidia sees its Grace and Grace Hopper products as relatively niche, intended for a very specific (subset of the) market.
In other words, Nvidia has built a successful business selling just GPUs (which attach to the CPU via conventional methods). Hence, nothing is stopping Intel (in principle) from accomplishing the same with a GPU-only Falcon Shores product, while also providing the CPU via its Xeon portfolio.
Instead, the point is more philosophical, which is that Intel is announcing yet another delay of a major product in an important business. This is the case despite Pat Gelsinger intending to rebuild Intel's execution engine. It is also despite that Pat Gelsinger when he joined Intel in early 2021 said that he had found out that Intel never lost its packaging leadership (and Falcon Shores relies heavily on packaging).
In addition, since this is about a 2025 product, there are little excuses anymore this being a product that was already far in development (as was the case with Sapphire Rapids). Lastly, obviously many observers have been quick to point out how much later to market it is compared to AMD and Nvidia.
Competitiveness
Despite these roadmap changes, I do not really agree with some of the competitiveness comments I have seen, because as noted above Nvidia has exactly the same two-year cadence as what Intel is now moving to.
First, given the Rialto Bridge cancelation, this means Ponte Vecchio will be Intel's data center workhorse until 2025. But this is not an issue at all since Ponte Vecchio is a leadership product. It is competitive with Nvidia's latest Hopper GPU; both are N5-class products with on the order of 100B transistors.
The only issue, and which is likely a major part of why some outlets have doubted Intel's ability to be competitive, is that Ponte Vecchio lacks a transformer engine, which speeds up the kinds of workloads like ChatGPT. However, from Nvidia's own benchmarks, the speed-up, while noticeable, is not game-changing. Overall, the H100 is about 2x faster than the A100, whereas in the BERT benchmark where the transformer engine can be used, the H100 is about 2.7x faster. While this suggests on this one workload Hopper may achieve a noticeable lead, given Intel's likely lower pricing (as an entrant in this market), Ponte Vecchio will likely still be competitive (or even leading) in terms of performance per dollar.
Moving forward, Nvidia is unlikely to launch its successor until late 2024. Hence, if Falcon Shores launches in the first half of 2025 (which is exactly what a two-year cadence implies given that Ponte Vecchio after its own string of delays launched in January), then these next-gen competitors should have a similar launch window (especially given the two-year cycle these products will compete for).
Secondly, there is no reason at all why a Falcon Shores GPU in 2025 (even if it lacks an XPU version) shouldn't be competitive on a GPU vs. GPU basis. In fact, given that this GPU is supposed to use Intel's industry-leading 20A or 18A process (as Intel claimed "angstrom-era process" during the initial announcement, and TSMC will still be on N3 in 2025), this has a high chance of becoming an "unquestioned leadership" product, which is squarely in line with the thesis of Intel regaining unquestioned leadership in 2024-2025.
Note that given the use of "angstrom-era" process, Falcon Shores was never expected to launch before late 2024, so an early 2025 launch would still be respectable, although that is to be confirmed.
Financial implications
At last year's investor meeting, Intel (per Raja Koduri) put out a quite ambitious goal of growing AXG revenue (across all of its product lines) from basically nothing to "approaching" $10B by 2026.
Of course, given the execution issues already in the first wave of products last year with Ponte Vecchio and Alchemist, and the additional roadmap changes discussed here, it seems ever more unlikely that Intel will achieve this goal. Obviously, this as well as the product updates discussed above is something investors should look for any discussions about in the April earnings call.
Overall, Intel has a diversified portfolio of business to drive growth, so as Intel said last year it does not need every bet to be (highly) successful. However, given the downturn in financials over the last year in its legacy PC and DC businesses, Intel likely needs these emerging businesses more than ever to achieve the revenue targets it was aspiring to before the current revenue decline began.
Investor Takeaway
There is no defence for Intel announcing the delay of the Falcon Shores XPU to (what seems) 2026. This is, not for the first time, sloppy execution yet again. This is even more so that case as this is a product that is supposed to leverage Intel's packaging expertise, where it has never had any competitiveness issues. Intel will be years late in launching a competitor to products Nvidia and AMD are launching this year.
Nevertheless, the market size for this kind of XPU product is likely not all that big since this is new market, and with the GPU-only Falcon Shores supposedly still on track for what should be the first half of 2025 (taking the phrase "two year cadence" at face value), then this should still be a relatively early product using Intel's 20/18A "angstrom-era" processes, which should make it possible to achieve unquestioned data center GPU leadership. In the meantime, Ponte Vecchio should remain competitive against Hopper since Nvidia has already been doing a similar two-year cadence.
Overall, this new product delay announcement somewhat challenges the thesis, again due to Intel's own issues, but it is (still) not broken, even if Intel is admittedly again testing the patience of its investors.
This article was written by

With an engineering background, looking for companies with expertise to be well-positioned for growth and leadership.
Disclosure: I/we have a beneficial long position in the shares of INTC either through stock ownership, options, or other derivatives. I wrote this article myself, and it expresses my own opinions. I am not receiving compensation for it (other than from Seeking Alpha). I have no business relationship with any company whose stock is mentioned in this article.
The post Intel Announces New Major Product Delay, But Should Remain Competitive (NASDAQ:INTC) first appeared on seekingalpha.com
In many places around the world, horse races are an attraction that a lot of people love to watch. With the fast-paced action and thrill that each game provides, it is no longer surprising to know that millions of fans have grown fond of it.
Cybersecurity threats have become vast and more sophisticated. The rate of malware attacks and malicious activity counts within seconds despite the size or sector the organization belongs to — no one is safe enough to expect that foe actors will bypass vital company resources.