From www.techradar.com
TechRadar Verdict
The Intel Arc A770 isn't the best graphics card on the market, and even though it was released just over a year ago, in many ways it's about a generation behind more recent releases from Nvidia and AMD. But as a first attempt at a discrete graphics card release, the Arc series GPUs are surprisingly decent, and the Arc A770 has a lot going for it at its current MSRP, making it a good choice for 1440p gamers on a budget.
Pros
+

Great 1440p performance for DirectX 11/12

+

Hardware AI cores

+

Competent ray tracing

+

Good pricing for a 1440p card
Cons
–

DirectX 9/10 performance is very bad

–

Relatively power hungry

–

A generation behind the competition
Why you can trust TechRadar We spend hours testing every product or service we review, so you can be sure you're buying the best. Find out more about how we test.
Intel Arc A770: One-minute review
The Intel Arc A770 has had quite a journey since its release back on October 12, 2022, and fortunately, it has been a positive one for Intel despite a somewhat rocky start.
Right out the gate, I'll say that if you are looking for one of the best cheap graphics cards for 1440p gaming, this card definitely needs to be on your list. It offers great 1440p performance for most modern PC titles that most of us are going to be playing and it's priced very competitively against its rivals.
Where the card falters, much like with my Intel Arc A750 review earlier this year, is with older DirectX 9 and DirectX 10 titles, and this really does hurt its overall score in the end. Which is a shame, since for games released in the last five or six years, this card is going to surprise a lot of people who might have written it off even six months ago.
Intel's discrete graphics unit has been working overtime on its driver for this card, providing regular updates that continue to improve performance across the board, though some games benefit more than others.
Naturally, a lot of emphasis is going to be put on more recently released titles. And even though Intel has also been paying attention to shoring up support for older games as well, if you're someone with an extensive back catalog of DX9 and DX10 titles from the mid-2000s that you regularly return to, then this is not the best graphics card for your needs. Nvidia and AMD drivers carry a long legacy of support for older titles that Intel will honestly never be able to match.
But if what you're looking for is the best 1440p graphics card to play the best PC games of the modern era but you're not about to plop down half a grand on a new GPU, then the Intel Arc A770 is going to be a very solid pick with a lot more to offer than many will probably realize.
Intel Arc A770: Price & availability
How much is it? US MSRP for 16GB card: $349 (about £280/AU$510); for 8GB card: $329 (about £265/AU$475)
When was it released? It went on sale on October 12, 2022
Where can you buy it? Available in the US, UK, and Australia
The Intel Arc A770 is available now in the US, UK, and Australia, with two variants: one with 16GB GDDR6 VRAM and an official US MSRP of $349 (about £280/AU$510), and one with 8GB GDDR6 VRAM and an official MSRP of $329 (about £265/AU$475).
Those are the launch MSRPs from October 2022, of course, and the cards have come down considerably in price in the year since their release, and you can either card for about 20% to 25% less than that. This is important, since the Nvidia GeForce RTX 4060 and AMD Radeon RX 7600 are very close to the 16GB Arc A770 cards in terms of current prices, and offer distinct advantages that will make potential buyers want to go with the latter rather than the former.
But those decisions are not as cut and dry as you might think, and Intel's Arc A770 holds up very well against modern midrange offerings, despite really being a last-gen card. And, currently, the 16GB variant is the only 1440p card that you're going to find at this price, even among Nvidia and AMD's last-gen offerings like the RTX 3060 Ti and AMD Radeon RX 6750 XT. So for 1440p gamers on a very tight budget, this card fills a very vital niche, and it's really the only card that does so.
Intel Arc A770: Design
Intel's Limited Edition reference card is gorgeous
Will fit most gaming PC cases easily
Intel Arc A770 Limited Edition Design Specs
Slot size: Dual slot
Length: 11.02 inches | 280mm
Height: 4.53 inches | 115mm
Cooling: Dual fan
Power Connection: 1 x 8-pin and 1 x 6-pin
Video outputs: 3 x DisplayPort 2.0, 1 x HDMI 2.1
The Intel Arc A770 Limited Edition that I'm reviewing is Intel's reference model that is no longer being manufactured, but you can still find some stock online (though at what price is a whole other question).
Third-party partners include ASRock, Sparkle, and Gunnir. Interestingly, Acer also makes its own version of the A770 (the Acer Predator BiFrost Arc A770), the first time the company has dipped its toe into the discrete graphics card market.
All of these cards will obviously differ in terms of their shrouds, cooling solutions, and overall size, but as far as Intel's Limited Edition card goes, it's one of my favorite graphics cards ever in terms of aesthetics. If it were still easily available, I'd give this design five out of five, hands down, but most purchasers will have to opt for third-party cards which aren't nearly as good-looking, as far as I'm concerned, so I have to dock a point for that.
It's hard to convey from just the photos of the card, but the black finish on the plastic shroud of the card has a lovely textured feel to it. It's not quite velvety, but you know it's different the second you touch it, and it's something that really stands out from every other card I've reviewed.
The silver trim on the card and the more subtle RGB lighting against a matte black shroud and fans really bring a bit of class to the RGB graphics card I typically see. The twin fans aren't especially loud (not any more so than other dual-fan cards, at least), and the card feels thinner than most other similar cards I've reviewed and used, whether or not the card is thinner in fact.
The power connector is an 8-pin and 6-pin combo, so you'll have a pair of cables dangling from the card which may or may not affect the aesthetic of your case, but at least you won't need to worry about a 12VHPWR or 12-pin adapter like you do with Nvidia's RTX 4000-series and 3000-series cards.
You're also getting three DisplayPort 2.0 outputs and an HDMI 2.1 output, which puts it in the same camp as Nvidia's recent GPUs, but can't match AMD's recent move to DisplayPort 2.1, which will enable faster 8K video output. As it stands, the Intel Arc A770 is limited to 8K@60Hz, just like Nvidia. Will you be doing much 8K gaming on a 16GB card? Absolutely not, but as we get more 8K monitors next year, it'd be nice to have an 8K desktop running at 165Hz, but that's a very speculative prospect at this point, so it's probably not anything anyone looking at the Arc A770 needs to be concerned about.
Intel Arc A770: Specs & features
Good hardware AI cores for better XeSS upscaling
Fast memory for better 1440p performance
Swipe to scroll horizontally
Intel Arc A770 specs

| Header Cell – Column 0 | 8GB | 16GB |
| --- | --- | --- |
| GPU | ACM-G10 | ACM-G10 |
| Base Clock | 2100MHz | 2100MHz |
| Boost Clock | 2400MHz | 2400MHz |
| Shader Count | 4096 | 4096 |
| Ray Processors | 32 | 32 |
| AI/Matrix Processors | 512 | 512 |
| L2 cache | 16MB | 16MB |
| Memory Pool | 8GB GDDR6 | 16GB GDDR6 |
| Memory Clock | 2000MHz | 2184MHz |
| Memory Speed (Effective) | 16 Gbps | 17.5 Gbps |
| Memory Bus | 256-bit | 256-bit |
| Memory Bandwidth | 512 GB/s | 559.9 GB/s |
| TDP | 225W | 225W |
| Suggested PSU | 550W | 550W |
Intel's Xe HPG architecture inside the Arc A770 introduces a whole other way to arrange the various co-processors that make up a GPU, adding a third, not very easily comparable set of specs to the already head-scratching differences between Nvidia and AMD architectures.
Intel breaks up its architecture into "render slices", which contain 4 Xe Cores, which each contain 128 shaders, a ray tracing processor, and 16 matrix processors (which are directly comparable to Nvidia's vaunted tensor cores at least), which handle graphics upsampling and machine learning workflows. Both 8GB and 16GB versions of the A770 contain eight render slices for a total of 4096 shaders, 32 ray processors, and 512 matrix processors.
The ACM-G10 GPU in the A770 runs at 2,100MHz base frequency with a 2,400MHz boost frequency, with a slightly faster memory clock speed (2,184MHz) for the 16GB variant than the 8GB variant's 2,000MHz. This leads to an effective memory speed of 16 Gbps for the 8GB card and 17.5 Gbps for the 16GB.
With a 256-bit memory bus, this gives the Arc A770 a much wider lane for high-resolution textures to be processed through, reducing bottlenecks and enabling faster performance when gaming at 1440p and higher resolutions thanks to a 512 GB/s and 559.9 GB/s memory bandwidth for the 8GB and 16GB cards, respectively.
All of this does require a good bit of power, though, and the Arc A770 has a TDP of 225W, which is higher than most 1440p cards on the market today.
As far as features all this hardware empowers, there's a lot to like here. The matrix cores are leveraged to great effect by Intel's XeSS graphics upscaling tech found in a growing number of games, and this hardware advantage generally outperforms AMD's FSR 2.0, which is strictly a software-based upscaler.
XeSS does not have frame generation though, and the matrix processors in the Arc A770 are not nearly as mature as Nvidia's 3rd and 4th generation tensor cores found in the RTX 3000-series and RTX 4000-series, respectively.
The Arc A770 also has AV1 hardware-accelerated encoding support, meaning that streaming videos will look far better than those with only software encoding at the same bitrate, making this a compelling alternative for video creators who don't have the money to invest in one of Nvidia's 4000-series GPUs.
Specs & features: 3.5 / 5
Intel Arc A770: Performance
Great 1440p performance
Intel XeSS even allows for some 4K gaming
DirectX 9 and DirectX 10 support lacking, so older games will run poorly
Resizable BAR is pretty much a must
At the time of this writing, Intel's Arc A770 has been on the market for about a year, and I have to admit, had I gotten the chance to review this card at launch, I would probably have been as unkind as many other reviewers were.
As it stands though, the Intel Arc A770 fixes many of the issues I found when I reviewed the A750, but some issues still hold this card back somewhat. For starters, if you don't enable Resizable BAR in your BIOS settings, don't expect this card to perform well at all. It's an easy enough fix, but one that is likely to be overlooked, so it's important to know that going in.
In synthetic benchmarks, the A770 performed fairly well against the current crop of graphics cards, despite its effectively being a last-gen card. It is particularly strong competition against the Nvidia RTX 4060 Ti across multiple workloads, and it even beats the 4060 Ti in a couple of tests.
Its Achilles Heel, though, is revealed in the PassMark 3D Graphics test. Whereas 3DMark tests DirectX 11 and DirectX 12 workloads, Passmark's test also runs DirectX 9 and DirectX 10 workflows, and here the Intel Arc A770 simply can't keep up with AMD and Nvidia.
In non-ray-traced and native-resolution gaming benchmarks, the Intel Arc A770 managed to put up some decent numbers against the competition. At 1080p, the Arc A770 manages an average of 103 fps with an average minimum fps of 54. At 1440p, it averages 78 fps, with an average minimum of 47, and even at 4K, the A770 manages an average of 46 fps, with an average minimum of 27 fps.
Turn on ray tracing, however, and these numbers understandably tank, as they do for just about every card below the RTX 4070 Ti and RX 7900 XT. Still, even here, the A770 does manage an average fps of 41 fps, with an average minimum of 32 fps) at 1080p with ray tracing enabled, which is technically still playable performance. Once you move up to 1440p and 4K, however, your average title isn't going to be playable at native resolution with ray tracing enabled.
Enter Intel XeSS. When set to "Balanced", XeSS turns out to be a game changer for the A770, getting it an average framerate of 66 fps (with an average minimum of 46 fps) at 1080p, an average of 51 fps (with an average minimum of 38 fps) at 1440p, and an average 33 fps (average minimum 26 fps) at 4K with ray tracing maxed out.
While the 26 fps average minimum fps at 4K means it's really not playable at that resolution even with XeSS turned on, with settings tweaks, or more modest ray tracing, you could probably bring that up into the low to high 30s, making 4K games playable on this card with ray tracing turned on.
That's something the RTX 4060 Ti can't manage thanks to its smaller frame buffer (8GB VRAM), and while the 16GB RTX 4060 Ti could theoretically perform better (I have not tested the 16GB so I cannot say for certain), it still has half the memory bus width of the A770, leading to a much lower bandwidth for larger texture files to pass through.
This creates an inescapable bottleneck that the RTX 4060 Ti's much larger L2 cache can't adequately compensate for, and so takes it out of the running as a 4K card. When tested, very few games managed to maintain playable frame rates even without ray tracing unless you dropped the settings so low as to not make it worth the effort. The A770 16GB, meanwhile, isn't technically a 4K card, but it can still dabble at that resolution with the right settings tweaks and still look reasonably good.
All told, then, the Intel Arc A770 turns out to be a surprisingly good graphics card for modern gaming titles that can sometimes even hold its own against the Nvidia RTX 4060 Ti. It can't hold a candle to the RX 7700 XT or RTX 4070, but it was never meant to, and given that those cards cost substantially more than the Arc A770, this is entirely expected.
Its maximum observed power draw of 191.909W is pretty high for the kind of card the A770 is, but it's not the most egregious offender in that regard. All this power meant that keeping it cool was a struggle, with its maximum observed temperature hitting about 74 ºC.
Among all the cards tested, the Intel Arc A770 was at nearly the bottom of the list with the RX 6700 XT, so the picture for this card might have been very different had it launched three years ago and it had to compete with the RTX 3000-series and RX-6000 series exclusively. In the end, this card performs like a last-gen card, because it is.
Despite that, it still manages to be a fantastic value on the market right now given its low MSRP and fairly solid performance, rivaling the RTX 4060 Ti on the numbers. In reality though, with this card selling for significantly less than its MSRP, it is inarguably the best value among midrange cards right now, and it's not even close.
Performance score: 3.5 / 5
Should you buy the Intel Arc A770?
Swipe to scroll horizontally
Intel Arc A770 Report Card

| | | |
| --- | --- | --- |
| Value | For a card with this level of performance, it should be selling for much higher than it is. The only knock against it is its more limited availability. | 4.5 / 5 |
| Design | The Arc A770 Limited Edition is absolutely stunning, but it's very hard to find, which keeps it from getting full marks. | 4 / 5 |
| Specs | While this card has very solid specs, including 16GB VRAM and a 256-bit memory bus, its hardware is effectively last-gen. | 3.5 / 5 |
| Performance | This card's performance is surprisingly good thanks to diligent driver updates from Intel smoothing over a rocky launch last year. | 3.5 / 5 |
| Final Score | While this card is a bit underpowered compared to the current crop of graphics cards, it's low price and solid performance in modern games makes it a fantastic midrange card for gamers on a tight budget. | 3.875 / 5 |
Buy the Intel Arc A770 if…
best 4K graphics cards can, but the 16GB VRAM version has a large enough memory pool that you can actually play games at 4K with the right settings.
" data-widget-type="deal" data-render-type="editorial">
You want to dabble with 4K gaming
This card can't game at 4K like the best 4K graphics cards can, but the 16GB VRAM version has a large enough memory pool that you can actually play games at 4K with the right settings.
Don't buy it if…
Also Consider
If my Intel Arc A770 review has you considering other options, here are two more graphics cards for you to consider.
Swipe to scroll horizontally
Intel Arc A770 vs the competition

| Header Cell – Column 0 | Intel Arc A770 | Nvidia RTX 4060 Ti | AMD RX 6750 XT |
| --- | --- | --- | --- |
| Price | $329 (about £265/AU$475) / $349 (about £280/AU$510) | $399 (about £320/AU$580) | $419 (about £335/AU$610) |
| Shaders | 4096 | 4352 | 2560 |
| AI Processors | 512 | 136 | 0 |
| Ray Processors | 32 | 34 | 40 |
| Boost Clock | 2400MHz | 2535MHz | 2600MHz |
| Memory Pool | 8GB / 16GB | 8GB | 12GB |
| Memory Speed | 16 Gbps / 17.6 Gbps | 18 Gbps | 18 Gbps |
| Memory Bus | 256-bit | 128-bit | 192-bit |
| Memory Bandwidth | 512 GB/s / 559.6 GB/s | 288 GB/s | 432.0 GB/s |
| Power Requirement | 225W | 160W | 250W |
| Suggested PSU | 550W | 450W | 600W |
Nvidia RTX 4060 Ti review
" data-widget-type="deal" data-render-type="editorial">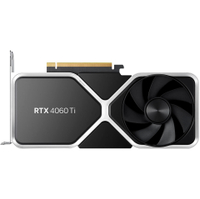 Nvidia RTX 4060 Ti
The RTX 4060 Ti outperforms the Intel Arc A770 at just about every turn, only faltering when it comes to 4K performance, due to its more restricted VRAM pool and memory bus. If you don't care about 4K, then this is the card you want (assuming the much higher price isn't an issue).
Read the full Nvidia RTX 4060 Ti review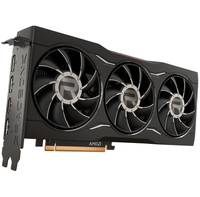 AMD RX 6750 XT
The AMD RX 6750 XT is one of the best 1440p graphics cards going, especially for its marked down MSRP. It doesn't have any AI cores, so this card is strictly a gaming GPU, but for 1440p gaming, it's an incredible bargain.
How I tested the Intel Arc A770
I spent several days benchmarking the card, with an additional week using it as my primary GPU
I ran our standard battery of synthetic and gaming benchmarks
Test Bench
These are the specs for the test system used for this review:
CPU: Intel Core i9-13900K
CPU Cooler: Cougar Poseidon GT 360 AIO Cooler
Motherboard: MSI MPG Z790E Tomahawk Wifi
Memory: 64GB Corsair Dominator Platinum RGB DDR5-6000
SSD: Samsung 990 Pro
PSU: Thermaltake PF3 1050W ATX 3.0
Case: Praxis Wetbench
I spent about two weeks with the Intel Arc A770 in total, with a little over half that time using it as my main GPU on my personal PC. I used it for gaming, content creation, and other general-purpose use with varying demands on the card.
I focused mostly on synthetic and gaming benchmarks since this card is overwhelmingly a gaming graphics card. Though it does have some video content creation potential, it's not enough to dethrone Nvidia's 4000-series GPUs, so it isn't a viable rival in that sense and wasn't tested as such.
I've been reviewing computer hardware for years now, with an extensive computer science background as well, so I know how graphics cards like this should perform at this tier.
We pride ourselves on our independence and our rigorous review-testing process, offering up long-term attention to the products we review and making sure our reviews are updated and maintained – regardless of when a device was released, if you can still buy it, it's on our radar.
First reviewed October 2023
[ For more curated Computing news, check out the main news page here]
The post Intel Arc A770 review: a great 1440p graphics card for those on a budget first appeared on www.techradar.com