From www.techradar.com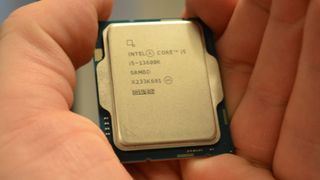 (Image credit: Future / John Loeffler)
Intel's Core i5-14600K has turned up in a leak that shows the incoming desktop CPU for Raptor Lake Refresh is still looking promising.
Tom's Hardware flagged up the benchmark result for the 14600K, which was shared on X (formerly Twitter) by Benchleaks, an account that posts a good deal of benchmark spillage as the name suggests.
[GB6 CPU] Unknown CPUCPU: Intel Core i5-14600K (14C 20T)Min/Max/Avg: 5090/5289/5253 MHzCodename: Raptor LakeCPUID: B0671 (GenuineIntel)Single: 2819Multi: 16666https://t.co/xzI9dQ7NRESeptember 29, 2023
See more
The Geekbench 6 result recorded by the Intel CPU consists of 2,819 for single-core performance and 16,666 for multi-core.
As Tom's points out, compared to the existing Core i5-13600K, that makes the 14600K almost 6% faster for single-core, and 11% quicker in multi-core.
We also get a glimpse of some specs here, with the processor shown as having 14 cores and 20 threads (like its predecessor), and also a top boost of a smidge under 5.3GHz.
---
Analysis: Rumors are aligning
There are a few things that are lining up with the 14600K leaks at this point. For starters, that boost of 5.3GHz compares to 5.1GHz for the 13600K (top boost for performance cores), so it's 200MHz faster. That's what the rumor mill has claimed will be the increase across the board for most Raptor Lake Refresh processors (some may vary slightly from that, but most should hit a 200MHz step-up).
Another fairly recent leak provided Geekbench scores that indicated the 14600K will be 5% and 17% faster (for single and multi-core) than the 13600K, so what we see here – around 6% and 11% – is again pretty much in the same ballpark. (The multi-core estimation here is somewhat more modest, and probably a bit more realistic, we think).
As this is still pre-release silicon, there's a chance clocks could end up higher – but we're so close to launch now that we're likely looking at the final engineering samples. And besides, as mentioned, the widely rumored increase at this point is 200MHz.
Still, this leak, and others, do point to the 14600K as being one to watch out of the Raptor Lake Refresh family, especially as it's the successor to the processor which we called the best everyday CPU in our review.
The other chip to keep an eye on is the 14700K, but sadly, there's little excitement that has been drummed up elsewhere in Intel's 14th-gen desktop range at this late stage. (Although overclocking potential is another highlight from the grapevine).
The overall vibe still remains one of uncertainty, and the next-gen series of CPUs being a relatively modest step forward from current Raptor Lake CPUs, but with a couple of potential exceptions as noted. The good thing is that those exceptions are in the most important territory when it comes to solidly performing chips that won't break the bank. (Assuming Intel doesn't knock the value proposition of these possible highlights with price hikes).
You might also like
[ For more curated Computing news, check out the main news page here]
The post Intel Core i5-14600K leak suggests a mid-range CPU that's worth getting excited about first appeared on www.techradar.com