From www.tomshardware.com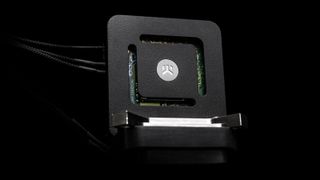 EK-QuantumX Delta TEC EVO E2 (Image credit: EK)
Intel discontinued the company's Cryo Cooling Technology on July 1, 2023, with the 13th Generation Raptor Lake parts being the last supported chips. That means some of the best CPUs have just lost one of the few sub-ambient cooling options available, though in practice not many people ever chose to go this route. In a nutshell, this cooling tech brings the CPU down to 0 degrees Celsius to boost overall performance.
Intel introduced its Cryo Cooling Technology with 10th Generation Comet Lake processors, so it has been around for four generations of Intel chips. The duration more or less aligns with the life expectancy of an Intel socket, so it may not be news for some. Intel is killing off Cryo Cooling Technology with Raptor Lake, so the technology will not support the latest 14th Generation Raptor Lake Refresh.
As spotted by hardware detective momomo_us, Intel stopped working on the Cryo Cooling Technology as of July 1. Nonetheless, the chipmaker will continue distributing functional, security, and other miscellaneous updates until December 31, 2023. After that, owners of Cryo Cooling Technology products will potentially be left in the cold, with no support for newer Intel processors.
The thing with Intel's Cryo Cooling Technology is that it wasn't just about the hardware. Intel had envisioned it to be a small ecosystem comprised of software, firmware, and hardware working in harmony. The chipmaker's unexpected move to discontinue Cryo Cooling Technology puts its partners in a difficult predicament. Luckily, not many vendors had jumped on the Cryo Cooling hype train. Cooler Master released its MasterLiquid ML360 Sub-Zero, and EKWB launched the EK-QuantumX Delta TEC and subsequent QuantumX Delta TEC EVO E2 waterblocks.
Intel Cryo Cooling Technology only works with Intel processors, at least in theory. However, celebrity overclocker Der8auer proved you can use Cryo coolers with AMD's chips. In his experiment, he demonstrated a workaround to get Cryo Cooling Technology to work on the Ryzen 9 5950X, and the results were as impressive as those of Intel chips. There may yet be hope for Cryo Cooling owners if someone reworks Intel's software to play nice with AMD processors and perhaps releases a more user-friendly adapter bracket for AMD.
It's a shame that Cryo Cooling Technology never took off outside of the three retail products. Instead of being more power-efficient, new processors are going in the opposite direction. Pulling more power means more heat to dissipate, and that's where Cryo Cooling Technology could be a practical option. However, it looks like Intel has woken up from that dream and ultimately just decided to sweep Cryo Cooling Technology under the rug.
[ For more curated Computing news, check out the main news page here]
The post Intel Kills Off Its Chip-Freezing Cryo Cooling Technology first appeared on www.tomshardware.com