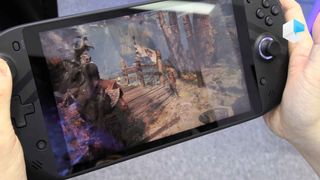 Emdoor handheld gaming PC with Intel Meteor Lake-H CPU. (Image credit: Notebook Italia)
What you need to know
A recent leak showed off an Emdoor handheld gaming console known as the EM-GP080MTL.
The portable gaming PC pairs an Intel Meteor Lake-H CPU with Intel Arc 5 graphics.
Intel Meteor Lake chips are set to launch in December, so we likely won't have to wait long to see Emdoor's console running on a CPU from the lineup.
---
Intel's new Meteor Lake CPUs don't launch until December of this year, but we now know of a handheld gaming console that will be powered by the chips. Notebook Italia shared details about an upcoming Emdoor system that will pair an Intel Meteor Lake-H CPU with Intel Arc 5 graphics. The original content from Notebook Italia has since been removed, but VideoCardz snagged all the details.
An image shared by Notebook Italia shows the system specs of the Emdoor EM-GP080MTL. I suspect the device will have a more consumer-friendly name when it launches, but that's what we have to go by at the moment. The EM-GP080MTL runs on an Intel Meteor Lake-H processor with a TDP of 20 to 35W. That wattage is noteworthy because the ASUS ROG Ally, which runs on an AMD Ryzen Z1 Extreme, has a TDP of 10 to 25 watts. The Steam Deck maxes out at 15 watts.
The display of the EM-GP080MTL is an 8-inch 16:10 panel with a resolution of 1920 x 1080. The portable gaming console also has 32GB of LDDR5X memory and up to 2TB of PCIe Gen4 storage.
The CPU of the EM-GP080MTL will pair with an integrated Intel Arc 5 GPU. We don't know the number of cores in that Alchemist GPU, but VideoCardz speculated that the figure is likely between 4 and 8 Xe cores.
Emdoor's design looks similar to other gaming consoles on the market. It features offset thumbsticks and the standard array of buttons. The portable PC space is quickly filling up, which will hopefully result in companies driving each other to make even better devices.
Promotional materials shown by Notebook Italia show the EM-GP080MTL running God of War, which would suggest the console is capable of running the best PC games.
[ For more curated Computing news, check out the main news page here]
The post Intel Meteor Lake CPU and Arc 5 GPU appear in leaked handheld gaming console first appeared on www.windowscentral.com