From www.techradar.com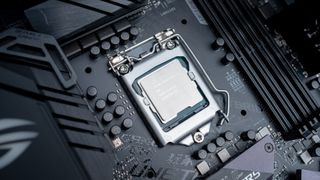 You can find PC components at Best Buy now (Image credit: Intel)
Intel has been busy showing off its new Meteor Lake processors – which are due to land in December – during its Innovation keynote, but we also heard about the following generations of CPUs.
And the good news from Team Blue is that the roadmap for those next generations of silicon is still on track, with no slippage yet observed in terms of release timeframes.
These generations include Arrow Lake, which will be the next desktop and mobile offering – to follow Meteor Lake (mobile, just revealed) and Raptor Lake Refresh (imminent desktop refresh) – as well as Lunar Lake, which will likely sneak out after Arrow Lake (the latter is due late in 2024, in theory).
Lunar Lake is a bit different in that it'll be super-focused on power-efficiency (truly power-sipping mobile CPUs), and we've heard in the past that it's best thought of as another Ice Lake outing from Intel.
Intel actually showed off a test system powered by Lunar Lake at the Innovation event, with the expectation of a (presumably relatively early) 2025 launch. CEO Pat Gelsinger talked about Panther Lake, too, which will follow Arrow Lake (as a desktop and mobile double offering, perhaps, though some chatter indicates it'll be desktop only – slotting alongside Lunar Lake, which will cover laptops).
According to Gelsinger, Panther Lake is on schedule, and the chip design is complete – it should appear during the first quarter of 2024, as German tech site Hardwareluxx.de reports (via VideoCardz).
---
Analysis: Panther creeping up on us?
While Q1 of 2024 might sound very early for the design of Panther Lake to be complete and taped-in, there's actually still quite a way to go before the finished processors are rolling off assembly lines.
Clearly, we're not going to see Panther Lake next year – Arrow Lake won't even be released until later in 2024. Panther Lake could turn up in 2025, though the far end of that year no doubt – at the very earliest we'd imagine, and quite possibly it'll be 2026, even. It's good to hear it's on track, though.
To give some perspective here, Meteor Lake was taped-in back in May 2021, and as we've just seen, it's only about to launch in December 2023.
Intel seems pretty happy with the progress it's making, though, and we are expecting some huge leaps forward from these future generations of processors. Arrow Lake could provide a massive performance uplift, at least if early rumors are right, though a big step forward might be required to make up for the relatively lackluster upgrade this year's desktop outing is likely to be.
Speculation around Raptor Lake Refresh has been muted to say the least, but it's (mostly) a simple refresh of existing 13th-gen processors – and notably we didn't hear anything from Team Blue about these new desktop chips. That's a little ominous, really…
And with AMD's Ryzen 8000 (Zen 5) processors ready to make a splash possibly mid-next-year, Intel may absolutely need Arrow Lake to be something special to keep pace with Team Red.
You might also like
[ For more curated Computing news, check out the main news page here]
The post Intel promises its line-up of future CPUs are all on track – but can they compete with AMD? first appeared on www.techradar.com