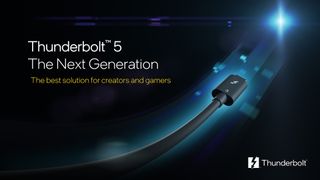 (Image credit: Intel)
What you need to know
Intel has shared details for Thunderbolt 5, an all-in-one solution for USB-C coming in 2024 that plans to eventually replace Thunderbolt 4.
Offering 80Gb/s for bi-directional data bandwidth or up to 120Gb/s max for transmission allows triple-monitor setups alongside improvements to power delivery.
Up to 240W for PC charging over Thunderbolt 5 could see a dramatic design shift for laptops and AC adapters.
---
Iterating on its widely adopted all-in-one cable and connector solution, Intel has revealed a roadmap for Thunderbolt 5 with up to 3x more bandwidth than its previous standard, the aptly named Thunderbolt 4. Upgrades to data-transfer standards always come with bold claims of increased speeds, and promises of up to 120Gb/s in data transmission headlined an internal preview alongside other benefits for creators and gamers.
Sharing details with Windows Central, Intel explained its continued plans to push Thunderbolt as the best end-to-end solution thanks to its broad adoption across hardware and software. Many modern computers and accessories are already compatible with the current standard, from budget PCs priced as low as $399 sporting Thunderbolt 4 ports to high-end Intel Evo and vPro Enterprise laptops requiring its support to qualify for the brand certification.
Swipe to scroll horizontally
Capabilities of Thunderbolt 5

Header Cell – Column 0

Today
Tomorrow
Video
• Two 4K monitors
• Resolution vs. refresh rate tradeoffs
• Two 4K limited to 60Hz
• Multiple 8K for creators
• Up to 540Hz for gamers
• Three 4K @ 144Hz
Data
• 32Gb/s of data bandwidth
• Dual 4K video limits bandwidth for data
• 2x more bandwidth for external SSDs, eGFX, creator tools, and more
• Bandwidth flexibility for better use
PC connection
• Second cable for charging gamer, creator PCs and workstations
• A single cable for more notebooks
Intel highlighted new capabilities powered by Thunderbolt 5, like 8K HDR monitor support, emphasizing a focus on the needs of creators and incredible refresh rates on next-generation gaming monitors. Increases in data transfer bandwidth will naturally lead to a new category of next-level solid-state storage with a market of portable SSDs reaching 80G in bi-directional modes or 120G for one-way transmission.
A 'Bandwidth Boost' mode provides an extra 50% more flexible bandwidth than DisplayPort 2.1, enabling this maximum 120Gb/s transmit speed (up to 40Gb/s maximum for receive.) Tripling the capability of today's offerings, this mode allows Thunderbolt 5 to support up to three display streams, with some of the highest-fidelity panels focused on image clarity with 8K HDR or refresh rates up to 540Hz for cables up to 2 meters in length.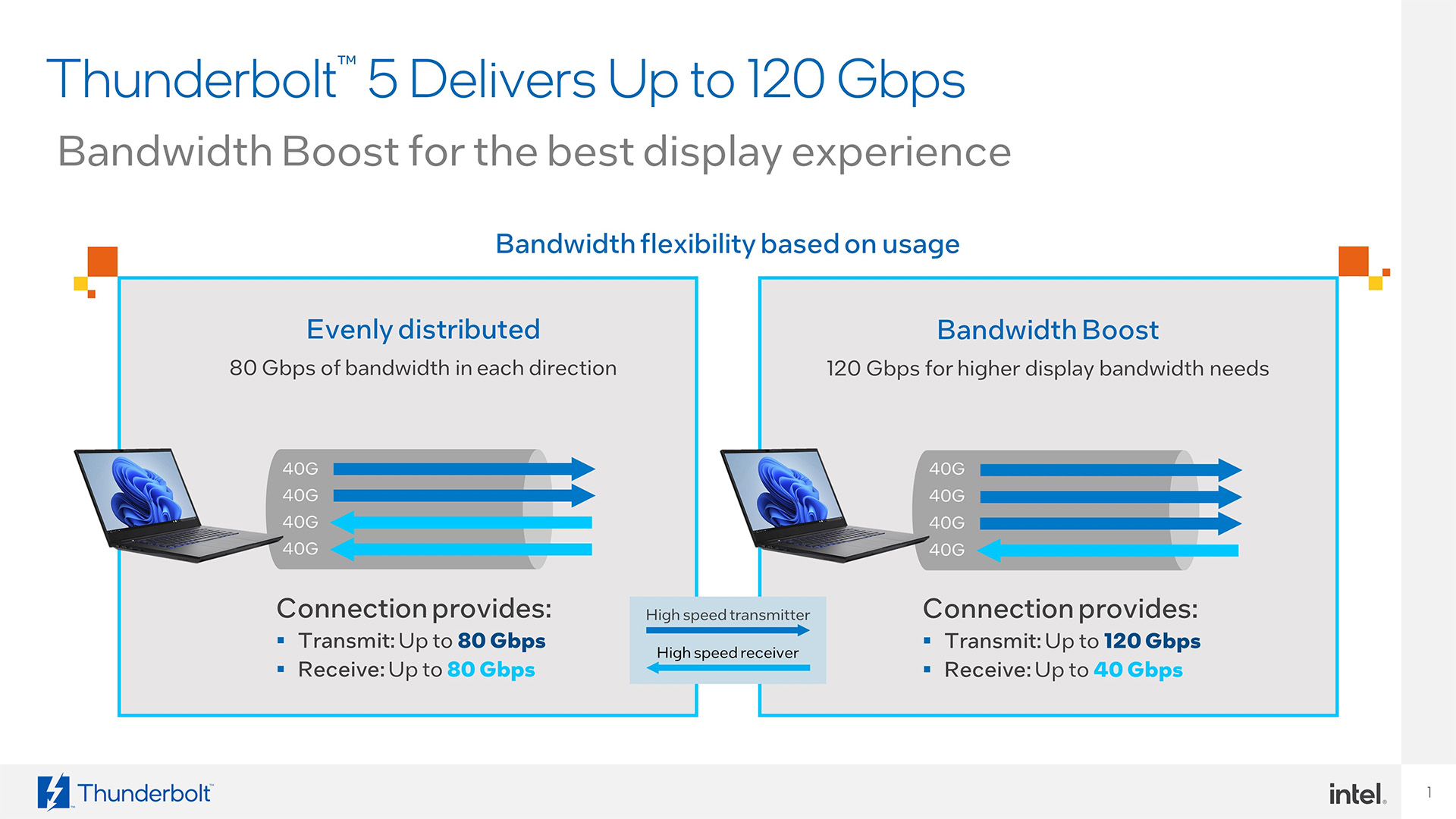 It's not all about theoretical transfer speeds, though Intel only lightly touched on a secondary feature for Thunderbolt 5 that could be a massive improvement for laptops. While the current Thunderbolt 4 standard supports up to 100W charging over compatible USB-C cables, a boost of up to 240W for PC charging could see the end of bulky AC adapters bundled with notebooks and high-end gaming laptops, while 15W charging for devices remains unchanged.
With enhancements to almost every category, a new wave of Thunderbolt docks will surface more capable than ever with extra power, functionality, and improved reliability with Thunderbolt 5 and USB4 v2. A new signaling technology using PAM-3 (Pulse Amplitude Modulation with three levels) allows more data per clock cycle, like Samsung's GDDR7 DRAM, enabling these significant bandwidth boosts.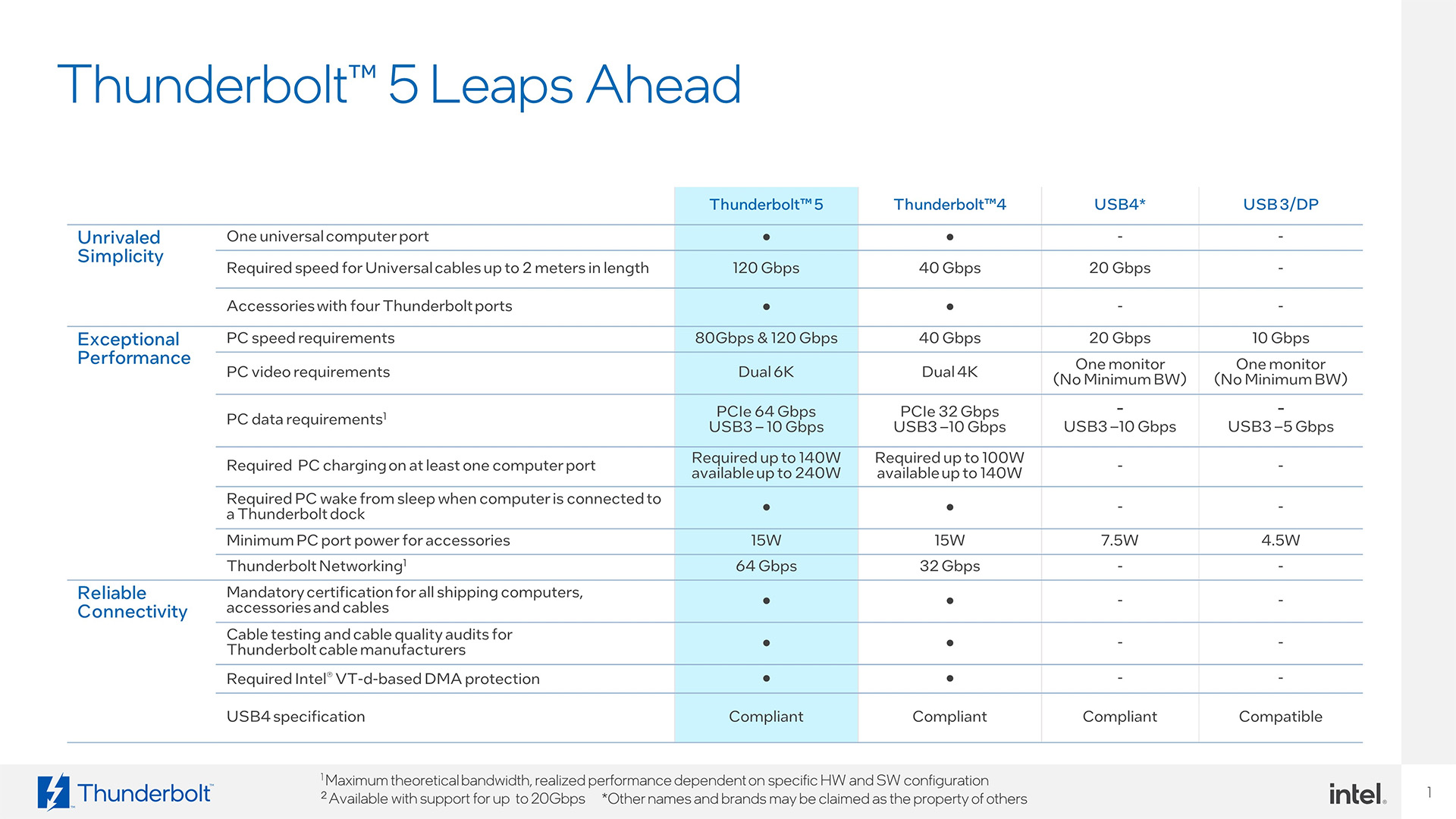 Thunderbolt 5 will extend its architecture to external graphics and AI acceleration hardware outside of traditional docking stations and modern display connectivity. Laptops reliant on an iGPU (integrated graphics) can connect to a desktop-grade video card housed in an external dock, resulting in faster video encoding and real-time rendering efforts. Broad compatibility also means older, Thunderbolt-reliant eGPUs will still work.
Although they're still not commonplace, AI accelerators will undoubtedly play a significant role in the future of computing. Thunderbolt 5's extra bandwidth will help with the intense requirements for local inferencing and reduce reliance on the cloud, whether for a creative audience or a more data-driven industry. Video and audio effects for video conferences are just the beginning, and Intel is ready with its combination of standards for accessories.
How will we recognize Thunderbolt 5?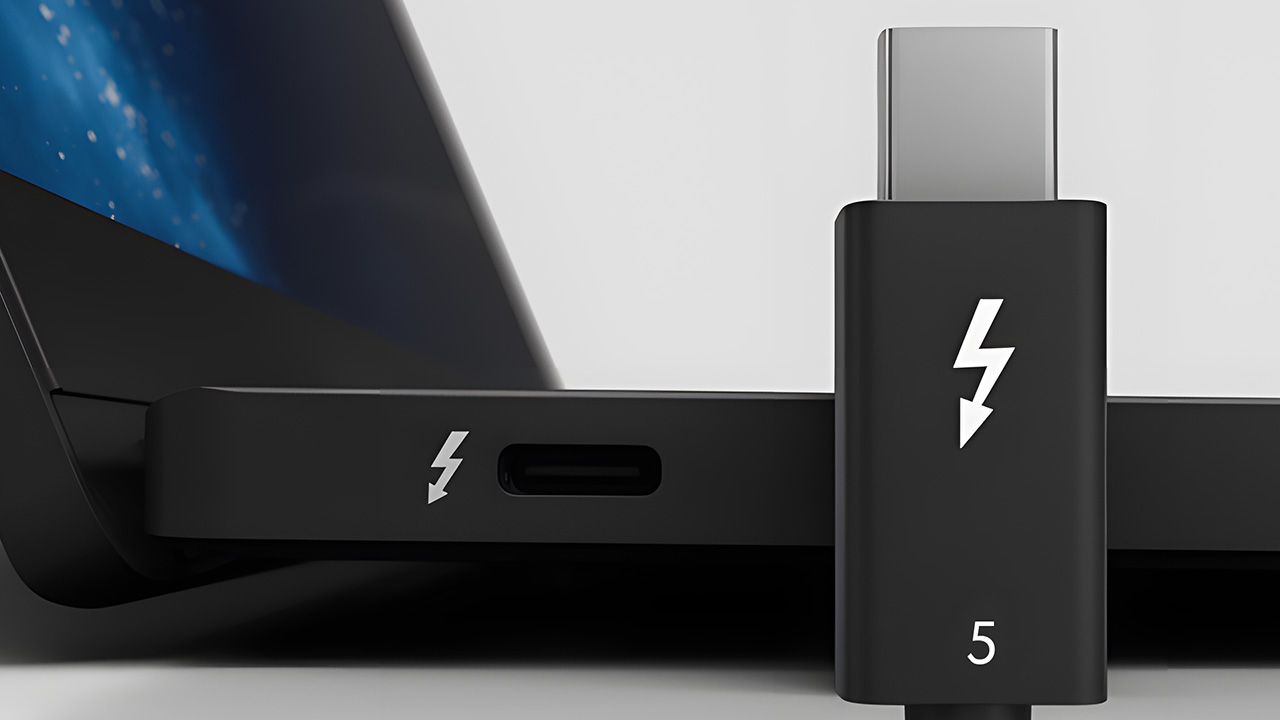 Thankfully, the branding for Thunderbolt hardly changes with the new standard. A bolt icon will remain alongside compatible USB-C ports on devices, and cables will adorn a simple '5' alongside the same bolt to identify the compatibility and capabilities of Thunderbolt 5. Learning the changes won't be so urgent for most users, as Intel expects Thunderbolt 4 to remain the mainstream choice for a few more years.
Computers and portable devices featuring Thunderbolt 5 will begin to appear in 2024 alongside compatible accessories, with prototype docks and laptops to be demonstrated even sooner. Technical resources for developers will be released worldwide toward the end of Q4 2023, detailing the USB4 v2 standard with DisplayPort 2.1 and PCIe Gen 4 specifications. Creators and gamers will benefit first, with mainstream users comfortably sticking with Thunderbolt 4 for now.
[ For more curated Computing news, check out the main news page here]
The post Intel reveals Thunderbolt 5 as the next-generation USB-C solution with tremendous improvements first appeared on www.windowscentral.com