From www.techradar.com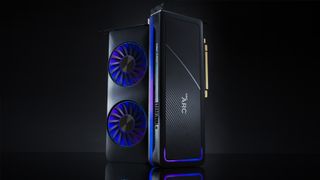 (Image credit: Intel)
It looks like Intel has finally decided to put some real marketing grunt behind its long-suffering Intel Arc graphics card line, launching an intriguing new promotion called 'Intel Arc Balanced Builds'.
The idea behind the Balanced Builds program, as explained in a blog post and video (which you can view below) from Intel's senior director of graphics marketing Ryan Shrout, is to boost the visibility of Intel's Arc products, demonstrate the effectiveness of pairing an Intel GPU with the right Intel CPU, and – most importantly, in my opinion – offer more affordable options for PC gamers on a budget.
I'll get into the nitty-gritty details of Intel's in-depth testing further down, but as Shrout says in his post, the takeaway here is that it's time to take Intel's Arc cards "out of the lab and into real-world builds". That's great to hear – especially since the Arc GPUs just keep getting cheaper.
To this end, the Balanced Builds promotion will feature both CPU/GPU bundles and full pre-built PCs employing Intel's Core processors and Arc A7-series graphics cards. Not all of these are available just yet, but we know that the bundles will start at $423 and pre-built systems at $899 in the US, with no word on wider regional pricing just yet.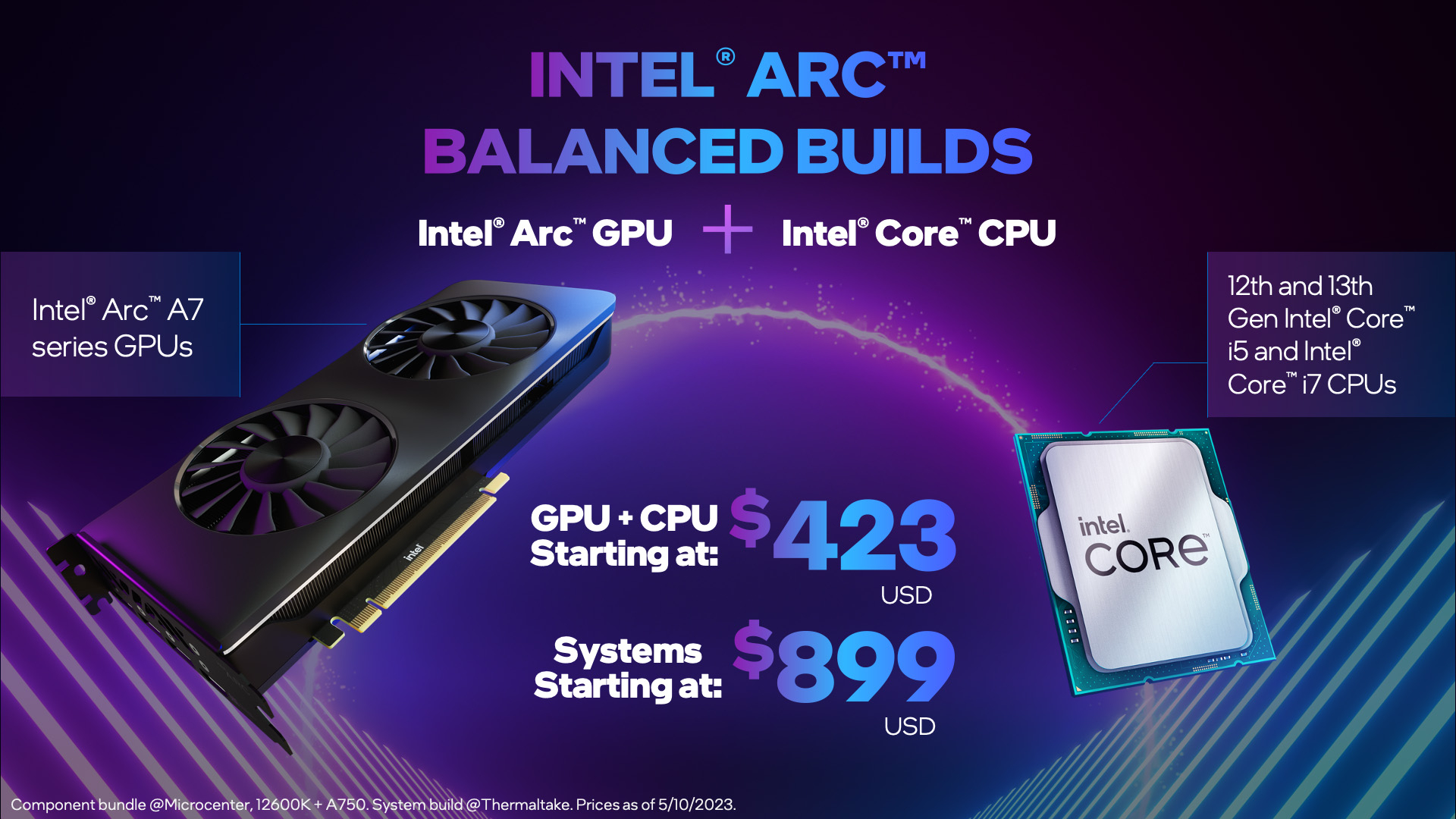 Bang for your buck?
I'm not clear on exactly what that cheapest $423 bundle will include, but I hope it's not the Intel Arc A750 and Core i5-12400F seen in the cheapest pre-built PCs in the lineup – since you could buy both of those on Newegg right now for a combined total of just under $380. If it's the i5-12600K or the newer i5-13500, then the pricing starts to look a lot more attractive.
And those pre-built systems? Yeah, they're pretty great value – more or less the perfect machine for a PC gamer on a budget who just wants a reliable 1080p gaming machine. I tallied up the exact specs for one of the cheaper A750 models – the Thermaltake LCGS Quartz i750, which will cost you $899.99 on Newegg (opens in new tab) – and found that it would cost me at least a thousand dollars to build it myself, and that's before paying for a copy of Windows 11.
For my money, I'd get NZXT's Player: One gaming PC (opens in new tab). Not only does it benefit from NZXT's signature style and clean design, but it packs the more powerful Arc A770 card – meaning it should be able to power through the vast majority of games at 1080p and even 1440p. You can find a full list of participating retailers right here, should you want to peruse more options.
Shrout and his team did an absolute ton of testing with Intel's Arc A750 and A770 GPUs, looking to get some concrete figures to best recommend which CPU to pair with which GPU. They got an awful lot of numbers, and drew the conclusion that those graphics cards are best paired not with a high-end next-gen i9 processor, but actually one of Intel's previous 12th-gen i5 or i7 chips.
Testing, testing…
Now, I could've told you that without sitting in front of a benchmarking rig for hours (hey Intel, hire me), but I appreciate Intel putting in the work to produce some hard evidence to back up its claims. The most intriguing piece of data I noticed in Shrout's results was that in-game performance with Intel's Arc GPUs varied far less based on the processor it was paired with compared to Nvidia's flagship RTX 4090.
As you can see from the image below, dropping from a top-of-the-line Intel Core i9-13900K – the best processor in the world right now – to the more sensible i7-12700K sees an average FPS drop of as much as 15% – compared to just 3% variation for the Intel Arc A750.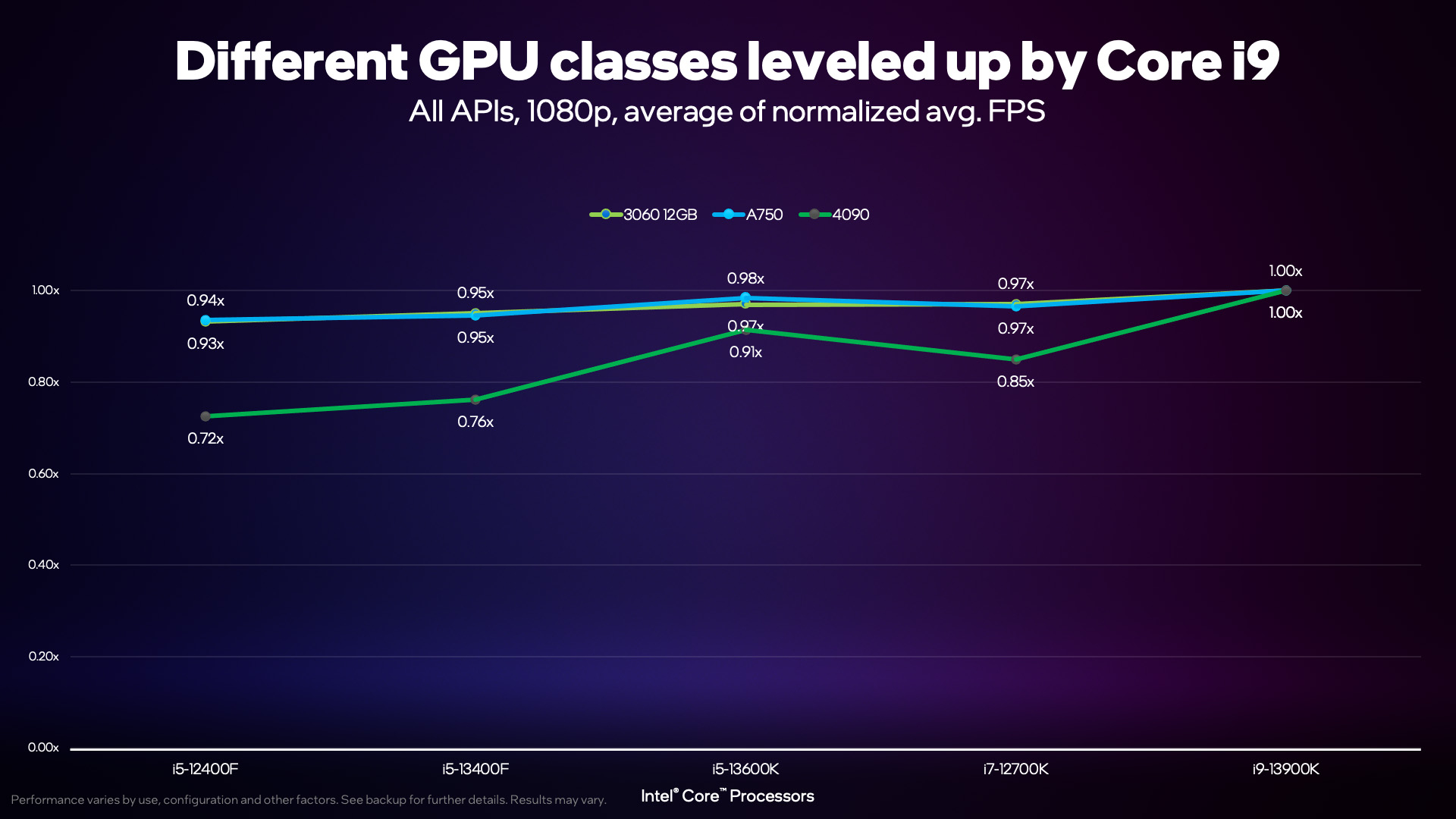 Sure, the A750 is never going to beat the RTX 4090 in terms of raw performance – but we're talking about a $249 GPU versus a $1,599 one here. The bottom line is that the A7 cards can be effectively paired with a cheap Intel i5 CPU without losing more than a few frames-per-second in-game, but opting for anything but the best with your high-end Nvidia card will cost you a lot more in terms of performance.
It's a bold offensive from Intel on the affordability front; Shrout's blog post even outright says "To the ultra-enthusiasts with big budgets, have fun". Intel doesn't have a GPU to compete with Nvidia's flagship, but Shrout doesn't seem to care – and that's fine by me! Nvidia has been pumping up GPU prices for too long.
Seeing Intel step into the ring with an eye towards budget PC gaming is excellent – and probably more worrying for AMD than Nvidia, since Team Red is also Intel's direct competitor in the CPU space. Either way, I'm happy to see some slick Arc machines arriving from my favorite PC builders – and at very sensible prices, too!
The post Intel's new 'Balanced Builds' let you snap up a cheap gaming PC – take note, Nivida first appeared on www.techradar.com
In many places around the world, horse races are an attraction that a lot of people love to watch. With the fast-paced action and thrill that each game provides, it is no longer surprising to know that millions of fans have grown fond of it.