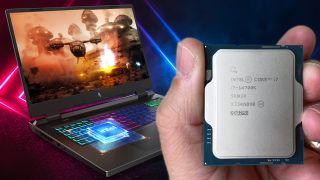 (Image credit: Acer | Windows Central)
What you need to know
Test results from processor-focused Geekbench 6 benchmarking software have leaked online, listing an Intel Core i7-14700HX laptop CPU.
Tested in an unreleased Acer Nitro 17 gaming laptop, the i7-14700HX laptop CPU seemingly matches the core and thread count of its Core i7-14700K desktop counterpart.
The i7-14700HX laptop CPU scored close to the desktop i7-14700K despite presumably featuring a significantly lower power draw.
---
The future looks bright for Intel's 14th Gen Meteor Lake laptop processors, as leaked benchmark test results from the CPU-focused Geekbench 6 app show a currently unannounced Core i7-14700HX laptop chip performing surprisingly close to its desktop counterpart, the Core i7-14700K, as spotted by enthusiasts at Tom's Hardware.
Considering laptop components draw significantly less power than desktop PCs, the Geekbench 6 test results are impressive. In our Intel Core i7-14700K review, we highlight a core count of 20 and a thread count of 28, which matches the apparent specs of the i7-14700HX. A single-core test score of 2,921 from the 14700HX is almost identical to the 2,924 scored by the desktop 14700K in our tests, while the multi-core test score is within 3,000 points.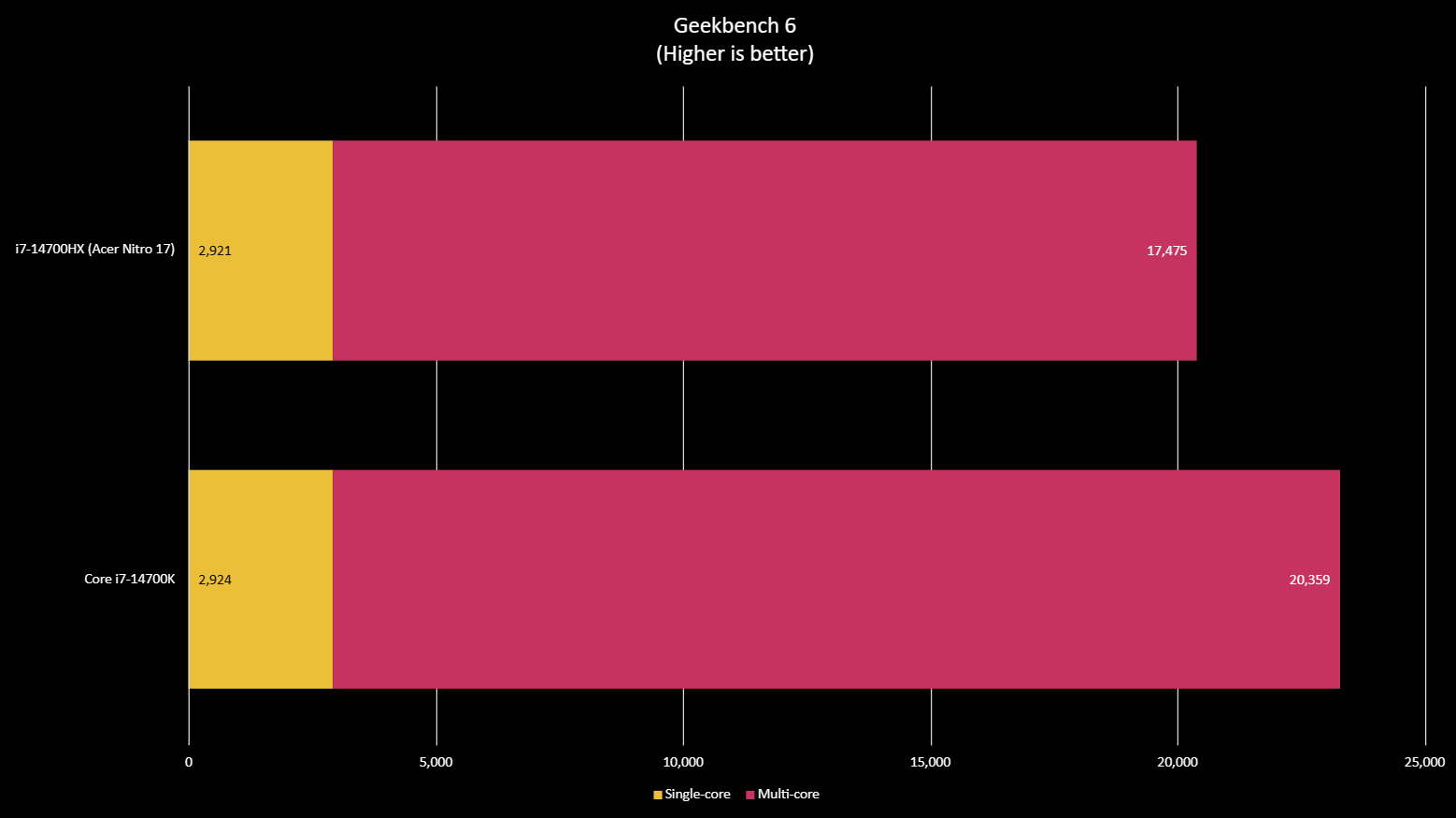 While the 15th Gen Arrow Lake CPUs are still planned for 2024, this 14th Gen mobile chip fits within Intel's Raptor Lake refresh as a mid-range (yet high-power) laptop CPU. Intel 13th Gen mobile CPUs in the HX series carried a base 55W power and a maximum of 157W for Core i5, i7, and i9, but the leaked Geekbench 6 results don't expose the power draw of this mysterious i7-14700HX.
What is revealed alongside the unannounced CPU is a model name for a similarly secretive Acer Nitro 17-inch gaming laptop used to test it, the Acer Nitro AN17-72. Featuring 32GB of RAM, we can't tell what other components feature alongside this Core i7 CPU from the benchmark result alone.
Still, it's fair to assume similar to other Acer Nitro Intel 17 models, like the AN17-71-75VK selling for $1,779.99 MSRP at Acer's official store loaded with an i7-13700HX CPU, NVIDIA GeForce RTX 4050 GPU, and 16GB of DDR5 RAM. With a boost to a modern CPU and extra RAM, it's reasonable to expect this mystery gaming laptop could launch at around $2,000. For reference, the desktop Intel Core i7-14700K carries a $409 MSRP and still needs a custom gaming desktop built around it.
What is Geekbench 6?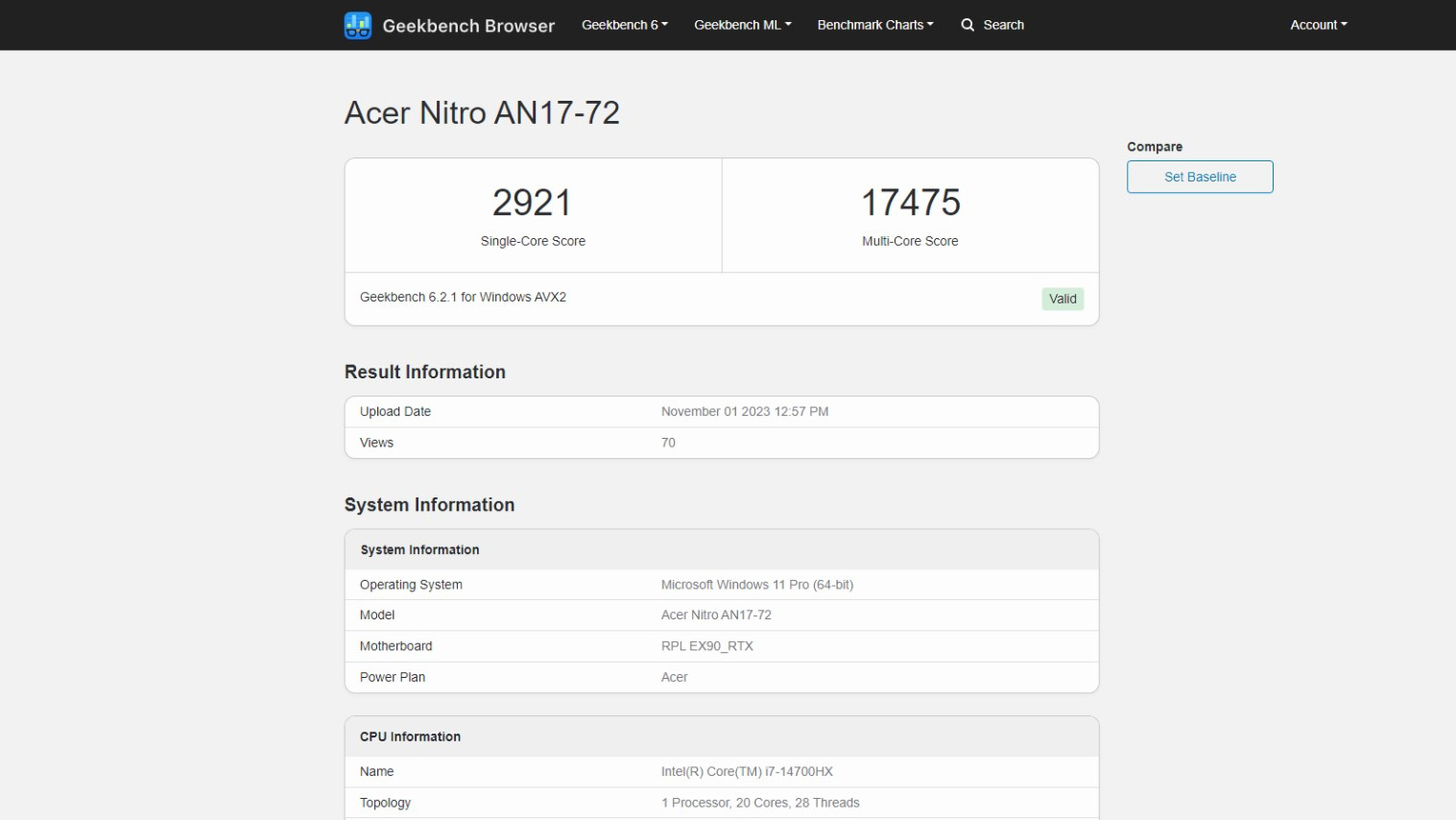 Geekbench 6 is a benchmarking tool built for testing processor performance, essentially measuring how 'fast' a CPU in a desktop computer or laptop is with a numbered result that can be used to compare between platforms like Windows 11 and Apple's macOS. The software stress tests your computer by having it perform a series of everyday real-world tasks like file compression, web navigation, and image editing.
We use Geekbench 6 (previously Geekbench 5, though the numbers aren't directly comparable) during our desktop and laptop testing process at Windows Central. It helps paint a clear picture for those less invested in the technical specifics of computers, though it does split its score into two areas: single-core performance and multi-core performance. The latter is usually a primary focus, but single-core scores are still important as many applications can still be limited to one processor core.
The relevance of the Geekbench 6 scores reported by this leak is directly related to the difference between laptop and desktop CPUs. Portable processor variants generally feature lower power draw, which can limit performance, but the HX series of Intel Core laptop CPUs feature some of the highest wattage drawn by its maximum TDP (thermal design power.)
Scoring so close to its more powerful Core i7-14700K desktop counterpart, this apparent i7-14700HX laptop CPU could be an affordable avenue into portable PC gaming in the mid-to-high range.
Are Acer Nitro 17 gaming laptops any good?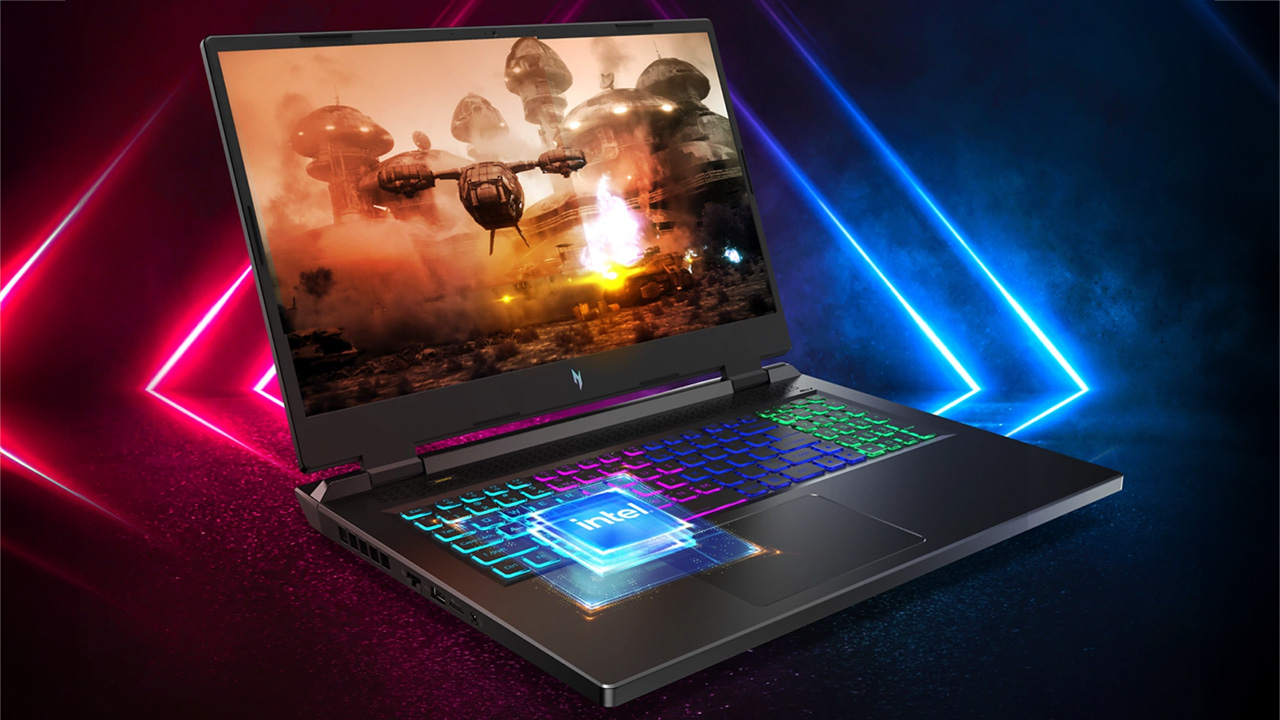 Acer's Nitro 17 series are mid-to-high-end gaming laptops with customizable hardware. Advertised between $1,599.99 to $1,779.99 MSRP at Acer, the current range features Intel Core 13th Gen mobile CPUs like the Core i7-13700H and i7-13700HX and laptop variants of NVIDIA's GeForce RTX 4050 and 4060 graphics cards.
At this price point, they're a reasonably priced option for 1080p to 1440p gaming, focused on higher refresh rates around 165Hz rather than graphical fidelity. However, NVIDIA's DLSS 3.5 upscaling technology helps with visual quality on games running at lower resolution with RTX 40 Series cards.
If you're thinking of picking up a gaming laptop as your first or a replacement for an aging model, check our roundup of the best early gaming laptop deals for Black Friday 2023 with more explainers on choosing the best for you.
[ For more curated Computing news, check out the main news page here]
The post Intel's top-tier gaming laptop CPU just leaked, and it almost beat the desktop equivalent — Here's what you need to know first appeared on www.windowscentral.com