From www.techradar.com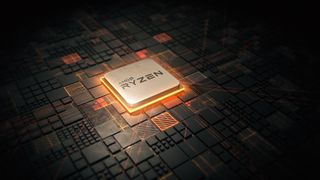 (Image credit: AMD)
We've caught a glimpse of AMD's Ryzen 9000 range, or at least a mention of it, purportedly in an Alienware advert.
Tom's Hardware brought our attention to the leaked image which shows an Alienware desktop PC with text indicating that it has an 'AMD Ryzen 9000 Series' chip inside.
Alleged AMD Ryzen 9000 Listing Hints at Incoming Zen 5 Family https://t.co/7olhau8CUF pic.twitter.com/yiE6EWp8ErNovember 9, 2023
See more
Predictably, some folks have been pretty quick to jump to the conclusion that this means next-gen Zen 5 chips called Ryzen 9000 are coming, and maybe sooner than expected. And that AMD will skip over the Ryzen 8000 name (sort of – we'll come back to that later).
However, we must be very skeptical about the image for a number of reasons, not the least of which is that it comes from the Chiphell forums (not the most reliable source in our experience).
So next up, let's mull over the other reasons to approach this one with caution, and decide exactly how much weight we can give this apparent leak.
---
Analysis: Fake or mistake? Or could it be real?
The first thought that may occur to you is that this is a fake – that was certainly the case for us. As mentioned, Chiphell isn't our favorite trusted source by any means, and there's something about the ad that feels a bit off.
Alternatively, it could be a genuine piece of Alienware marketing which someone has blighted with a typo, so it shouldn't read 'Ryzen 9000' at all. It wouldn't be the first time something like this has happened.
For a moment, let's put those two obvious concerns aside and assume that it's authentic. Isn't it simply too early for next-gen Ryzen 9000 CPUs to be even floating around in early work for ads? And wouldn't it be Ryzen 8000, anyway?
On the second point, well, AMD could be reserving Ryzen 8000 for APUs and skipping it for desktops, moving straight to Ryzen 9000 with the latter. This happened with Ryzen 6000, which was APUs, where desktop CPUs went from the 5000 Series to 7000, so it's not without precedent. Some might say it's even quite likely.
As to whether it's just too early to be seeing anything on next-gen Zen 5, yes, there's some merit to that line of thinking we'd say. From the balance of rumors we've heard in the latter part of this year, Zen 5 is likely to debut around the middle of 2024. However, some chatter has indicated the CPUs could come earlier next year. And if we run with that idea, this leak could herald an AMD announcement of Ryzen 9000 CPUs at CES 2024, with a launch of these challengers for our best processors roundup happening a couple of months later.
That said, we haven't witnessed much in the way of leakage around Zen 5 chips – what we have seen has been pretty lightweight spillage – so that leads us to believe it's a real reach to assume they're near being revealed. All in all, we're not convinced by this leaked pic, and we'd advise staying on the skeptical side for sure – but it may well be correct that Zen 5 desktop turns out to be Ryzen 9000.
You might also like
[ For more curated Computing news, check out the main news page here]
The post Is AMD close to revealing new Ryzen 9000 CPUs? We doubt it first appeared on www.techradar.com