From www.techradar.com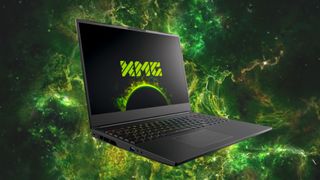 (Image credit: XMG)
Nvidia's Lovelace laptop GPUs are inbound and we already knew portables carrying these RTX 4000 graphics cards would debut in February, but now we've heard exactly when the various cards should be emerging next month.
This is according to Chinese tech site IT Home (opens in new tab) (flagged up by Wccftech (opens in new tab), via VideoCardz (opens in new tab)), and as ever, we must be skeptical around rumors, but the contention is that Nvidia will first launch RTX 4090 and 4080 models on February 8.
That's when these laptops will start shipping, but you'll actually be able to order the machines on February 1, a week in advance, the report asserts.
Laptops which run with the RTX 4070, 4060 and 4050 GPUs will be available later in the month, going on sale February 22.
Pricing for the lower-tier RTX 40 laptops released later in the month starts from $999 (around £820, AU$1,430), with price tags for the RTX 4080 and 4090 portables starting from $1,999 (around £1,640, AU$2,620).
We've already seen that the notebooks carrying the Lovelace flagship will be seriously pricey, with the cost of an upgrade to the RTX 4090 being shown by XMG. It adds an eye-watering €1,687 (around $1,830, £1,500, AU$2,630) to the price tag of XMG's Neo 16 gaming laptop (and that's just the additional cost for upgrading the GPU, not the total price).
---
Analysis: A swift launch for the Lovelace laptop range
If this proves correct, in just a touch over two weeks' time, you'll be able to pre-order a laptop with an RTX 4090 or 4080. And before the end of February, all Lovelace mobile graphics cards will be out there in notebooks on the market – so Nvidia isn't hanging around deploying the entire range for laptops.
This feels especially pertinent when you consider that in the desktop sphere, only the RTX 4090, 4080, and 4070 Ti have been released so far – and those releases were staggered over quite some time (the 4070 Ti has only just got here).
Whether this push with deploying laptop GPUs swiftly means we might see the RTX 4070 or RTX 4060 (or even 4050) for desktop PCs anytime in the near future, well, we wouldn't bank on it – certainly not in the latter two cases anyway. All recent rumors have suggested the desktop RTX 4060 is still quite some way off, and its release may not even be considered by Nvidia until enough lower-tier RTX 3000 stock – which is still hanging around – has been sold off.
As we mentioned above, the cost of the laptop RTX 4090 is not for the faint-hearted. Indeed, it's actually every bit as pricey as the desktop RTX 4090, while delivering performance in line with the desktop 4080. (Remember that the mobile 4090 is built on the AD103 chip and has a considerably chopped CUDA Core count of 9,728 compared to AD102 on the desktop 4090, which offers 16,384).
The post Laptops with Nvidia RTX 4090 through to 4050 GPUs are about to go on sale first appeared on www.techradar.com
In many places around the world, horse races are an attraction that a lot of people love to watch. With the fast-paced action and thrill that each game provides, it is no longer surprising to know that millions of fans have grown fond of it.
Cybersecurity threats have become vast and more sophisticated. The rate of malware attacks and malicious activity counts within seconds despite the size or sector the organization belongs to — no one is safe enough to expect that foe actors will bypass vital company resources.