From www.tomshardware.com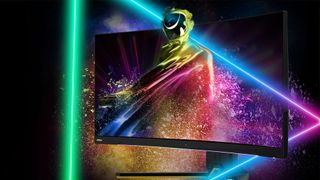 (Image credit: MSI)
A gaming monitor roadmap, allegedly from MSI, has leaked. If the roadmap shared by chi11eddogg is genuine, it looks like MSI will jump onto the QD-OLED monitor train with both feet. The gaming monitors in the leak sport large, attractive, high-res panels, with fast refresh rates, and show MSI is also interested in promoting USB Type-C connectivity.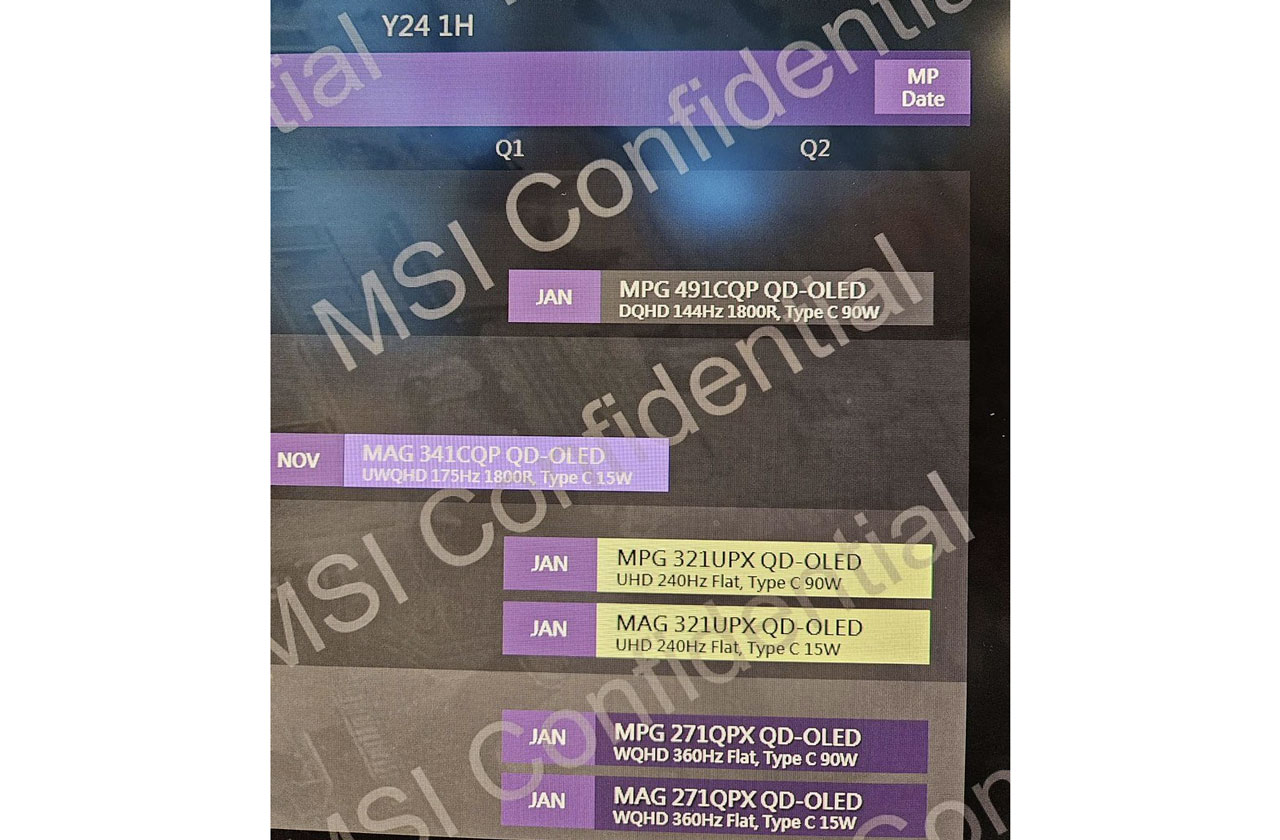 All of the monitors in the leak seem to be equipped with 'QD-OLED' panels. Samsung is the only maker of panels we know of with this description — QD-OLED panels mix quantum dots (QDs), for bright, vivid colors, with OLED technology, for stunning contrast, deep blacks, and great response times.
According to the leaked launch timeline, the first new QD-OLED gaming monitor from MSI will be the MSI MAG 341CQP. This will be a 34-inch 1800R curved monitor with a UWQHD resolution, or 3440 x 1440 pixels. MSI has made several 34-inch UWQHD curved gaming monitors (I own one), but this new model will have the added appeal of a QD-OLED panel with a 175 Hz max refresh rate. As part of the MAG series, we expect this monitor will have the gaming basics covered while also being affordable.
If you aren't familiar with the MSI gaming product family hierarchy, this is how it goes: MEG — MSI Enthusiast Gaming; MPG — MSI Performance Gaming; and MAG — MSI Arsenal Gaming.
Swipe to scroll horizontally
| Date | Model | Panel type | Panel resolution | Refresh (Hz) |
| --- | --- | --- | --- | --- |
| Nov 2023 | MAG 341CQP | QD-OLED 1800R | UWQHD | 175 |
| Jan 2024 | MPG 491CQP | QD-OLED 1800R | DQHD | 144 |
| Jan 2024 | MPG 321UPX | QD-OLED Flat | UHD | 240 |
| Jan 2024 | MAG 271QPX | QD-OLED Flat | QHD | 360 |
The next gaming monitor from MSI in the leak is the MPG 491CQP. We expect this to feature a 49-inch diagonal QD-OLED panel with 1800R curvature. The resolution is described as DQHD, which is 5120 x 1440 pixels. It seems to have a lot in common with Samsung's 49-inch Odyssey OLED G9 DQHD Gaming Monitor — but the $2,200 Samsung model has a faster max refresh at 240 Hz, so MSI's monitor will potentially be a cheaper option.
Two more MSI QD-OLED gaming monitors are listed for release in January. The leak indicates that the flat screen MPG 321UPX and MAG 271QPX are on the way. These are 32-inch UHD (4K) 240 Hz, and 27-inch QHD 360 Hz monitors, respectively, according to the leak.
On the topic of USB Type-C connectivity, the roadmap is a little confusing, but we interpret the "Type-C 15W" text to mean that the monitor supports 15W charging from its USB Type-C ports. Meanwhile, "Type C 90W" suggests single cable USB-C connectivity with 90W power delivery. Some monitor makers offer both these features together in the same monitor, so it's a little odd to see them listed separately — but remember, this is a leak, so all specs should be taken with a grain of salt, anyway.
It is possible that some of the leaked monitors will be good enough to make it into our best curved gaming monitors and best computer monitors roundups post-release. It shouldn't be long until we see the first monitor, the MAG 341CQP, arrive, assuming the Nov. 2023 date on the roadmap is correct. The rest will likely arrive all at once in the tidal wave of tech product launches timed for CES 2024, which will run from Jan. 9 – 12, 2024, in Las Vegas.
[ For more curated Computing news, check out the main news page here]
The post Leaked MSI Gaming Monitor Roadmap Shows QD-OLED Ambitions | Tom's Hardware first appeared on www.tomshardware.com