From www.tomsguide.com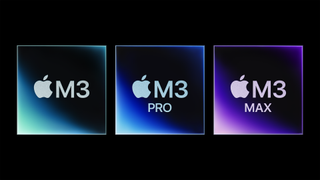 (Image credit: Apple)
New MacBook Pros powered by M3-series chips launch on November 7 but alleged benchmarks have already leaked. If these numbers are accurate, M3 MacBook Pro benchmarks reveal serious power. However, some competitors still have an edge.
As spotted (and subsequently verified) by 9to5Mac, benchmarks have appeared on Geekbench which confirms Apple's claims about the power of its next-gen processors. Before we compare M3 to its rivals, let's see how the new Apple processor compares to M2, according to the leaked numbers.
Swipe to scroll horizontally
| Chipset | Geekbench 6 single-core | Geekbench 6 multi-core |
| --- | --- | --- |
| Apple M3 | 3,030 | 11,649 |
| Apple M2 | 2,572 | 9,465 |
| Apple M3 Max | 2,971 | 20,785 |
| Apple M2 Max | 2,736 | 14,497 |
| Apple M2 Ultra | 2,430 | 18,700 |
The list above shows a single-core score of 3,030 and a multi-core reading of 11,649. For the 8-core CPU on the basic M3 chip, Apple said you could expect 35% faster performance than M1 and 20% faster than M2. If this leak is legit, then Apple was spot on.
Geekbench's average scores for the M1-powered MacBook Air are 2,333 and 8,313 — or a 30% and 40% increase there. Split the difference, and it's 35%. For the M2-powered version, the averages are 2,572 and 9,645, for a smaller boost of 18% and 21% respectively. That might not sound very impressive, but Apple promises improved graphical performance. The Cupertino-based tech giant says the 10-core GPU is up to 65% faster than M1 and 20% faster than M2.
Another Geekbench benchmark for the M3 Max-powered MacBook Pro surfaced after the base M3. Here, we see that it achieved scores of 2,971 in single-core and 20,785 in multi-core. If these numbers are true, they crush the average for M2 Max (2,736 and 14,497) but are relatively on par with M2 Ultra.
These alleged Geekbench scores confirm what Apple said about its new processors, but how do the numbers compare to competitors? There's some good news and bad news for Apple.
Swipe to scroll horizontally
| Header Cell – Column 0 | Geekbench 6 single-core | Geekbench 6 multi-core |
| --- | --- | --- |
| M3 MacBook Pro | 3,030 | 11,649 |
| M3 Max MacBook Pro | 2,971 | 20,785 |
| Lenovo Legion 9 (Intel Core i9-13980HX) | 2,871 | 17,440 |
| Microsoft Surface Laptop Studio 2 (Intel Core i7-13700H) | 2,577 | 13,360 |
| HP Omen 16 (AMD Ryzen 9 7940HS) | 2,694 | 12,097 |
| Snapdragon X Elite | 2,979 | 15,130 |
As you can see in the graph above, both the regular M3 and the beefier M3 Max defeat rival chips from Intel and AMD in single-core performance. The alleged leaked numbers for M3 also top Qualcomm's numbers for its Snapdragon X Elite chip, but only by a narrow margin.
We see the gulf widen when we check out the multi-core scores. The base M3 is at the bottom of the rung compared to every other chip listed above. The M3 Max, however, manages to demolish every processor, but that gap is narrowing.
Outlook
As always when it comes to any leaks, we should take everything discussed above with a proverbial grain of salt. We'll see what the M3 chips can truly do once we've brought the new Apple laptops into our testing lab. If these alleged leaked numbers are accurate, it seems the entry-level M3 won't smash its competitors. However, the M3 Max should be quite a performant beast.
In the meantime, check out our hands-on review of the 16-inch MacBook Pro. We should have full benchmark-packed reviews of all M3-powered Macs soon — so stay tuned for that.
More from Tom's Guide
[ For more curated Computing news, check out the main news page here]
The post M3 is NOT as fast as Snapdragon X Elite — Intel and AMD have closed the gap as well first appeared on www.tomsguide.com