From www.slashgear.com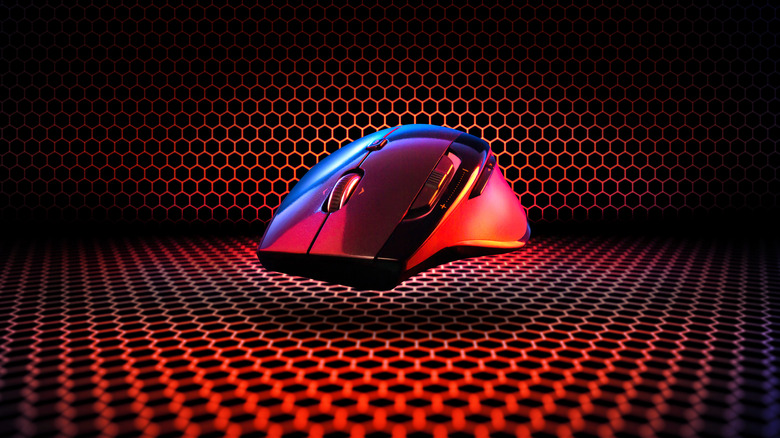 NAAN/Shutterstock
The first computer mouse was built by Bill English in 1964, but it took a couple of decades before it was a commercial success. Even then, it was primarily used for specific tasks, and using it to control the player's vision in free look didn't come until 1994 when Bungie released "Marathon" on the Macintosh. Then it found a home on the PC, with "Descent" and "Quake," proving that mouse aiming was the superior control method. It still is, even if you prefer playing with a gaming controller, as the fine-tuned control made possible by a good gaming mouse paired with a mechanical keyboard is unmatched.
In the last few decades, companies have brought out gaming-focused mice to capitalize on the growing popularity of PC gaming. These started simple, with better sensors, additional buttons, and more ergonomic shapes. Then came wireless versions, even though the NiCad batteries had short lifespans. Now they come with configurable lighting, multiple connectivity options, ways to make them lighter, and more buttons, always more buttons.
It's worth noting that this list is far from exhaustive. Any number of smaller, less well-known, niche gaming mouse designers could deserve a place on this list based on features or performance. We're only looking at the major brands that set the trends and push the largest sales volume. We also didn't include Nintendo, although it created the first game-specific mouse for 1992's "Mario Paint" on the SNES.
10. Glorious
Glorious Gaming has been around since 2014, when it was formed to bring affordable, high-performing gaming peripherals to a market dominated by a few major players. Now the company is one of those major players, thanks in no small part to its range of lightweight gaming mice introduced in 2019. The Model O is $50, has a honeycombed shell for lightness and strength, and has Virgin PTFE skates and a flexible, sleeved cable. It's everything you want from a gaming mouse but for much, much cheaper than the bigger companies.
It came with a problem at first launch, in that some of the packaging had an issue that could damage the cord on the way to the consumer. That's not a great look from a first release from any company, and Glorious was initially fairly silent. It then decided to replace the cable of every possibly-affected mouse by letting the owner ask for one of its Ascended cables, which takes a screwdriver, and a few minutes to install.
Now it's a few years after that, and the range has wireless options and 64 different gaming mice if you count color variants and sizes. It also now has a considerable investment of private equity cash, which happened late in 2022, according to Dallas Innovates. That brought a new CEO, who was previously at Danish peripheral maker SteelSeries, and they're no longer the scrappy upstart – they're an established player with retail partnerships.
9. Roccat
Roccat has been around since 2007, when it broke new ground for gaming keyboards with the Valo, which had 2MB of internal memory for macro storage. It also showed off the first Kone gaming mouse, which featured RGB lighting, an adjustable weight system, and a laser sensor with a tracking control unit for extra accuracy. It continued to bring innovation to the market with Pyra Wireless, the first wireless mouse with a 1000Hz polling rate, and then in 2010, EasyShift, which put a modifier key on the mouse so that every button could have a secondary function assigned to it.
Then in 2019, Roccat was acquired by Turtle Beach to become its official PC gaming accessories brand. Since then, it's brought out more gaming mice, sticking to its design language. The Kone XP Air has a glow-through case with lines of RGB lighting underneath and ten dedicated function buttons. It also has Bluetooth and 2.4GHz wireless, which can be wired to recharge while playing. Or the Burst Pro Air, which uses a hyperlight shell with translucent skin to show off the RGB lighting to great effect.
8. HyperX
HyperX has long been a dependable midtier name in the PC peripherals space, with affordable, quality gaming mice and other devices. It used to be owned by Kingston Technology Company, but the gaming peripherals section of the company got sold to HP in 2021 along with the name. That $425 million purchase gave HP all it needed to offer better gaming mice with its Omen line of prebuilt PCs.
Since the purchase, HyperX has continued releasing affordable, competitive gaming mice like the Pulsefire Haste, an ultralight gaming mouse with 400/800/1600/3200 DPI presets, 2.4GHz wireless, and a honeycomb design that takes the total weight down to 2 ounces. The company seems content in its lane, releasing gaming mice that are just enough for most people without the frills that more expensive models upcharge for, like wireless charging mats or recharging docks. And that's just fine. Not everyone wants the flashy features; sometimes, it's enough to buy a gaming mouse for under $30 from a name you trust.
7. SteelSeries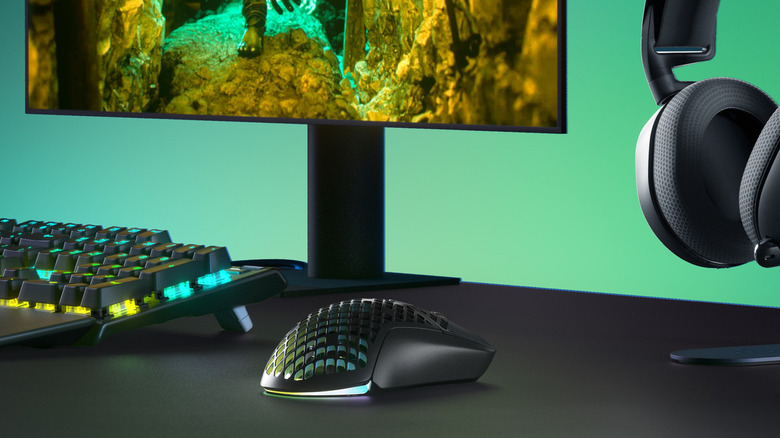 SteelSeries
SteelSeries has been around since 2001 and has grown alongside the rising popularity of esports. It lays claim to being the first company to sponsor an individual esports pro, Grubby, in 2011 and the first-ever CS:GO major the following year. The company's gaming mice come in wired and wireless versions with tasteful RGB lighting. They use advanced features, including TrueMove sensors that give a 1:1 response on-screen for precision aiming, optical-magnetic switches that promise not to get mushy over time, and removable USB cables even on the wired mice to guard against damage while thrown into a backpack. The company has also tried to keep the prices down, with many of its mice in the affordable region.
One of the things SteelSeries has always done well is co-branded devices with the best of esports or multiplayer games. These include notable franchises such as Destiny, Call of Duty, and Diablo and designs based on CS:GO weapon skins. They used to have reliability issues, including switches not registering or double-clicking, although we've not seen that reported recently, so the newly designed switches might be more durable. Most of its mice are ambidextrous, except for the ones intended for MOBA or MMO use which have a grid of assignable buttons on the left side of the mouse, where the thumb would rest.
6. Corsair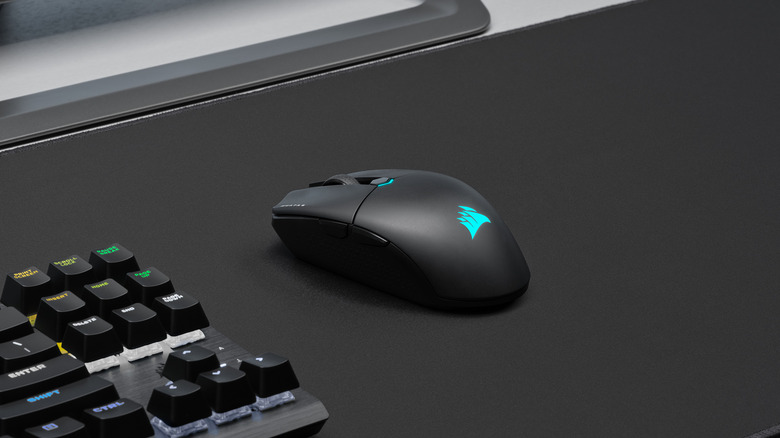 Corsair
Corsair makes almost anything and everything related to PC gaming these days, from keyboards to video capture cards to gaming controllers and even whole computers. It deserves a place in this ranking for its number of gaming mice in the lineup. There are 22 gaming mice sold by Corsair, with wireless and wired options. Some of these are old designs like the M65, which keeps being reimagined and reissued every few years, and the current iteration is wireless and has adjustable weights. Some are new, like the Katar Elite wireless, which has a 26K DPI sensor, weighs 69g, and has low-latency Bluetooth and Slipstream 2.4GHz.
It's a favorite of gamers with larger hands, as many designs are chunky while staying comfortable. MMO or MOBA players are well-served by the Scimitar and its side grid of additional buttons for spells, potions, and abilities, and the lighter-weight models are accurate for FPS players. The iCUE system syncs up the RGB of all the other Corsair accessories you might have, and all the mice are pretty programmable with macros and other key assignments. The only real black mark against the company was when it tried to change its logo in 2015. The new tribal design looked like a tramp stamp, and nobody was happy about having it on their peripherals. After a few months of community uproar, the logo changed again to a slightly revised version of the original pirate sails.
5. Asus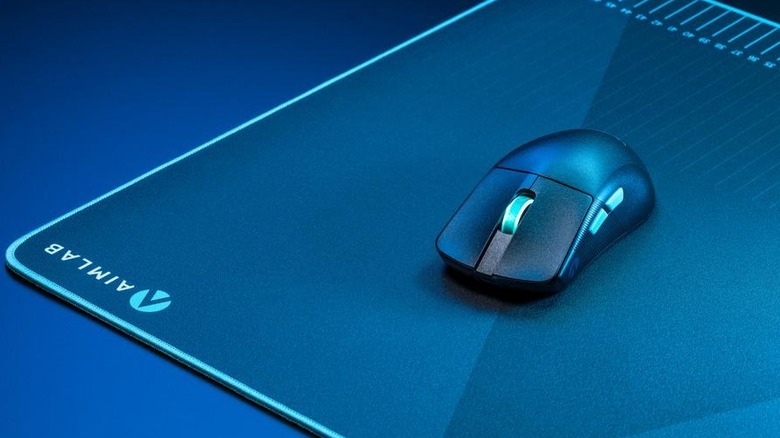 Asus
Asus is one of the most prominent names in PC gaming, with a consolidated revenue in 2022 of $17.42 billion. Its gaming mice are sold under two sub-brands, TUF and ROG (Republic of Gamers), and are generally well-regarded. It is one of the leading companies selling wireless mice with reliable wireless connectivity, putting Bluetooth and 2.4GHz RF wireless on the same units.
The company uses its own ROG-designed mouse switches, which are tactile, rated for 70 million clicks, and have a levered design so that the mouse shell sits directly on top without a gap. Most of the ROG lines come with one feature that should be standard on any gaming mouse, hot-swappable sockets for the switches so that if one fails, it can be swapped out without soldering skills. All it takes is for the top shell to be unscrewed, and the faulty switches can be pulled out. Higher-quality mechanical keyboards feature this heavily, and there's no excuse for other brands that don't feature it. iFixit heavily praised Asus for using push-fit sockets, and we agree -– the level of customization and eco-friendly longevity it affords should be a standard feature.
4. BenQ
BenQ has stayed at the forefront of the gaming mouse market by sticking to what it knows – uncomplicated, minimalist mice, mostly in matte black, sans-RGB lighting, with different profiles and sizes suited for different hands and grip styles. Its gaming brand, Zowie, is popular in esports due to the accurate PixArt sensors that each mouse model is built around. The company partners with multiple esports teams and uses their knowledge to develop new models and tweak existing ones.
The four models in the range come in different sizes, as hand size and fit are essential for long gaming sessions. BenQ offers a mouse testing kit that essentially rents out multiple sizes of every mouse to test before purchasing, something no other company provides. The no-frills designs are developed for FPS gaming performance, with low weights, good handling, and a no-driver approach, so they perform precisely the same on any PC without spending time tweaking software.
3. Finalmouse
Boutique gaming mouse maker Finalmouse might not shift the vast quantities of devices as some of the others on this ranking, but it deserves a place for three primary reasons. It caters to gamers of all kinds, with limited releases of individual designs throughout the year, including plenty of marketing and hype built up with a big social media presence that's slightly unhinged.
The company has only been around a short while but has had big-name partnerships with streamers like Tyler "Ninja" Blevins and his Air58 Ninja models and esports star Tyson "TenZ" Ngo, whose Starlight Pro – TenZ edition sold out all 40,000 units of the $190 mouse in a couple of hours according to esports.gg. That's over $7.5 million worth of mice sold in a night.
The company's name is firmly associated with the current ultralight, drilled-out gaming mice chassis trend. The plastic-shelled versions come in at 50g total, even on the wireless models, and the newer magnesium-chassis models are 42g for the small size and 47g for the medium. With the rest of the industry now making ultralight models in plastic and magnesium alloys, the trail blazed by Finalmouse is clear to see.
2. Razer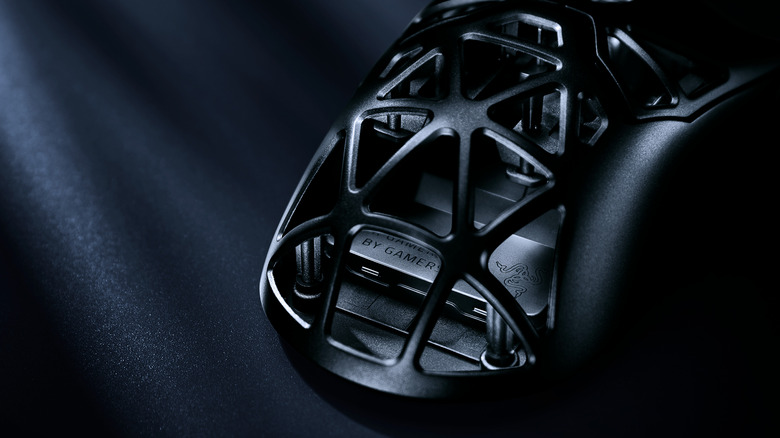 Razer
Razer is one of the most recognized brands in the gaming mouse market, and it has a near cult-like following, with multiple models released yearly. It's also the company that first started increasing the DPI of the sensor above the 400 DPI that most consumer mice used in 1999.
That jump in tracking speed came in 1999's Razer Boomslang, which came in either 1000 or 2000 DPI versions. It still used an optomechanical mouse ball for tracking, with a clickable scroll wheel and two primary and two side buttons. The software could only use one of the side buttons at a time, setting the mouse up for right or left-handed use. The main buttons were oversized and gave the mouse a shovel profile, which was revolutionary then and can still be found on every gaming mouse Razer makes. The designs include its signature Chroma RGB lighting system, better optical sensors, and up to 8,000MHz wireless polling rates.
Kärna LLC owned the original Razer and ran out of money in 2001, according to Eurogamer. The current CEO, Min-Liang Tan, purchased the rights to the Razer brand in 2005, and the company has grown into a global force since then. It posted $1.61 billion in revenue in 2021, according to Companiesmarketcap. Yahoo! Finance reports it was delisted from the Hong Kong stock exchange in 2022 after an influx of cash from private equity.
1. Logitech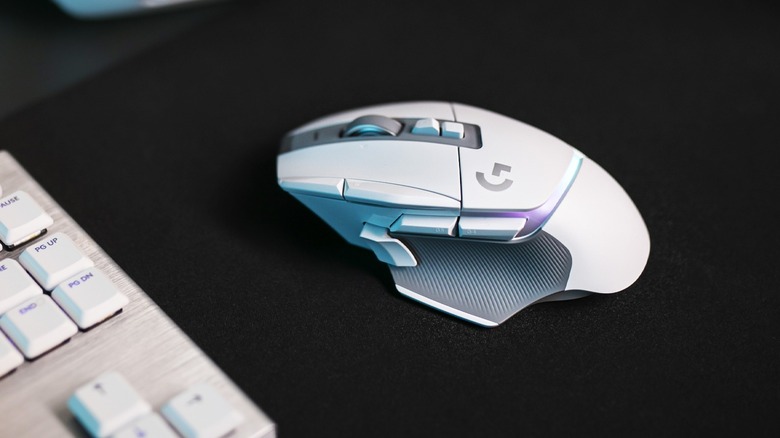 Logitech
If we ranked based on revenue alone, Logitech would still be in the top spot. According to Statista, the Swiss peripherals maker reported sales revenues of $5.48 billion in 2022. That's $781.11 million in pointing devices and $1.45 billion in gaming products. That gaming would be its largest segment was almost unfathomable in 1999, when it released its first gaming mice, the WingMan Gaming Mouse and WingMan Force Feedback Mouse. These included a middle button for additional functionality, larger buttons, and a pinched body that meant you had to claw grip it. The force feedback version wasn't a hit due to low game compatibility and a reduced range of motion, but it didn't stop the company from innovating.
For the next few years, Logitech was focused on the standard consumer range, with one significant change -– the shift from an optomechanical mouse ball to purely optical sensors. In 2005, the company returned to the gaming market and released the G1, launching the Logitech G line. Since then, it has released dozens of highly-regarded gaming mice, like the G502, which has been re-released in multiple forms since its introduction in 2014. Logitech deserves its place on this list, as one of the longest-running gaming mouse brands, with its products on the largest number of desks.
The post Major Gaming Mouse Brands Ranked Worst To Best – SlashGear first appeared on www.slashgear.com
In many places around the world, horse races are an attraction that a lot of people love to watch. With the fast-paced action and thrill that each game provides, it is no longer surprising to know that millions of fans have grown fond of it.