From www.anandtech.com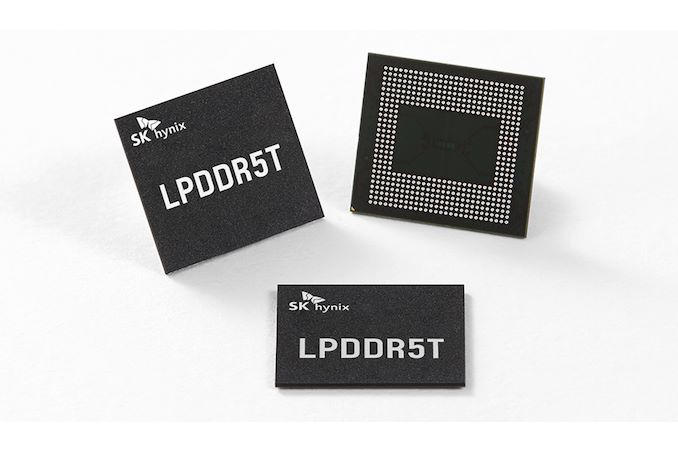 Fast memory is crucial for the performance of high-end system-on-chips that are getting more sophisticated every year. When it comes to smartphones, the most obvious way to boost memory performance is to push its data transfer rate. Apparently, this is what Micron and SK Hynix are doing with their new LPDDR5X and LPDDR5T DRAMs that boast a data transfer rate of 9.6 GT/s.
Micron's LPDDR5X-9600 memory devices are made on the company's latest 1β (1-beta) process technology. They are offered in up to 16 GB x64 packages (though it is unclear how many actual memory devices these packages integrate). Micron says that its LPDDR5X made on its latest production node boasts up to 30% lower power consumption compared to competing LPDDR5X ICs made on 1α (1-alpha) technology, though this is something to be expected.
Micron does not disclose how it managed to increase the data transfer rate of its LPDDR5X to 9.6 GT/s, which is a 12% increase compared to 8.53 GT/s, which was once considered the highest speed of LPDDR5X memory. The only thing that the company discloses is that these ICs boast 'enhanced' dynamic voltage and frequency scaling, although DVFS is a part of LPDDR5X specification.
"Generative AI is poised to unleash unprecedented productivity, ease of use, and personalization for smartphone users by delivering the power of large language models to flagship mobile phones," said Mark Montierth, corporate vice president and general manager of Micron's Mobile Business Unit. "Micron's 1β LPDDR5X combined with Qualcomm Technologies' AI-optimized Snapdragon 8 Gen 3 Mobile Platform empowers smartphone manufacturers with the next-generation performance and power efficiency essential to enabling revolutionary AI technology at the edge."
SK Hynix is another company to start shipping LPDDR5-9600 memory today, which calls its fastest LPDDR5 DRAMs LPDDR5T (T stands for Turbo). The new memory will be available in 16 GB packages with a VDD voltage range of 1.01V to 1.12V and a VDDQ of 0.5v. By contrast, LPDDR5X should have a maximum VDD voltage of 1.1V, so LPDDR5T is slightly out of LPDDR5X spec.
Meanwhile, both Micron's LPDDR5X-9600 and SK Hynix's LPDDR5T-9600 are compatible with Qualcomm's Snapdragon 8 Gen 3 system-on-chip for smartphones, the two compares announced on Tuesday. Micron is already shipping its 16 GB LPDDR 9.6 GT/s modules featuring a 76.8 GB/s peak bandwidth, so expect some of Qualcomm's partners to use the world's fastest mobile memory shortly. SK Hynix's module has been validated by Qualcomm, so the South Korean company will likely begin commercial shipments of its LPDDR5T-9600 product soon.
"We are thrilled that we have met our customers' needs for the ultra-high performance mobile DRAM with the provision of the LPDDR5T," said Sungsoo Ryu, head of DRAM Product Planning at SK Hynix.
[ For more curated Computing news, check out the main news page here]
The post Micron and SK hynix Ship LPDDR5-9600 Memory for Next-Gen Smartphones first appeared on www.anandtech.com