From windowscentral.com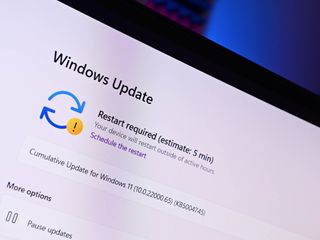 (Image credit: Future)
What you need to know
Microsoft begins automatically updating Windows 11 users to version 22H2.
Some users on 21H2 will begin seeing the 22H2 update as soon as today.
It's unclear if users have the option to decline the update once it's offered.
---
Microsoft has announced that users still running the original launch version of Windows 11, known as version 21H2, will be automatically upgraded to the latest version of Windows 11 known as version 22H2 or the "2022 Update" starting now. The update is rolling out in waves, beginning with PCs that have been running Windows 11 version 21H2 the longest.
The announcement was buried in a Microsoft support document (opens in new tab) for known issues, which says:
"Today we begin to automatically update consumer and non-managed business devices running Windows 11, version 21H2 Home and Pro editions to Windows 11, version 22H2. Since Windows 10, we have been helping Windows users stay up to date and secure with supported versions of Windows through automatic updates. We are utilizing this same approach for Windows 11 to help you stay protected and productive.
The automatic update to Windows 11, version 22H2 will happen gradually starting with those devices that have been using version 21H2 for the longest period of time. As always, you will have the ability to choose a convenient time for your device to restart and complete the update."
Microsoft forcing the latest Windows 11 feature update onto users is quite the departure from how Microsoft handled feature updates on the last version of Windows. On Windows 10, new feature updates would only be forced onto users running an unsupported version of the OS.
Windows 11 version 21H2 is still in support, and will be until October later this year. (opens in new tab) It looks like that strategy is over, as Microsoft is now automatically pushing the Windows 11 version 22H2 update onto users running Windows 11 version 21H2. The Microsoft support document doesn't mention whether users can decline the upgrade once it's offered in Windows Update.
Microsoft does say that "Customer feedback and analysis show a positive experience with Windows 11, version 22H2," to reassure users that the latest version of Windows 11 won't cause any problems once you upgrade.
What's new in the version 22H2 update?
For those still on version 21H2, here's a quick rundown of the top new features that are present with the Windows 11 version 22H2 release:
App folders in Start menu
Resizable pinned area in Start menu
Drag and Drop on the Taskbar
Focus Assist integration with Notification Center
New "spotlight" wallpaper feature
New Voice Access accessibility feature
New Live Captions accessibility feature
New gestures and animations for touch users
New snap layouts bar when moving app windows
New Task Manager app
New "Suggested Actions" feature when copying dates/numbers
Tabs in File Explorer
Better OneDrive integration with File Explorer
Numerous UI improvements and consistency updates
Thanks for the tip, Tim G!
The post Microsoft begins automatically updating Windows 11 version 21H2 users to version 22H2 first appeared on windowscentral.com
In many places around the world, horse races are an attraction that a lot of people love to watch. With the fast-paced action and thrill that each game provides, it is no longer surprising to know that millions of fans have grown fond of it.
Cybersecurity threats have become vast and more sophisticated. The rate of malware attacks and malicious activity counts within seconds despite the size or sector the organization belongs to — no one is safe enough to expect that foe actors will bypass vital company resources.