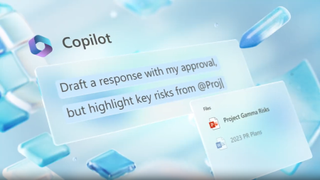 (Image credit: Microsoft)
What you need to know
Microsoft has announced new AI Copilot features coming to Microsoft 365 apps and services soon.
OneNote, Loop, Viva Learning, and Whiteboard are all set to get Copilot.
AI features in Microsoft 365 are currently in closed preview.
---
Earlier this year, Microsoft unveiled Copilot for Microsoft 365, an AI tool that can assist you in creating content and using many of the applications and services that are part of the Microsoft 365 subscription. Copilot in Word, PowerPoint, Outlook, Excel, and Teams were highlighted, but there was no mention of other apps and services such as Outlook or Loop.
That changes today, as Microsoft has announced that Copilot is indeed coming to OneNote, Loop, Whiteboard and Viva Learning. Copilot in OneNote will be able to draft plans, generate ideas, create lists, and organize information to help users find what they need. Copilot in Loop will be able to intelligently summarize content on a page, keeping everyone aligned on goals and milestones.
Here's the list of AI features Microsoft is announcing for Microsoft 365 apps and services today:
Copilot in Whiteboard will make Microsoft Teams meetings and brainstorms more creative and effective. Using natural language, you can ask Copilot to generate ideas, organize ideas into themes, create designs that bring ideas to life and summarize whiteboard content.
By integrating DALL-E, OpenAI's image generator, into PowerPoint, users will be able to ask Copilot to create custom images to support their content.
AI-powered coaching tips and suggestions on clarity, sentiment and tone in Outlook will help users write more effective emails and communicate more confidently.
Copilot in OneNote will use prompts to draft plans, generate ideas, create lists and organize information to help customers find what they need easily.
Copilot in Loop helps your team stay in sync by quickly summarizing all the content on your Loop page to keep everyone aligned and able to collaborate effectively.
Copilot in Viva Learning will use a natural language chat interface to help users create a personalized learning journey including designing upskilling paths, discovering relevant learning resources and scheduling time for assigned trainings.
Microsoft has been full steam ahead on delivering new AI capabilities in many of its products over the last handful of months, starting with AI features in Microsoft Bing. Bing Chat has taken the world by storm, adding an AI assistant to search that can gather data for you with simple queries. That same functionality is being built into Edge, too.
Now, with Copilot in Microsoft 365, much of that technology is also coming to Office. Unlike Bing AI, however, Copilot for Microsoft 365 is not yet in public preview. Microsoft has been testing it with 20 enterprise customers, and has just announced a paid preview program for 600 enterprise customers to partake in if they wish. There's no word on when Copilot for Microsoft 365 will be available publicly just yet.
The post Microsoft finally details AI Copilot features coming soon to OneNote, Loop, and Whiteboard apps first appeared on www.windowscentral.com
In many places around the world, horse races are an attraction that a lot of people love to watch. With the fast-paced action and thrill that each game provides, it is no longer surprising to know that millions of fans have grown fond of it.
Cybersecurity threats have become vast and more sophisticated. The rate of malware attacks and malicious activity counts within seconds despite the size or sector the organization belongs to — no one is safe enough to expect that foe actors will bypass vital company resources.