From www.techadvisor.com
Image: Dominik Tomaszewski / Foundry
Microsoft has already added lots of new features to Windows 11 since its initial release in late 2021, but it looks like more are on the way soon.
Plenty of new functionality was added in September's 22H2 update, before File Explorer tabs finally arrived in a subsequent October 2022 update. Another range of new features were then released in February 2023.
These 'Moment' updates are seemingly the way forward for Microsoft, but it's not doing away with the big feature updates entirely. Version 23H2 is scheduled to arrive before the end of 2023, and we already know some of its big new features. Here's everything you need to know.
When will Windows 11's 23H2 update be released?
With the introduction of Windows 11, Microsoft announced that it was shifting to annual feature updates rather than the half-year approach of Windows 10. That was put into doubt following July 2022 rumours from Windows Central, that suggested it'd be replaced with more frequent "Moment" updates throughout the year.
However, it looks like both are true. New features are being added every few months, but as Microsoft confirmed in a February 2023 blog post, "Windows 11 will continue to have an annual feature update cadence".
As for exactly when the 23H2 update will be available, that's not yet clear. Windows Central suggested September or October 2023, but we don't yet know how accurate that is.
The expected gradual rollout means it may take a while to arrive on all Windows 11 devices, although you'll be able to test it ahead of time via the Windows Insider Program. But there's no need to sign up for the new Canary Channel, which is very experimental and may include potential Windows 12 features.
Will all existing Windows 11 devices be compatible with version 23H2?
Almost certainly, yes. Microsoft introduced sweeping new hardware requirements for Windows 11 in the name of security, leaving plenty of older devices unable to upgrade.
There are no indications that'll happen again before the end of Windows 11's lifespan.
Things might be different on Windows 12, which is rumoured to arrive in 2024, but it'd be a big surprise to see Microsoft prevent any Windows 11 devices from getting smaller updates such as 23H2.
What new features will be available in the Windows 23H2 update?
Confirmed upcoming features
The 23H2 update isn't expected for a few months, but that hasn't stopped Microsoft from revealing many upcoming features. These aren't confirmed to arrive in 23H2, but Windows Central thinks they will:
Windows AI Copilot – powerful virtual AI assistant based on ChatGPT and Bing Chat. Can be used to analyse images and text, answer specific contextual questions and control on-device settings
Dynamic Lighting – built-in tools for controlling RGB lighting on devices and accessories
One-click Taskbar app ungrouping and show labels
Ability to hide the date and time on the Taskbar
New support for formats including 7-zip, RAR, gz, and others
New AI features in the Microsoft Store – AI-generated app keywords and review summaries, hub for selected AI apps
Backup and restore apps – will reinstall any apps you've installed from the Microsoft Store when restoring a backup. Unclear if any apps downloaded from elsewhere will be included
As our sister site PCWorld also reports, these features are also coming to Windows 11. Some may arrive in the 23H2 update, although it's not confirmed:
Ability to pin specific apps to a dedicated space on the Widgets panel
Bluetooth LE (Low Energy) support for reduced power consumption while connected
Notifications in Start menu if account-related action required
Ability to turn off presence sensor (on supported devices), which turns screen on you're in front of it and off when you leave
Isolation of older Win32 apps, allowing them to run independently of the rest of Windows 11 and preventing unauthorised access to processes
In April 2023, Microsoft also began publicly testing a new Gallery feature within File Explorer. This will make it easier to view photos and videos from within the app, making it look similar to the separate Photos app: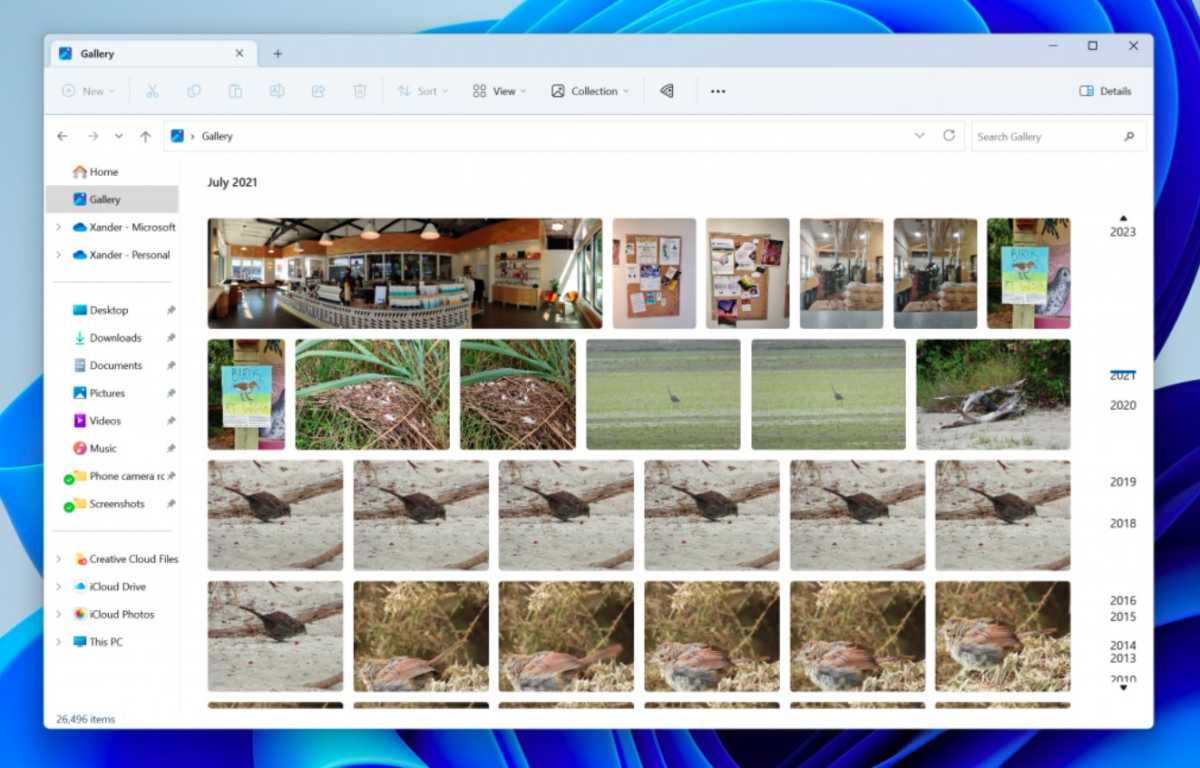 Microsoft
Potential upcoming features
In an earlier Windows Central video, Zac Bowden and Daniel Rubino discuss what 23H2 update might entail. Despite the big caveat that this could all change, there are some useful insights worth knowing about – both are reliable journalists with a strong track record for Windows news.
Despite Windows 10's dedicated tablet mode being dropped for Windows 11, Microsoft is continuing to make the OS more suited to touch input. Bowden anticipates there'll be more to come, with the potential for a separate tablet user interface (UI) to be reintroduced in version 23H2. Windows Latest's Mayank Parmar agrees, suggesting a tablet-friendly taskbar could arrive in 2023.
Bowden also believes version 23H2 might be when we'll finally see a system-wide dark mode. This was originally intended for the first release of Windows 11 in 2021, but there's no suggestion it'll arrive this year either.
In a January 2023 Windows Central article, Zac Bowden claims Windows 11 will be getting an overhauled File Explorer – potentially in the 23H2 update. Microsoft already added tabs in an October 2023 update, but this looks to be taking things to the next level.
Bowden suggests the app will be getting a new modern design, plus greater focus on integration with services such as OneDrive and Microsoft 365. According to internal mock-ups, this will supposedly include a 'Recommended' section on the home page with large thumbnails, more extensive details about files and a more powerful search function.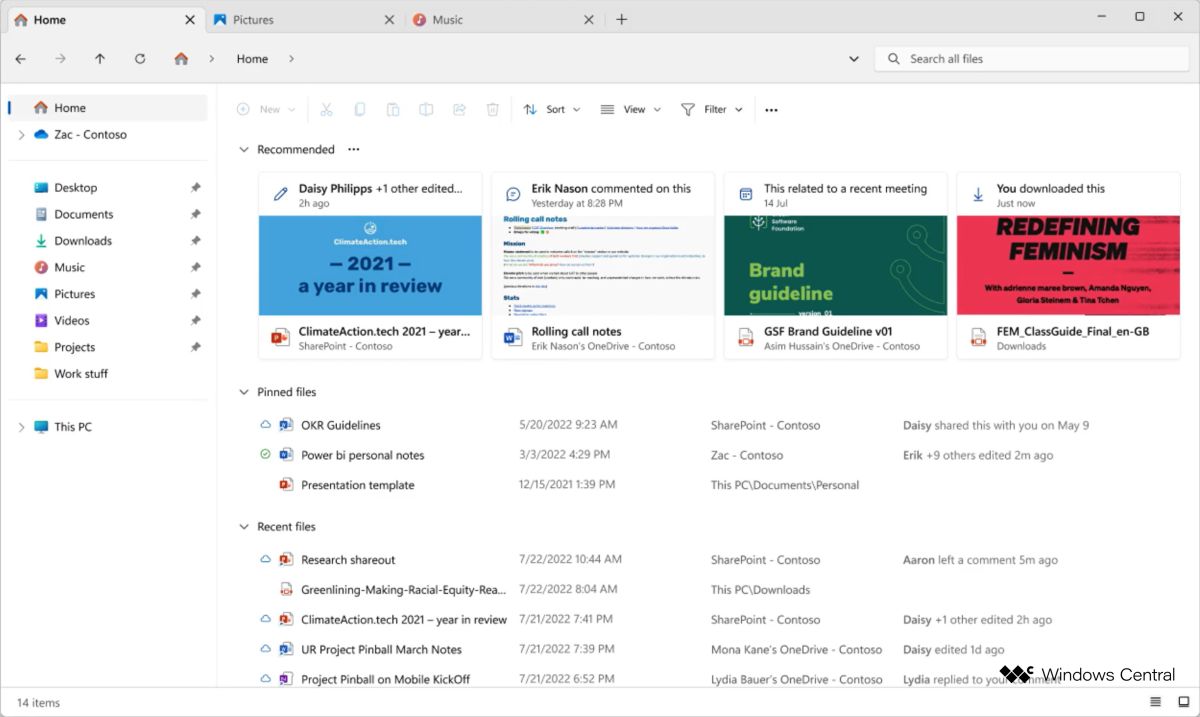 Windows Central
A May 2023 Windows Central article suggests that a future update will allow you to pin widgets to the desktop. The Widgets panel was introduced alongside Windows 11 in 2021, before being opened up to third-party apps a year later. This seems like the logical next step, although it's actually similar to the Windows Desktop Gadgets feature in Windows 7. It's not clear exactly when the feature will arrive, but the 23H2 update is a possibility.
An earlier Windows Latest article discusses another potential 23H2 feature. As Microsoft subtly revealed at its April 2022 event, the option for app folders on the Windows 11 desktop looks to be on the way. With no appearance in the the 22H2 update, it could arrive at some point in 2023 instead.
AI looks set to be a huge part of Windows for years to come, with a potential Windows 12 in 2024 expected to feature it heavily. There are plenty of ways artificial intelligence could upgrade Windows,, and we might see some new features in the 23H2 update, too.
Related articles
The post Microsoft reveals key features coming to Windows 11 in 2023 first appeared on www.techadvisor.com
In many places around the world, horse races are an attraction that a lot of people love to watch. With the fast-paced action and thrill that each game provides, it is no longer surprising to know that millions of fans have grown fond of it.