From bgr.com
Microsoft was the first company to make the ChatGPT GPT-4 upgrade available to users free of charge via Bing. However, you needed a Microsoft account for Bing GPT-4 chats, and there was a waitlist. The tech giant has dropped the waitlist so you can get into GPT-4 chats immediately via Bing. On top of that, Microsoft announced many features that should improve your chat experience.
Microsoft's announcement drops just a few days ahead of Google's big I/O 2023 event, where Google will undoubtedly detail its progress with Bard and other AI products. Ahead of that, Microsoft says Bing Chat powered over half a billion chats in just 90 days since incorporating ChatGPT. Moreover, Bing has grown to exceed 100 million daily active users, and daily installs of the Bing mobile app have increased by 4x since launch.
Bing Chat gets more visual
Microsoft says the human brain processes visual information about 60,000 times faster than text. That's why it's moving to bring more visual elements to search results, including Bing GPT-4 chats. The chatbot will support charts and graphs and new formatting of answers.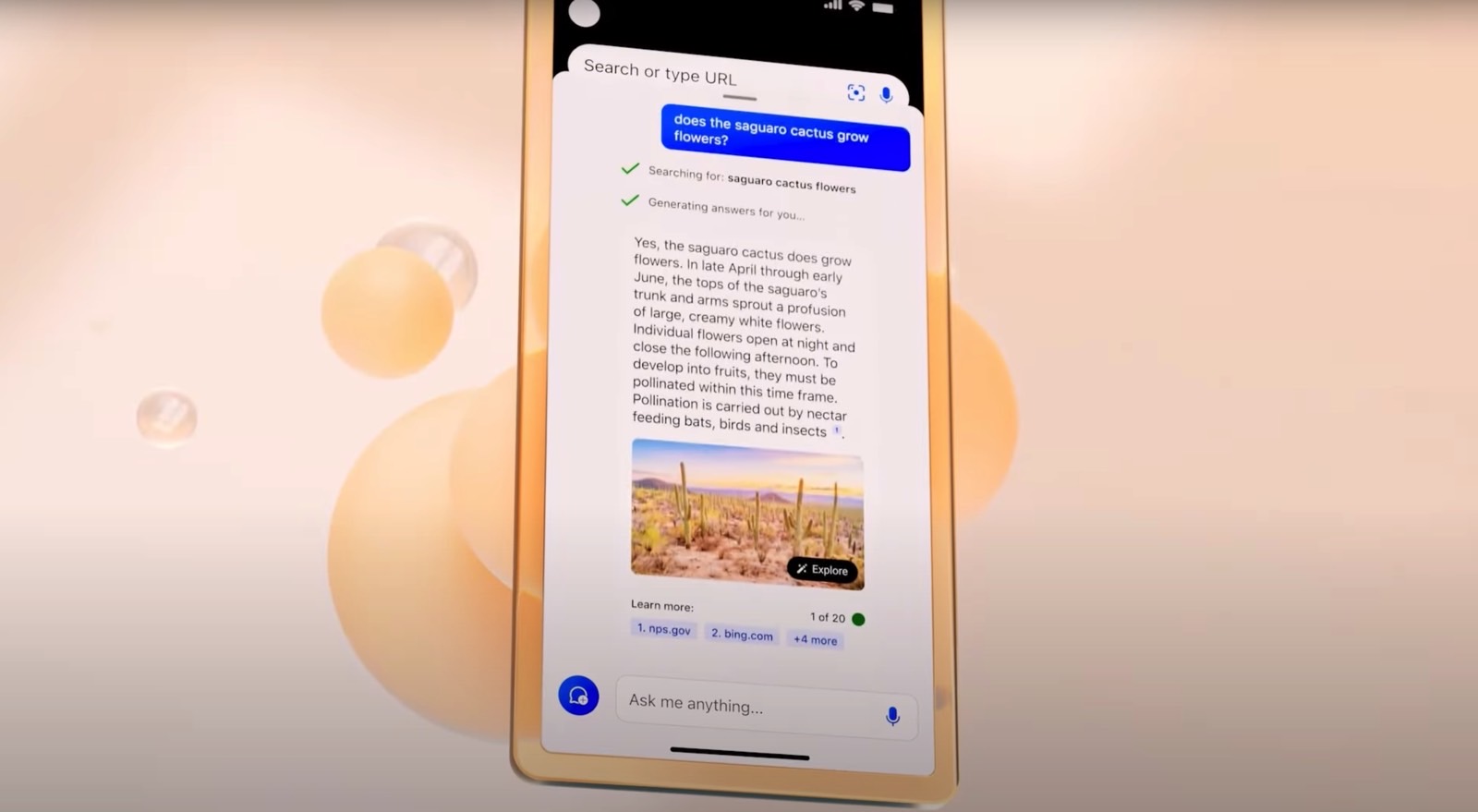 Bing Image Creator supports all Bing languages
Microsoft says people created over 200 million images with Bing Image Creator in 90 days. The company is now expanding the feature to more than 100 languages. That means you'll be able to create images with GPT-4 right from the chat prompt in your native language.
New Edge UI changes for Bing GPT-4
While Bing Chat is available in any browser, Microsoft also uses the GPT-4 popularity to push its Edge browser. That's where one in four Bing chats originate.
Microsoft teases a "sleeker and enhanced" user interface for Edge. That includes a "streamlined look, rounded corners, organized containers, and semi-transparent visual elements."
Multimodal support comes to Bing GPT-4
The biggest GPT-4 feature is multimodal input support. You can use text and images in your prompts to get better results. Microsoft wants to offer that sort of functionality, and the visual search feature is apparently tied to the new Edge interface.
Users will be able to upload images and search the web for related content.
Bing GPT-4 gets history and personalized chats
Microsoft will also let users save their Bing Chat history and share them with others. The chat history means you can resume older GPT-4 chats.
This is another feature tied directly into the Edge GPT-4 redesign. The Bing chat will move to the Edge sidebar when you want to chat with the AI while you browse websites.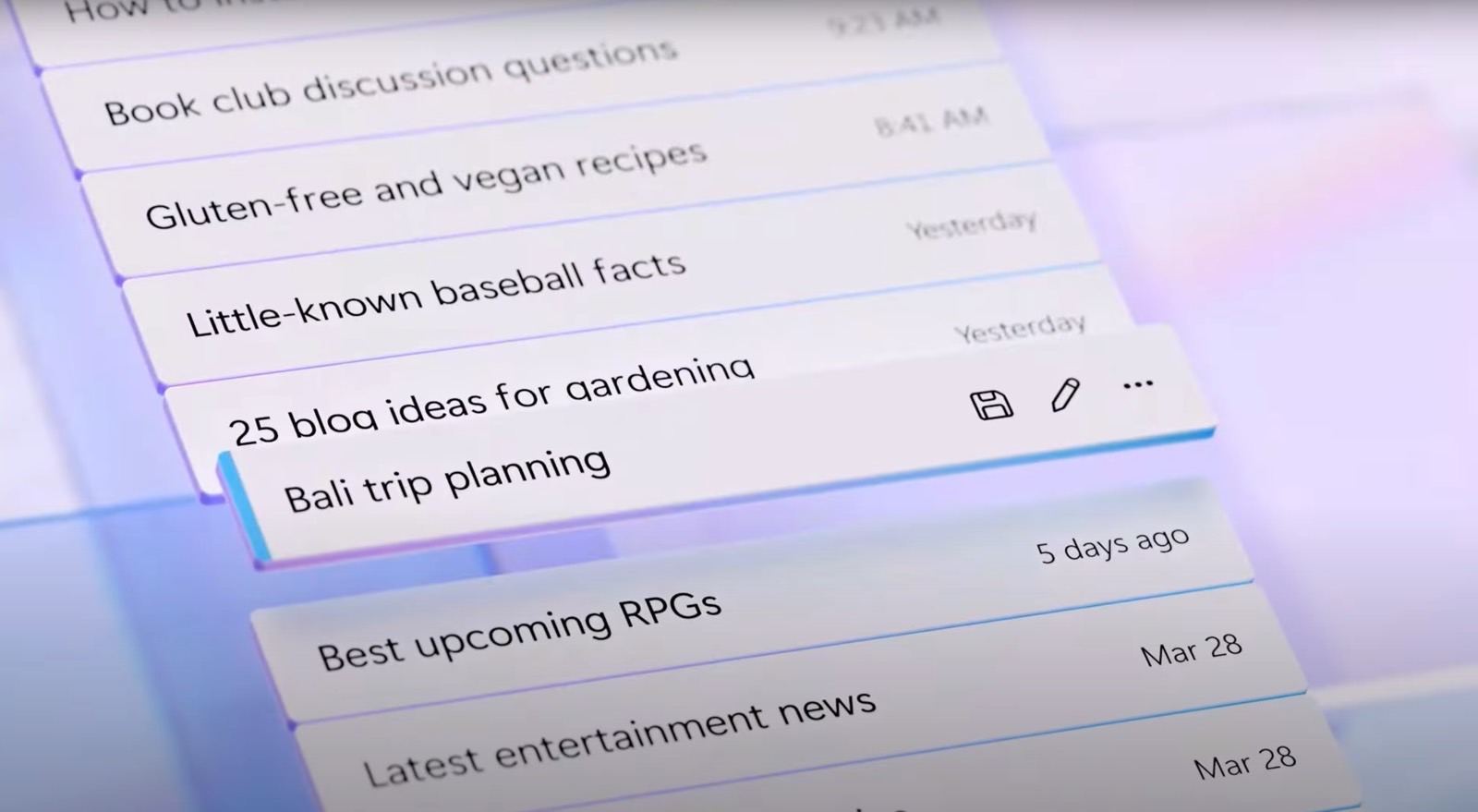 Moreover, Microsoft says that over time it'll be able to make Bing chats more personalized by bringing context from previous chats into conversations.
However, the company doesn't tackle the privacy aspect of these GPT-4 chat features. It's unclear how chat history and personalized context work from that standpoint. And whether your chats will be used to train Microsoft's AI.
Export and save GPT-4 Bing chats
Microsoft will let users export and share Bing chats. The format will stay the same, and you'll be able to move the GPT-4 chats to social media or Microsoft's productivity apps, like Word.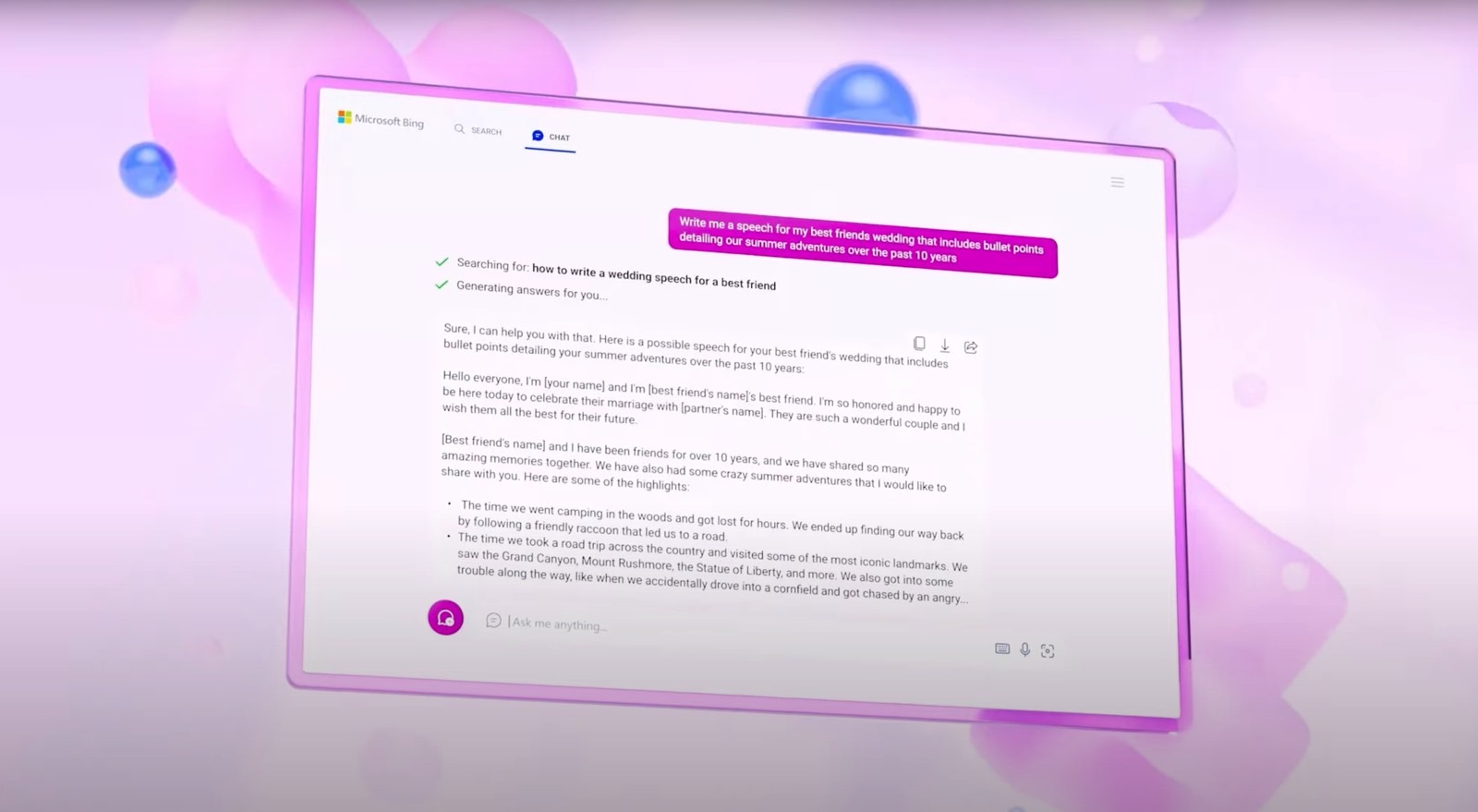 Improved summarization
Bing Chat will get even better at summarizing long documents, whether PDF files or longer-form websites. The feature will be available in Microsoft Edge, the company explains.
Bing GPT-4 gets powerful Edge actions
Like multimodal input support, Edge actions is another interesting feature coming to Bing GPT-4 chats. You'll be able to give ChatGPT more complex instructions, like telling the bot you want to watch a movie.
Actions will find the film online and offer you the available options. You'll be able to play the movie from where it's available from chat. Presumably, you'll have to log into streaming apps to do it, but the feature is still impressive.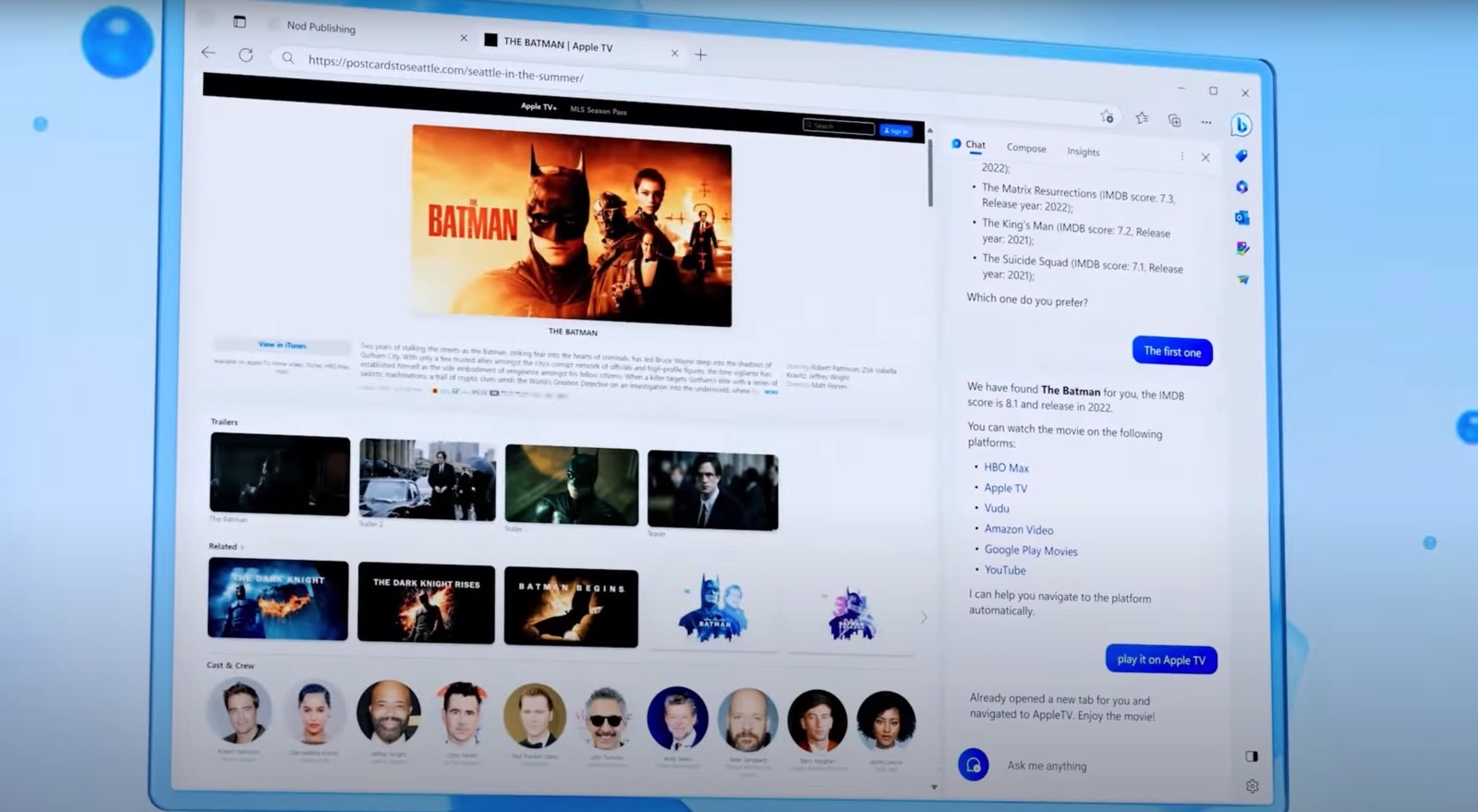 Edge mobile will also support context questions, so you can ask GPT-4 questions about the page you have loaded in the browser.
Bing GPT-4 gets plugins
Finally, plugins are coming to Bing Chat. That's a feature we talked about before, a feature that will let GPT-4 connect to the web for specific actions.
One such plugin comes from OpenTable, which will let you make a reservation right as you're researching a restaurant with Bing GPT-4.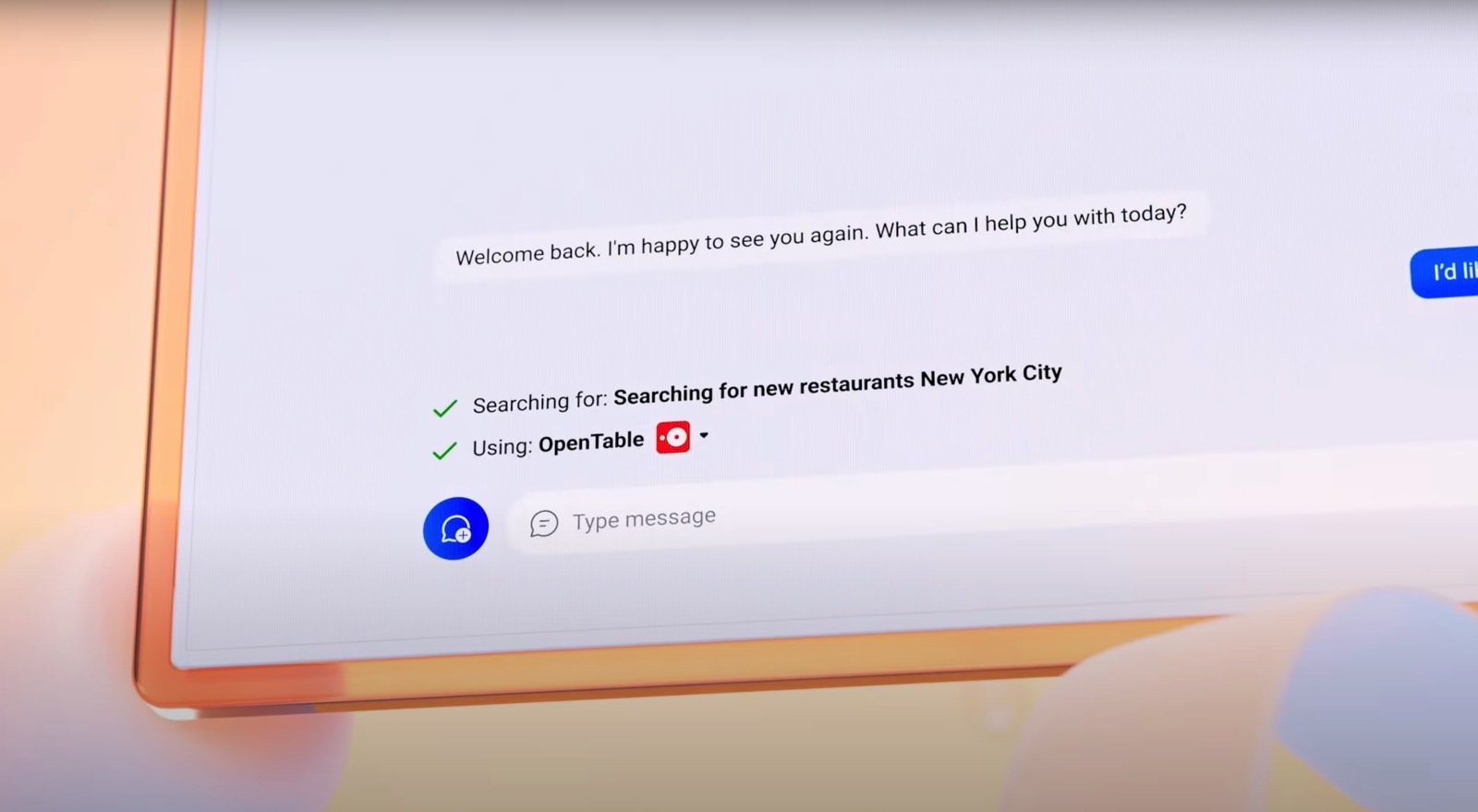 Wolfram|Alpha will let you create visualizations right inside Bing Chat.
More plugins might be unveiled at Microsoft Build later this month. The event starts on May 23rd, a couple of weeks after Google's I/O.
The post Microsoft's Bing AI with GPT-4 goes free with 9 new features first appeared on bgr.com
In many places around the world, horse races are an attraction that a lot of people love to watch. With the fast-paced action and thrill that each game provides, it is no longer surprising to know that millions of fans have grown fond of it.