From www.tomshardware.com
MSI has released an official statement in the wake of reports that its motherboards were at the center of a Windows 11 BSOD issue. The company also confirmed temporary workarounds, which we highlighted as potential solutions yesterday, have the official stamp of approval.
The latest news on this situation is that both Microsoft and MSI are aware of the blue screens precipitated by the combination of Windows 11 Update KB5029351 and the newest 600 and 700 series MSI motherboard BIOS updates.
MSI intended its BIOS updates to provide day-one support for next-gen Intel processors, which will likely be known as the 14th-Gen Core Raptor Lake-S Refresh processors. Meanwhile, Microsoft's software update was ostensibly for ironing out a handful of Windows 11 wrinkles and delivering several "quality improvements." It looks like everyone involved, including end-users, are the victim of unforeseen circumstances.
In its news blog post, MSI says that it recommends "all users temporarily refrain from installing the KB5029351 Preview update in Windows." Thankfully, it promises an update on this advice in due course.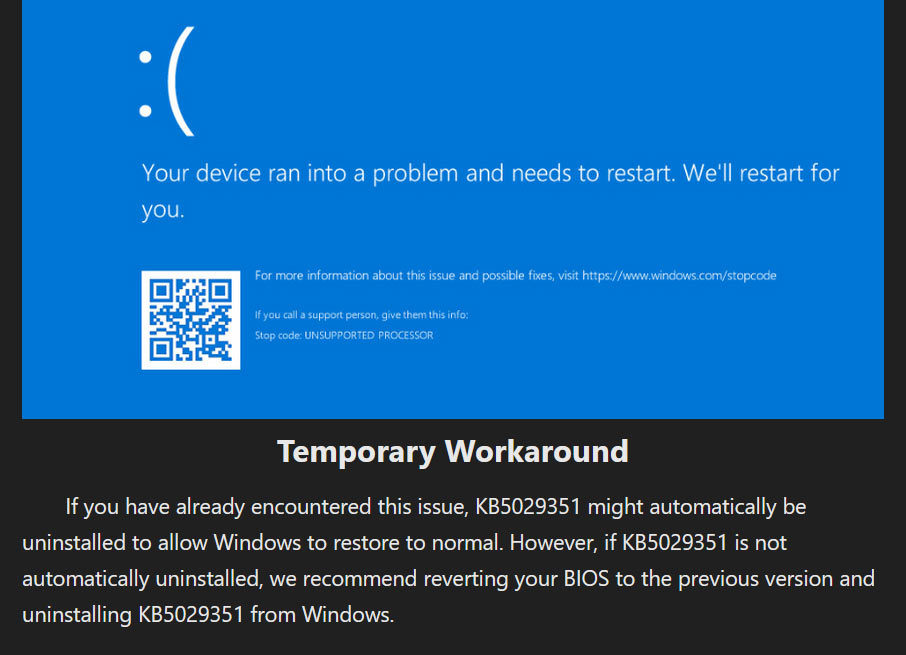 MSI's official temporary workaround notes that your BSOD-afflicted PC might auto-uninstall KB5029351; thus, things will be "normal" for now. Whether your system has regurgitated the update or not applied it yet, MSI still recommends "reverting your BIOS to the previous version." MSI even has a video guide for flashing BIOS files on its motherboards if it makes you nervous.
What remains a mystery is the reason(s) behind these "unsupported processor" BSODs. Taking the new MSI press release at face value, both companies are investigating what happened. However, yesterday we pondered over something in Microsoft's latest update accidentally tripping a minimum system requirements check. We have seen some rumors that Microsoft is tightening its enforcement of minimum specs for Windows 11. It also updates the official supported processor list occasionally, and it doesn't have any Raptor Lake Refresh chips on it yet.
We shall repeat our advice to owners of other Intel 600 / 700 series motherboards who are watching from the sidelines. If there is a new BIOS for your Asus, Gigabyte (etc.) board that adds support for next-gen Intel processors, it might be a good idea to hold back for now. The new LGA1700 CPUs aren't expected until mid-October, so there's no need to rush.
[ For more curated Computing news, check out the main news page here]
The post MSI Details Official Workaround for Windows 11 KB5029351 BSODs first appeared on www.tomshardware.com