From www.tomshardware.com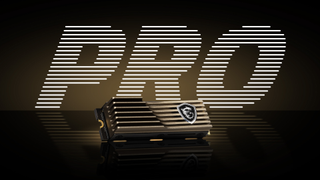 (Image credit: MSI)
MSI has introduced its ultimate PCIe 4.0 solid-state drives that maximize sequential and random read and write performance to provide the best experience possible. MSI's Spatium M480 Pro SSDs are designed to maximize the storage performance of previous-generation PCIe Gen4-supporting platforms and will therefore be able to address tens of millions of PCs released in the last four years.
Just like other members of MSI's Spatium M480 family, Spatium M480 Pro drives are based around Phison's PS5018-E18 platform and use 3D TLC NAND memory. But the M480 Pro SSDs feature up to 60% higher random read/write performance at a cost of a 44% higher peak power consumption. So it looks like the company reworked the firmware of these drives and quite possibly made some hardware-related changes too.
Speaking of performance, with MSI's Spatium M480 Pro, we are looking at up to 7400 MB/s sequential read speed and up to 6000 MB/s sequential write speed, as well as up to 750K random read 4KB IOPS and up to 1M random write 4KB IOPS. This is significantly higher when compared to the performance of MSI's vanilla Spatium M480, which only delivers up to 350K/700K random read/write 4K IOPS. But this comes at an up to 9.5W maximum operating power, up from 6.6W in the case of the original model. So this drive definitely isn't going to be shipping in laptops. Other characteristics, such as TBW endurance, MTBF, and five-year limited warranty remain unchanged.
MSI's Spatium M480 Pro vs Spatium M480
Swipe to scroll horizontally
| Product | M480 Pro 1TB | M480 1TB |
| --- | --- | --- |
| Form Factor | M.2 2280 | M.2 2280 |
| Interface / Protocol | PCIe 4.0 x4 / NVMe 1.4 | PCIe 4.0 x4 / NVMe 1.4 |
| Controller | Phison PS5018-E18 | Phison PS5018-E18 |
| DRAM | 1GB DDR4 | 1GB DDR4 |
| Memory | ? | Micron 96L TLC |
| Sequential Read | 7,400 MBps | 7,000 MBps |
| Sequential Write | 6,000 MBps | 5,500 MBps |
| Random Read | 750,000 IOPS | 350,000 IOPS |
| Random Write | 1,000,000 IOPS | 700,000 IOPS |
| Security | AES 256-bit encryption | AES 256-bit encryption |
| Endurance (TBW) | 700 TB | 700 TB |
| Warranty | 5-Years | 5-Years |
In addition to offering higher performance, the MSI Spatium M480 Pro omits a 500GB version and introduces a 4TB configuration, so these drives will be available with 1TB, 2TB, and 4TB of raw 3D NAND onboard.
MSI will offer three versions of its Spatium M480 Pro SSDs: the vanilla M480 Pro that comes with a thin graphene heatspreader to maximize compatibility with desktops and laptops, the M480 Pro HS that comes with a rather massive heatsink, and the M480 Pro Play that is optimized for Sony's PlayStation 4 and comes with an appropriate radiator.
While some enthusiasts are lining up to get the best SSDs with a PCIe 5.0 x4 interface to take advantage of their shiny new AMD Ryzen 7000 or Intel 12th and 13th Gen Core platforms, there is still life (and speed) in PCIe Gen4 systems. Since PCIe Gen5 platforms and appropriate drives are quite expensive, lots of enthusiasts might prefer to upgrade their current systems with a new graphics card and a higher-capacity, and still speedier SSD instead of investing in a brand-new platform.
Addressing the fleet of PCIe Gen4-supporting PCs waiting for an SSD upgrade makes a lot of sense, as many mainstream PCIe Gen4-supporting computers shipped with PCIe 3.0 or mediocre PCIe Gen 4 drives, in which case a drive like the M480 Pro would be a speedy and (in the case of the 4TB model at least) spacious upgrade.
The post MSI's Latest SSD Pushes PCIe 4 to the Limit: Up to 7.4 GB/s and 1M IOPS first appeared on www.tomshardware.com
In many places around the world, horse races are an attraction that a lot of people love to watch. With the fast-paced action and thrill that each game provides, it is no longer surprising to know that millions of fans have grown fond of it.