From www.tomshardware.com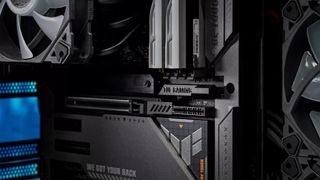 (Image credit: Asus)
@momomo_us on X (Twitter) has unveiled official documentation on a new customized HPCE power connection standard aimed at delivering supplementary GPU power through the motherboard. The documentation reveals all the key specifications of the new connector, including its ability to deliver more than 600W of power, which is even more power than what the new 12VHPWR connector provides.
According to the documentation, the HPCE power connector behaves very similarly to a PCI Express connector. There are four groups of pins in total, with 16 pins dedicated to power delivery and another twelve dedicated to signaling or communication between the mainboard and the graphics card. The connector itself is roughly the size of a PCIe x1 connector.
When utilized on a motherboard, the HPCE power connector resides in line with the primary PCIe x16 slot and sits behind the x16 slot where the motherboard chipset heatsink usually resides. This allows the graphics card to be slotted into both the x16 connector and HPCE connector, making the installation process less complicated. The official documentation recommends not to install a locking mechanism on the HPCE connector itself, since the x16 slot's built-in locking mechanism is already adequate enough to hold the graphics card in place.
This new connector is stated to be capable of delivering over 600W to the graphics card. The documentation does not state an upper limit, but it stresses the necessity to deliver more than 600W of power to support future graphics cards. 600W is a lot of power, but current generation RTX 4090s are already capable of surpassing that mark with modified firmware. RTX 4090's designed for LN2 overclocking (like the HoF cards) are also capable of surpassing 600W, and as a result, come with dual 12VHPWR power connectors.
We first saw this connector at Computex, where several prototype motherboards and graphics cards were showcased featuring the hidden power connector. The goal of the new connector is to improve cable management and aesthetics by removing all supplementary power cables from the graphics card and providing power instead via the motherboard. This way the graphics card looks super clean without any power cables getting in the way, and cable management is simplified behind the motherboard tray.
An interesting detail about this new connector is that it is not an original design. Instead, it is a modification of the High Power Card Edge (HPCE) standard that is used heavily in the server industry. In theory, this means this new consumer-focused HPCE connector won't succumb to similar reliability issues as the new 12VHPWR connector, since the connector has already been field-tested in the server space.
We'll have to wait and see what companies, if any, adopt the standard for consumer devices. So far, everything has come via Asus, so it could end up being limited to its motherboards and future GPUs.
[ For more curated Computing news, check out the main news page here]
The post New GPU Power Connector Eliminates Cables, Delivers More Than 600W | Tom's Hardware first appeared on www.tomshardware.com