From www.tomshardware.com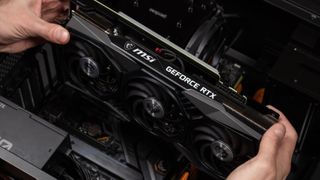 GPU (Image credit: Shutterstock)
Newegg has introduced a GPU trade-in program where you can exchange one of the formerly best graphics cards for in-store credit toward a new GPU. With this new program, the retailer aims to facilitate the upgrade process for customers while also hoping to reduce electronic waste — as if anyone would throw their GeForce RTX 3090 Ti into the trash bin.
Upgrading to a new graphics card is always a dilemma for users. Do you want to do the work yourself and sell your graphics card on a platform like eBay? Or would you prefer a simpler solution where you get immediate credit toward the purchase of a new card, and send in your used card after the upgrade, even if it means less money? Manufacturers such as Asus and Colorful have been offering graphics card trade-in programs as a medium to entice consumers to upgrade for a while, and now it looks like Newegg is hopping on the train.
We're conscious that you'll never receive the full best value for your graphics card, but Newegg's valuation is nothing short of comical. The retailer has estimated trade-in values of $561 for the GeForce RTX 3090 Ti, and $457 for the GeForce RTX 3090 — estimated because it's still subject to Newegg's final evaluation. The same graphics cards sell on eBay for average prices of $881 and $717, respectively. So, Newegg is paying up to 36% less than the second-hand value, assuming your graphics card is in good condition.
The math shows it's a horrible deal. Even after deducting the eBay 14% selling fee, you could obtain around $758 for GeForce RTX 3090 Ti, 35% more than Newegg's offer. The AMD Radeon offers aren't any better. Newegg has some SKUs at less than half of the used street price. For example, the company estimates $30 as a trade-in for the Radeon RX 5500 XT, when even the cheapest Radeon RX 5500 XT typically goes for $74 on eBay.
We've gone ahead and collected data on sold graphics cards on eBay from the past 30 days. Here's how those prices compare with Newegg's offers:
Swipe to scroll horizontally
Should you still be interested in Newegg's graphics card trade-in program, you'll find a small banner on the product pages of qualifying graphics cards. The retailer has added a small form to specify information on the graphics card you want to trade in, like its chipset, model, and brand. You'll receive an initial shopping credit offer, and Newegg will send you a prepaid shipping label to send the old graphics card in for inspection free of charge within 14 days. The credit will apply to the new graphics card purchase if everything is in order.
Some may wonder what Newegg will do with all the used graphics cards. Sell them as refurbished items, of course. Returning to our example of the GeForce RTX 3090 Ti, Newegg has refurbished GeForce RTX 3090 Ti graphics cards starting at $829. In its defense, the retailer sells it slightly cheaper than you would find on eBay, even after the markup. But Newegg also doesn't give eBay a 14% cut of the sale price that way. Assuming Newegg buys such a card for $561, tests it and cleans it up, and then sells it as a refurbished card for $829, it's making 48% profit off the RTX 3090 Ti.
Like all business endeavors, Newegg has to eat the risks and stand behind the second-hand graphics card. But there's a lot less risk involved when the company tests the card you send in and has the option to refuse the trade in. The company offers a 90-day warranty period on refurbished graphics cards, and when you look at it in the above light, the refurbished GPU business is clearly not a bad move — for Newegg.
[ For more curated Computing news, check out the main news page here]
The post Newegg Launches GPU Trade-In Program: $561 For a RTX 3090 Ti first appeared on www.tomshardware.com