From www.tomshardware.com
Nvidia has shared new benchmarks for the company's Grace CPU Superchip. The next-generation Arm Neoverse-based chip, which will power data centers, delivers twice the performance of AMD's 4th Generation EPYC Genoa and Intel's 4th Generation Sapphire Rapids Xeon processors at the same power consumption.
As a quick introduction, the Grace CPU Superchip features two 72-core chips on a single board, amounting to 144 Arm Neoverse V2 cores. An NVLink-C2C interface connects the two chips, enabling a bidirectional bandwidth of up to 900 GB/s. Each processor has eight dedicated LPDDR5X packages for up to 1TB. In the other two corners, we have the EPYC 9654 with 96 Zen 4 cores and the Xeon Platinum 8480+ with 56 Golden Cove cores.
The Grace CPU Superchip is a dual-chip solution; therefore, Nvidia tested the EPYC 9654 and Xeon Platinum 8480+ in a 2P platform. As a result, we have a battle of the juggernauts with 144 Neoverse V2 cores going up against 192 Zen 4 cores and 112 Golden Cove cores.
Being vendor-provided benchmark results, we recommend the usual amount of caution when looking at them. Nvidia chose five different specialized workloads to compare the three core-heavy processors. The list includes Weather WRF, MD CP2K, Climate NEMO, CFD OpenFOAM, and Graph Analytics GapBS BFS.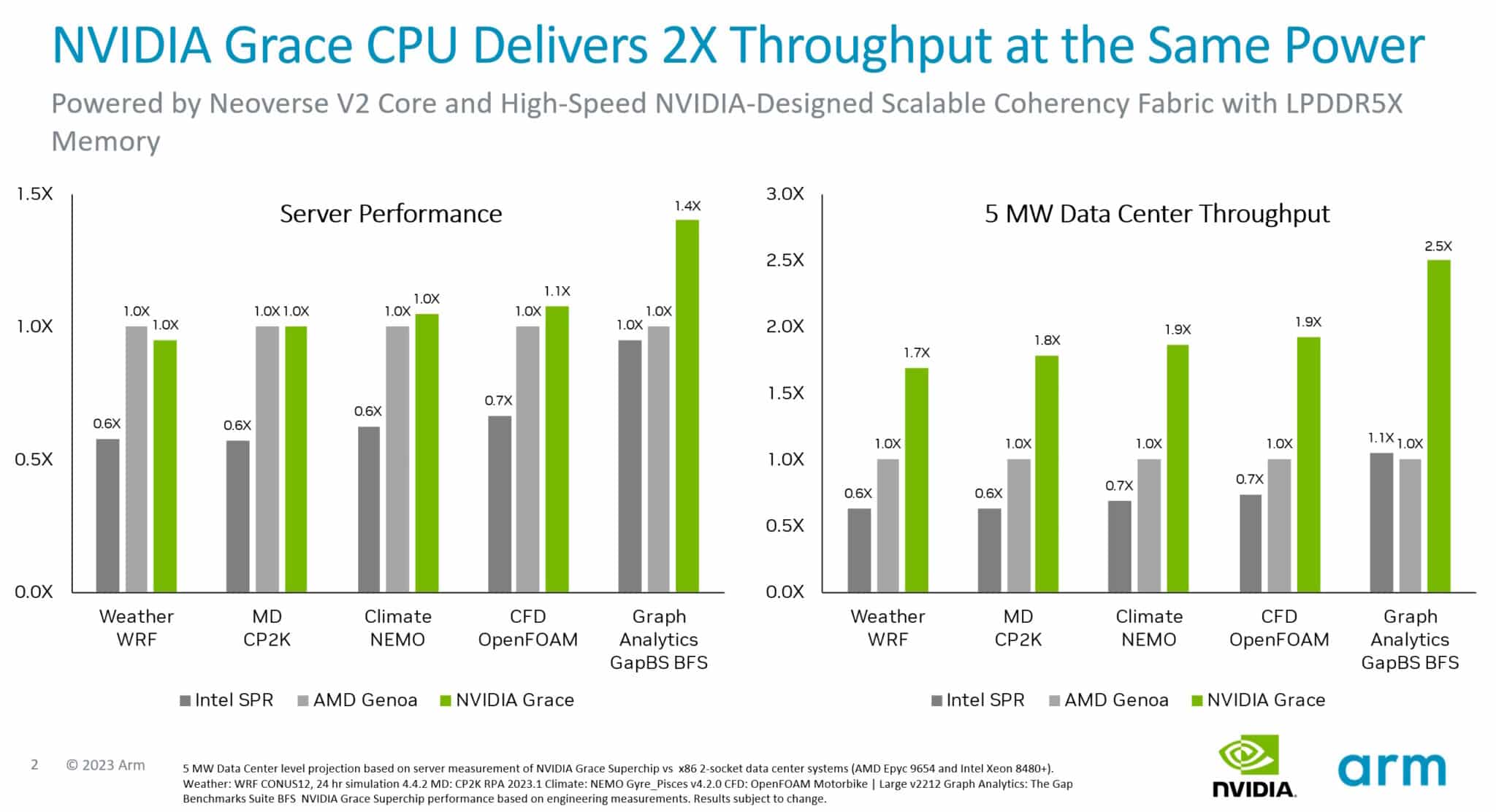 According to Nvidia's benchmark results, the Grace CPU Superchip delivered 40% higher performance than the Xeon Platinum 8480+ across the board. But it was pretty much neck-to-neck with the EPYC 9654 — except for the Graph Analytics GapBS BFS benchmark, where the Grace CPU Superchip posted a 40% lead over the AMD processor.
The EPYC 9654 outperformed the Xeon Platinum 8480+ with a similar 40% margin in the majority of the workloads. The AMD chip was up to 30% faster in CFD OpenFOAM and tied with its Xeon rival in Graph Analytics GapBS BFS.
The Grace CPU Superchip's strong suit lies in the chip's power efficiency. Nvidia's charts show the Grace CPU Superchip with up to 2.5X better power efficiency than the competition in a 5 MW data center environment — it was close to 2X more efficient than the AMD EPYC 9654, while the Xeon Platinum 8480+ was the least power-efficient of the trio.
To put the numbers into perspective, the Grace CPU Superchip has a peak power draw of 500W for the package composed of the two processors and the LPDDR5X memory. The default TDP for the EPYC 9654 and Intel Platinum 8480+ is 360W and 350W, respectively. In a dual-processor platform the AMD and Intel chips have the potential to pull up to 720W and 700W, respectively.
Initially set to launch in the first half of 2023, the Grace CPU Superchip had suffered a setback. However, Nvidia CEO Jensen Huang recently told us in March that the Grace CPU Superchip is currently in production, so OEM systems will likely launch in the second half of this year.
[ For more curated Computing news, check out the main news page here]
The post Nvidia Claims Grace CPU is 2X Faster Than AMD Genoa, Intel Sapphire Rapids at Same Power | Tom's Hardware first appeared on www.tomshardware.com