From www.tomshardware.com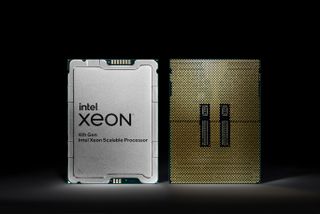 Sapphire Rapids (Image credit: Intel)
Nvidia's AI business is prospering so much that the chipmaker can't satisfy the needs of all its customers. As a result, the Korean Economic Daily reports that Naver Corporation, the creator of Naver, South Korea's top search portal, has switched from Nvidia GPUs to Intel CPUs, citing AI GPU shortages and price hikes.
Naver Corporation, previously a loyal Nvidia customer, had utilized Nvidia GPUs to power the company's AI model that identifies false listings from real ones in the Naver Map software. The Nvidia GPUs were the cornerstone of the software, performing data processing, inference, and verification workloads.
While Nvidia's H100 (Hopper) GPU is selling like hotcakes around the globe, the chipmaker has so many orders that it has been challenging to build enough inventory for a steady supply. For example, the cost of Nvidia's AI accelerators in South Korea has skyrocketed to 80 million won ($59,121), representing a 100% price surge over the same model that initially sold for 40 million won ($29,561) at the beginning of the year. It's challenging to procure Nvidia's AI GPUs even if companies have the cash to spend on them. The lead time has increased to 52 weeks. In response, companies like Naver Corporation have started to look for alternative suppliers.
Naver Corporation has sought solace in the arms of Intel, turning back to CPUs rather than GPUs. GPUs are better for AI inference workloads, sometimes up to 10X faster than a CPU. However, Intel has made great strides with its latest Xeon processors, which have become a legitimate substitute for Nvidia GPUs. According to the Korean publication, Naver Corporation has tapped Intel's 4th Generation Xeon Sapphire Rapids chips for its AI servers. The South Korean tech giant had decided on Sapphire Rapids after a month of arduous testing.
Due to the hastening of the new export restrictions, Nvidia has to re-allocate up to $5 billion worth of AI and HPC GPUs. These GPUs were previously heading to the chipmaker's Chinese customers, including Alibaba, Baidu, and Byte Dance. Too bad it didn't happen sooner because it could have helped Nvidia keep Naver Corporation as its customer.
It's unknown how big of a customer Naver Corporation is to Nvidia. Analysts reportedly think that the Naver Corporation and Intel hookup could negatively impact Nvidia's market share in the global AI market, where the chipmaker seemingly possesses approximately 80% of the pie. Intel isn't the only company that's making moves, either. Rumors going back to May claim that Microsoft is allegedly joining forces with AMD to weaken Nvidia's grip over the AI market. Suffice it to say, extreme pricing on AI-focused GPUs will certainly push companies to look for more cost efficient alternatives as needed.
[ For more curated Computing news, check out the main news page here]
The post Nvidia Client Switches to Intel CPUs Due to GPU Shortage, Price Hikes | Tom's Hardware first appeared on www.tomshardware.com