From www.techradar.com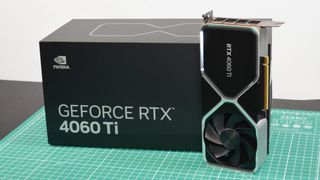 (Image credit: Future / John Loeffler)
Nvidia has just lowered the recommended price of its higher-tier RTX 4060 Ti, the model with the greater amount of VRAM (16GB, as opposed to 8GB with the original version).
As you may recall, the RTX 4060 Ti 16GB launched (quietly) with an MSRP of $499 in the US, but that has now been chopped down by $50 to sit at $449, closing the gap considerably with the 8GB spin of this GPU which is $399.
Presumably other territories around the globe will see a similar price cut to the tune of 10%.
Wccftech reported the news, citing the following statement from Nvidia: "Finally, as a reminder, market prices can vary from the original launch MSRPs. Today, GeForce RTX 4070 is widely available at $599 and GeForce RTX 4060 Ti 16GB is now available at $449."
In fact, the RTX 4060 Ti 16GB has been on sale for slightly less than $449 according to VideoCardz, which spotted a PNY take on this graphics card that dipped to $431 on Amazon.com – although it has now sold out.
---
Analysis: An age-old tactic
Clearly, this is Nvidia running interference with the launch of AMD's new RDNA 3 mid-range graphics cards, just as the rumor mill recently predicted would happen.
AMD just revealed the RX 7800 XT and 7700 XT as contenders for our best graphics card list, and Team Red compared the latter to the 4060 Ti 16GB in its launch materials, showing the 7700 XT outdoing Nvidia's GPU by around 15% to 30% (at 1440p resolution) in a bunch of well-known games.
Of course, there may be some benchmark cherry-picking going on – as is generally the case with in-house testing from any firm – and we'll need to do our own benchmarking before coming to any conclusions. To be fair to AMD, a couple of victories for the Nvidia RTX 4060 Ti 16GB were shown – most notably Doom Eternal (with ray tracing) which was 9% faster for Team Green.
What Nvidia is doing here, though, is lowering the 4060 Ti 16GB price tag to match that 7700 XT (which comes with 12GB of VRAM) – right before the AMD GPU launches (on September 6). And with RTX 4060 Ti 16GB prices potentially dipping lower than that (as already spotted in one case) – plus the 7700 XT, with no reference board, likely coming in higher than $450 for a fair few custom models – well, Nvidia is clearly trying to get a good deal more competitive in the mid-range here.
Team Green may have had its hand forced to do so, but the end result is still good news for consumers, particularly those who want that future-proofing of 16GB of on-board video memory (which the 7800 XT has, but the 7700 XT doesn't, as noted).
That said, we feel Nvidia should have priced the RTX 4060 Ti 16GB at this level right from the off, and we're sure we are not alone in that sentiment.
YOU MIGHT ALSO LIKE
[ For more curated Computing news, check out the main news page here]
The post Nvidia cuts price of RTX 4060 Ti 16GB undercut AMD's RX 7700 XT GPU launch first appeared on www.techradar.com