From www.techradar.com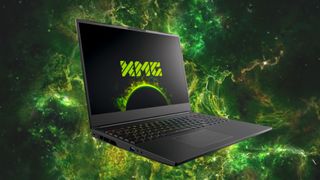 (Image credit: XMG)
If you were hoping for some new laptop GPUs from Nvidia, such as mobile Super revamps to go alongside the rumored desktop refreshes of the RTX 4070 and 4080 supposedly coming at CES 2024, well, this isn't happening we're told.
Jarrod's Tech observed on X (formerly Twitter) that we are seeing public 'confirmations' (one from XMG is highlighted) saying there won't be any such refreshed laptop graphics cards from Team Green.
XMG tells us: "Laptops with new Nvidia graphics cards are not planned in the near future. Neither XMG nor Schenker plan to introduce laptops with Nvidia GPUs other than those currently known and available during the first quarter [of 2024]; even minor updates, such as increased VRAM, are not slated."
YouTube leaker Moore's Law is Dead (MLID) goes even further than that, observing that his sources (at Nvidia itself) are saying we won't see RTX 4000 Super laptop refreshes at all, and the next notebook GPUs from Team Green won't be here until 2025.
I can also confirm that no "SUPER" laptops are planned.The next major Nvidia Laptop Refresh will be in 2025 around CES, releasing as part of their Next Generation lineup. Just got it confirmed to me directly from contacts at #Nvidia. 🔥 https://t.co/rOm4pAvKgSNovember 15, 2023
See more
Those might be RTX 5000 models revealed at CES 2025, to follow the launch of next-gen Blackwell desktop GPUs which should arrive late in 2024 (in theory, if Nvidia sticks to its typical release schedule, though there's some doubt around that now, as we'll discuss next).
---
Analysis: A long old wait on the mobile GPU front?
All of this is speculation, of course, though the lack of any new laptop GPUs at CES 2024 doesn't surprise us.
The idea of a CES 2025 launch for these notebook graphics solutions is pushing the boundaries of certainty more, because there are rumors floating about that maybe next-gen RTX 5000 desktop graphics cards may not quite make the theorized release timeframe for late 2024. (Or indeed Nvidia won't want, or need, them to).
A leaked roadmap a couple of months ago (add seasoning) suggested Nvidia may be looking at early 2025 for this desktop launch, and if that's the case, whatever happens, the laptop GPUs would follow a little behind the initial desktop release. That would push them a fair bit further into 2025.
What we are pretty sure we'll see at CES 2024 is those desktop refreshes we mentioned at the outset, the RTX 4070 Super and 4080 Super, and maybe a third spin (tentatively named the 4070 Ti Super – yuck – by the rumor mill).
Given the weight of evidence around these refreshes – and the fact that Nvidia is holding a 'special event' at CES 2024, which last year was used to launch the RTX 4070 Ti – we'd be shocked, frankly, if Nvidia didn't reveal at least one or two such revamped Lovelace models. But apparently there won't be any laptop partners in crime for the new desktop graphics cards.
Still, Nvidia's existing Lovelace mobile GPUs produce compelling performance levels for gaming laptops, although there are challengers on the horizon from AMD – such as the Radeon RX 7900M which looks promising in leaks.
You might also like
[ For more curated Computing news, check out the main news page here]
The post Nvidia may have RTX Super refreshes for CES 2024 – but don't expect any laptop GPUs first appeared on www.techradar.com