From www.techradar.com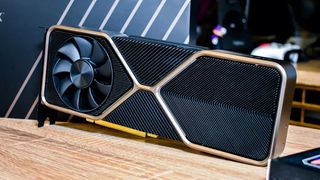 (Image credit: Future)
A couple of Nvidia graphics cards have reportedly been affected by a flaw in their cooling systems – but these seem to be very rare occurrences.
The issue is with the vapor chamber, as flagged up by a Quasarzone forum member, which has an apparent problem with oxidization of the heatsink and holes appearing in the vapor chamber.
The impaired cooling system then leads to the graphics card overheating, and eventually failing completely.
However, for now, we have to take these reports with a heavy dose of caution, as this problem has only been found in an RTX 3080 (Founders Edition from Nvidia), and an RTX A6000 card (a heavyweight GPU, not a consumer model).
Plus we see in the tweet highlighting the issue, from leaker Harukaze5719, that someone is claiming this has happened with an RTX 2080, too.
interesting forum post…In 3080 FE, A6000 vapor chamber found defection.In some cases, cracks occurred in VC solution, and blue copper with chemical reaction inside.via: https://t.co/YAp5Mr6Xih pic.twitter.com/NqCFsOKWidOctober 14, 2023
See more
As you can see in the photographic evidence provided, the blue material is the copper oxide.
Quasarzone first discovered this flaw with the mentioned RTX 3080, while investigating the reasons why it had been bricked.
As Tom's Hardware, which spotted this, points out, the exact same issue in a second Nvidia graphics card, the A6000, is a suggestion – but only that – that this could be a wider problem.
---
Analysis: Why this isn't a big deal (yet)
Of course, we have no idea how widespread the flaw might be, and two single reports – plus a claim on X (formerly Twitter) from a completely unknown source, heap the seasoning on there – does not represent a reason to panic that your RTX 3000 series graphics card might develop this problem itself.
If the issue really is a design flaw in some way here, we haven't seen any other reports of such oxidization and holes in the vapor chamber with Nvidia's graphics cards. And you'd expect with the volume of these products sold that we would have done.
To play devil's advocate, it's possible there have been graphics card failures caused by this which haven't been reported simply because they weren't investigated. However, on balance, we feel this is likely to be a rare issue indeed, and certainly based on this report – and what we know so far – we don't think there's any real cause for worry.
Still, this is something to keep an eye on, and now that it's known about and the issue has some visibility, we'll be monitoring whether more reports crop up.
Should you be more tentative about buying a second-hand Ampere GPU due to this apparent gremlin? Well, no, not really, but that said, you should always be careful about purchasing an older graphics card anyway, and ensure you're dealing with a trusted seller. The used market is a bit of a minefield, and more so since mining GPUs started to be ditched in large quantities.
(A cheap RTX 3080 might be tempting, naturally, but as per the advice in our best graphics card roundup, at this point, you might want to look at getting an RTX 4070 instead).
If you are at all concerned about this problem, one thing you can do is keep an eye on the temperature that your Nvidia graphics card is running at from time to time – using a monitoring utility (like HWInfo, for example) – and look out for those temps increasing as the months and years roll on. (That could indicate a number of issues, of course, not just the highlighted one).
You might also like
[ For more curated Computing news, check out the main news page here]
The post Nvidia RTX 3080 GPU postmortem finds nasty cooling flaw – but don't panic first appeared on www.techradar.com