From www.techradar.com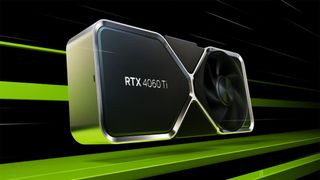 (Image credit: Nvidia)
The Nvidia GeForce RTX 4060 Ti and RTX 4060 are official, and while many gamers will likely rejoice, some are not going to like everything they hear.
Nvidia is planning on releasing two versions of the RTX 4060 Ti, one 8GB version that will go on sale on May 24, 2023, with a Founders Edition card selling for $399 (about £320/AU$600), and a second 16GB version that is third-party only going on sale sometime in July with an MSRP of $499 (about £400/AU$750).
The RTX 4060 Ti 8GB will have the same MSRP as the Nvidia RTX 3060 Ti when it launched, so to a degree, Nvidia isn't raising the price of this card the way it has the RTX 4090, RTX 4080, and RTX 4070. But the split up of the RTX 4060 Ti into an 8GB and a more expensive 16GB variant is undoubtedly going to rub a lot of people the wrong way.
We also learned that there is an expanded L2 cache on the RTX 4060 Ti, 32MB versus the RTX 3060 Ti's 4MB, and Nvidia also provided some in-house performance estimates as well. According to the company, in games with frame generation turned on, you should see a roughly 70% improvement in the RTX 4060 Ti over the RTX 3060 Ti, which tracks more or less with what we've seen in previous releases this generation.
Nvidia also says that the RTX 4060 Ti will see a roughly 160% performance increase over the RTX 2060 Super when frame generation is enabled, but only a 60% increase over the RTX 2060 Super in titles without frame generation. And while the performance improvement over the RTX 3060 Ti in titles without frame generation is a bit murky, we can assume that it will be considerably lower than when frame generation is enabled.
However, only about 50 games currently support Nvidia's DLSS 3 (opens in new tab), and while Nvidia says that there is a plug-in for DLSS 3 coming for Unreal Engine 5 soon, Nvidia is banking hard on DLSS 3 being the real value add here, and that might not be enough for a lot of gamers out there.
All this is also based on Nvidia's own in-house numbers, so we'll have to wait until we can take a look at the card for ourselves before we can say for certain how it all holds up in the end.
Nvidia RTX 4060 announced as well, and may be the better buy in the end
In addition to the RTX 4060 Ti 16GB, the Nvidia RTX 4060 will also go on sale in July, and will have an MSRP of $299 (about £240/AU$450). It will only be available through third-party board partners, though, since Nvidia confirms that there won't be any Founders Edition for the RTX 4060.
While we're thrilled the RTX 4060 is launching below the RTX 3060's MSRP, because there won't be any Founders Edition for this GPU, it is entirely up to the third-party manufacturers how they will price their cards, so actually getting a card at this price might be a challenge.
We also know that the RTX 4060 will come with an expanded L2 cache of 24MB, up from 3MB on the RTX 3060, but with the same-or-lower VRAM pool of 8GB, with some RTX 3060s packing in 12GB, while others have 8GB.
The expanded cache should also give the RTX 4060 a faster effective data transfer rate over the RTX 3060, but how much remains to be seen. Performance comparisons on this one will likewise need to wait until we have the card for ourselves to test.
Still, between the RTX 4060 Ti and the RTX 4060, it's possible that the RTX 4060 will provide a better value for 1080p gamers in the end based on price alone, and with AMD nipping at Nvidia's heels, it looks like the next two months are going to be big for 1080p gamers.
The post Nvidia RTX 4060 Ti officially announced, but some won't to take the news too well first appeared on www.techradar.com
In many places around the world, horse races are an attraction that a lot of people love to watch. With the fast-paced action and thrill that each game provides, it is no longer surprising to know that millions of fans have grown fond of it.