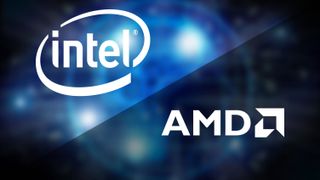 Intel and AMD logos. (Image credit: Windows Central)
What you need to know
The COVID-19 pandemic caused record personal computer sales which lead to a semiconductor shortage.
AMD and Intel both reported earnings recently.
Bernstein analyst Stacy Rasgon says PC shipments seem to be normalizing to pre-COVID levels.
The PC market has been at a low point over the last few years. The COVID-19 pandemic made it so many consumers sought out personal computers so as to accommodate working from home, which caused record sales in the industry. However, this record number of personal PC sales is also part of what led to the semiconductor shortage (a.k.a global chip shortage) that made it difficult to manufacture and purchase necessary computer parts and devices — thus increasing the pricing for these products due to a limited supply that was unable to meet extreme demand.
Despite AMD reporting its first quarterly loss in years, things might be starting to stabilize in the industry as indicated by Intel's latest financial reports as well as AMD's recent financial earnings report. This information has allowed analysts to get an idea about where the PC market is headed this year. Bernstein analyst, Stacy Rasgon, states that the PC market was "still ugly" with far too much inventory, but that things are improving and are "less ugly" compared to Q4 earnings, which were the worst year on record for the industry.
"PC shipments, while 'weak', seem to be normalizing at pre-COVID levels, thus the historic declines only look bad in comparison to the pandemic dynamics," Rasgon said. Rasgon went on to explain that the numbers are getting back to being similar to the trajectory seen before the pandemic. It's just that comparing sales numbers to the extreme uptake of sales caused by the pandemic makes things look more drastically down than what would have been normal had there not been a pandemic.
Rasgon went on to note that, "given the current trajectory, we believe we may have another quarter or two of channel correction to go" but also noted it was plausible to see "normalization" by Q3 or Q4. Further evidence that the industry might be returning to a normal pre-COVID trajectory comes from the Semiconductor Industry Association, which noted that for the first time since May 2022, global chip sales increased this March.
Nvidia will release its earning on May 24, which should further help analysts get an idea for what the state of the industry will be this year.
The post PC market might return to normal this year analyst says noting Intel and AMD reports first appeared on www.windowscentral.com
In many places around the world, horse races are an attraction that a lot of people love to watch. With the fast-paced action and thrill that each game provides, it is no longer surprising to know that millions of fans have grown fond of it.
Cybersecurity threats have become vast and more sophisticated. The rate of malware attacks and malicious activity counts within seconds despite the size or sector the organization belongs to — no one is safe enough to expect that foe actors will bypass vital company resources.