From www.tomshardware.com
The frequency of Intel 14th Gen Core 'Raptor Lake Refresh' processor leaks is increasing as more insiders play with test samples before launch. Today, Benchleaks on Twitter/X shared three results from a purported Core i9-14900K with scores from single- and multi-threaded testing in Geekbench v6. Sadly for enthusiasts, the test results are not inspiring.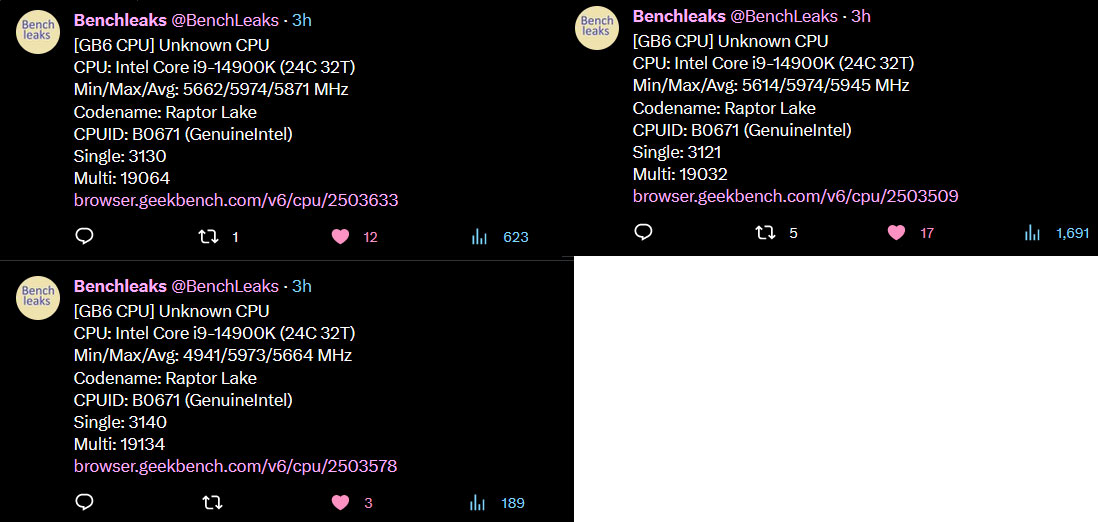 The results unearthed by Benchleaks appear to be from a user repeatedly running the same system through the suite of performance tests. This is typical behavior as someone makes system tweaks and then wishes to see if performance has changed. However, the spread of results is relatively narrow, which indicates any adjustments had little or no effect. In other words, the three sets of results are within a range that could be expected from repeatedly testing an unchanged system. For example, there is less than a 1% difference in the multi-threaded (nT) test scores.
Swipe to scroll horizontally
Three purported Core i9-14900K test runs were recorded

| CPU | Core i9-13900K | Core i9-14900K (1) | Core i9-14900K (2) | Core i9-14900K (3) |
| --- | --- | --- | --- | --- |
| Cores | 24C / 32T | 24C / 32T | 24C / 32T | 24C / 32T |
| Max freq | 5.8 GHz | 6.0 GHz | 6.0 GHz | 6.0 GHz |
| GB6 1T | 2953 | 3130 | 3140 | 3121 |
| GB6 nT | 19911 | 19064 | 19134 | 19032 |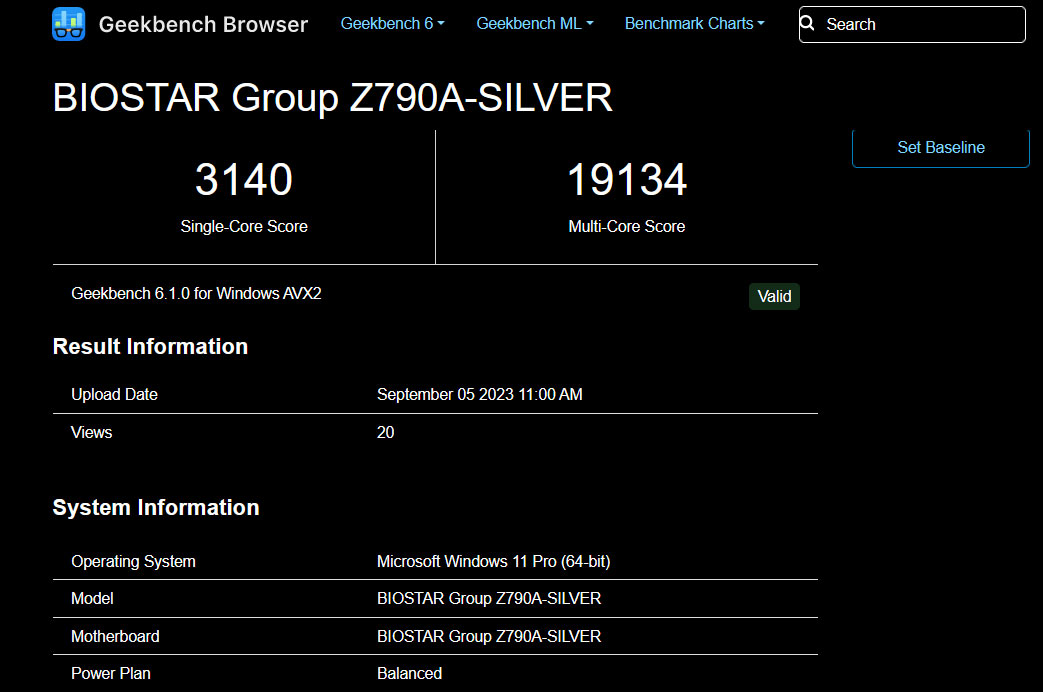 Another comment we have on the supposed 14900K chip scores is that they don't look impressive compared to the current-gen Core i9-13900K. The Geekbench result browser says that, in Geekbench 6, the 13900k scores 2953 and 19911 in 1T and nT tests, respectively. That 13th Gen multi-threaded score is better than all three Core i9-14900K runs on this system, built upon a Biostar Z790A-Silver motherboard with 16 GB of DDR5-4800 RAM. The current-gen Raptor Lake chip achieves about a 4% faster nT score than the best leaked Raptor Lake Refresh score today.
News for those with an eye on a Raptor Lake Refresh upgrade is more encouraging if we look at the single-threaded test results. Add more salt here, but the Core i9-14900K seems consistently better in the 1T tests. The best 14900K 1T result is over 6% faster than the Geekbench normalized 13900K score. It also easily beats the 13900KS.
Wider Perspective
The above leaks are interesting and might warn potential new PC builders and upgraders against waiting for Raptor Lake Refresh for substantially better performance. Put bluntly, the uplift in performance in the leaked Geekbench 6 tests is poor to non-existent.
A recent leak of CPU-Z benchmark scores painted a nicer picture for Intel regarding multi-threaded gains. Also, about a month ago, we saw some interesting Crossmark tests, which also poured cold water on hopes of a big performance lift coming via the 14th Gen family.
We hope the rumored Raptor Lake Refresh price hike of about 15% vs. the current gen doesn't materialize, as it looks increasingly difficult to justify.
For the ground truth about Intel's 14th Gen Core 'Raptor Lake Refresh' processors, you are advised to wait until the hotly tipped launch at Intel Innovation from September 19 to 20.
[ For more curated Computing news, check out the main news page here]
The post Purported Intel Core i9-14900K Raptor Lake Refresh Benchmarks Spotted | Tom's Hardware first appeared on www.tomshardware.com