From www.techspot.com
TechSpot is celebrating its 25th anniversary. TechSpot means tech analysis and advice you can trust.
The big picture: Qualcomm unveiled its next-generation Arm processor with internal benchmarks displaying its advantages over leading Intel and AMD CPUs. As outside testers begin to provide independent testimony on the company's upcoming product, its integrated graphics chip shows fascinating results compared to the competition.
YouTuber Geekerwan has posted some of the earliest outside benchmarks for Qualcomm's Snapdragon X Elite processor. The numbers look promising for what could be Windows and Chrome OS's answer to Apple's M series CPUs, especially regarding graphics.
Possibly the most notable results emerged when the Snapdragon was measured against the Radeon 780M – AMD's strongest RDNA 3 integrated GPU. On a laptop limited to 23W, the Snapdragon reached 39.2fps in the 3DMark Wildlife Extreme benchmark, beating the 28.3fps achieved by a 780M running on a Ryzen 7 7840HS with the same wattage. It also nearly equaled the Apple M2, which posted 40fps at 20W.
However, Apple's M2 Max remains king here, speeding to 60fps on just 16W. For added perspective, Geekerwan threw in a 4GB RTX 3050 – an entry-level dedicated graphics card – which posted 52.7fps at 45W. It needs twice as much power to beat the Snapdragon and M2 by only 20 percent and loses to an M2 Max running on a fraction of the wattage.
3DMark is a purely academic test though. The YouTuber also conducted a brief trial with a real game – Control. Although Remedy's critically acclaimed and technically demanding third-person shooter is an x86-only application running through emulation, the AMD and Qualcomm processors exhibit extremely close performance.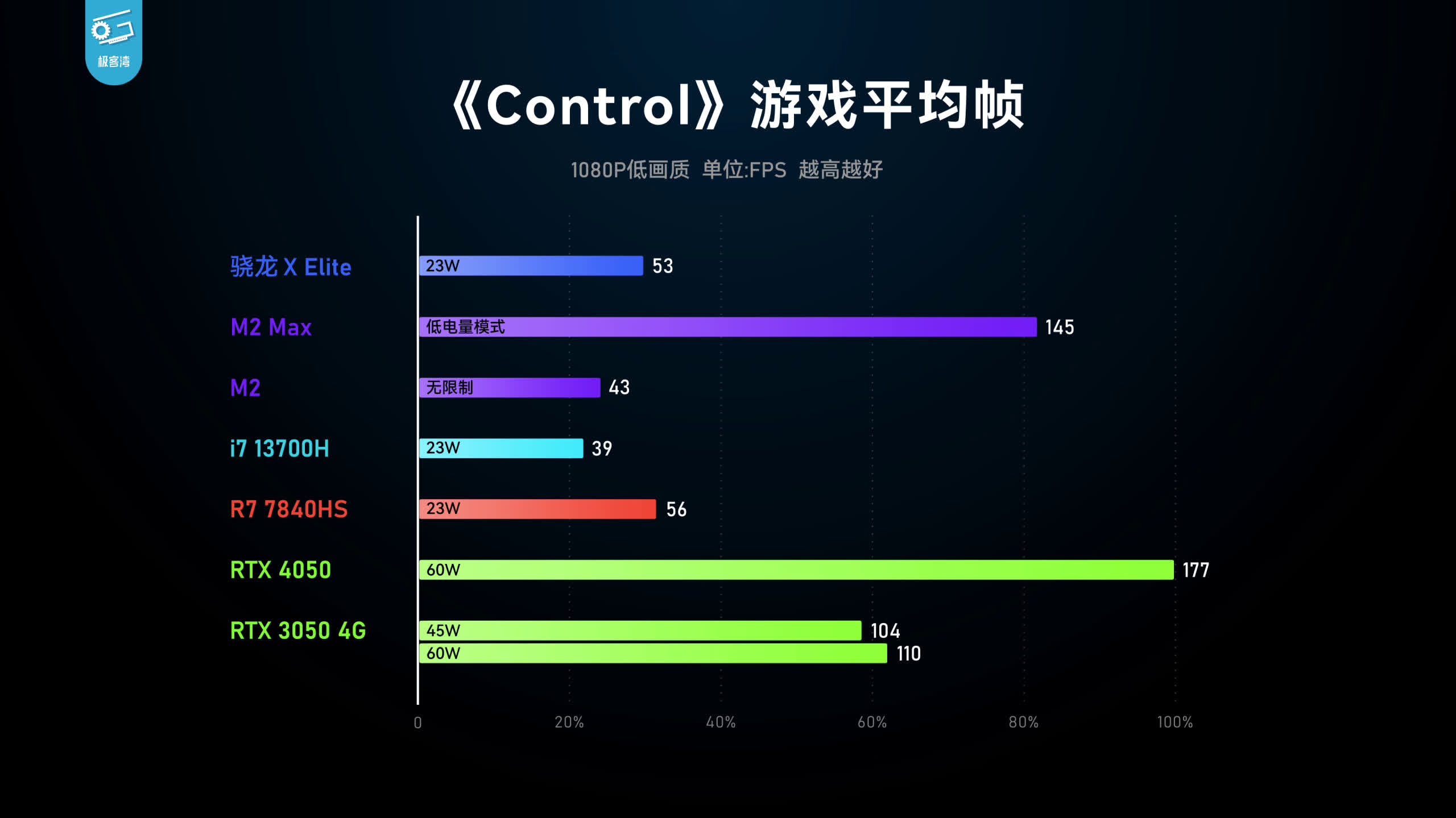 The Snapdragon reaches 53fps running at 1080p on low settings, just shy of the 7840HS's 56fps. At 1440p, the Ryzen falls to 30fps while the Snapdragon gains a slight advantage at 32fps. Both easily beat the M2 but fall predictably short of the M2 Max, 3050, and RTX 4060, though the Nvidia chips are, again, receiving over twice as much power.
Moreover, Geekerwan's video (above) contains interesting comparisons in Geekbench 6 and Cinebench 2024, some of which show the Snapdragon – released from its 23W chains – at its full 4.3GHz clock. In both programs, the Arm CPU scores far higher than the 5.1GHz 7840HS, displaying a clear efficiency advantage. However, Apple's Arm chips nearly match the Snapdragon's score despite clocking at least 600MHz slower.
The Snapdragon X Elite could provide good competition in the emerging Arm processor race when it arrives in the middle of 2024, but Apple's newly unveiled M3 lineup could keep the Cupertino giant in first place for now.
[ For more curated Computing news, check out the main news page here]
The post Qualcomm's Snapdragon X Elite outperforms AMD's Radeon 780M in 3DMark first appeared on www.techspot.com