From www.techradar.com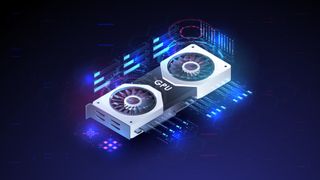 (Image credit: Andrew Derr / Shutterstock)
Nvidia's RTX Super refreshes are one of the hottest topics on the GPU rumor mill of late, and we've just witnessed another claim emerge – this time supposed specs of the theoretically inbound trio of graphics cards.
Kopite7kimi, a regular leaker on the GPU front, just shared specs indicating that the RTX 4080 Super could have 10,240 CUDA cores and be built on the AD103 GPU. In other words, it'll use the same chip as the RTX 4080, but with all the cores enabled (5% are disabled with the vanilla RTX 4080).
Well, if everything you said OK, we will see: RTX 4080 Super, AD103-400, 10240FP32; RTX 4070 Ti Super, AD103-275 or AD102-175, 8448FP32, 48M L2; RTX 4070 Super, AD104-350 or AD103-175, 7168FP32, 48M L2. I still doubt with them, especially the Ti Super. I cannot fully agree.October 28, 2023
See more
The RTX 4070 Super is supposedly going to use AD104, with 7,168 CUDA cores, cut-down from the full configuration of that chip which is 7,680 cores as seen in the 4070 Ti. Or it could use AD103, the leaker asserts, cut down to that same core count. Either way it'd sit just below the RTX 4070 Ti.
Finally, we have the model in-between, the RTX 4070 Ti Super, and this might use AD103 cut down to 8,448 CUDA Cores, or maybe even AD102 Kopite7kimi believes. The latter is the GPU which is the engine of the RTX 4090, so these would be chips that fell well below the grade for the flagship (due to faulty cores, which would be disabled when repurposing the chip for a lower-tier graphics card).
---
Analysis: Stay skeptical out there
Quite why AD102 would be repurposed for the RTX 4070 Ti Super, rather than the 4080 Super, doesn't quite make sense to us – and indeed we're dubious that AD102 will be used at all in any of these purported refreshes.
Mainly because Nvidia's AD102 chips that aren't up to scratch for the RTX 4090 would surely be better reused elsewhere than a 4070 Ti Super. Or indeed any Super refresh – as we've previously discussed, less-than-perfect AD102 silicon could be redeployed in RTX 5000 (AI-targeted heavyweight) graphics cards to far greater effect in terms of profit margins.
That said, Kopite7kimi admits that they 'still doubt the specs' and especially the 4070 Ti Super, and they don't fully agree with sources – so stay even more skeptical around these spec predictions given that.
Also, the leaker clarifies that the info is several weeks old, and as we've heard so many different spec rumors lately, we get the feeling that the specifications are pretty up in the air (and exact models, and names, maybe). If this was Nvidia's plan a few weeks back, it may not be now, and everything might change again next month – so go very heavy on the salt with this leak.
What we can be pretty sure about is that Nvidia has RTX Super refreshes coming in some form, and likely fairly early in 2024 – so the specs may be cemented soon enough. The RTX 4080 Super was just listed in HWiNFO, a system monitoring tool, with a sighting of this card in a PCI ID repository last week too, which suggests that we may see it turn up early on next year.
That wouldn't be surprising in terms of Nvidia needing to address the upper-mid-range of the GPU market and the serious failure of the RTX 4080 in that space (if the plentiful chatter about terrible sales is to be believed, of course).
The spec of the RTX 4080 Super shared here does seem the most obvious path for Nvidia to take – namely unleashing the full power of AD103 (which is missing 5% of cores in the vanilla 4080), with further performance to be gleaned from cranking up clock speeds (and therefore power usage).
Whatever the case, with the reputation that the RTX 4080 has gained, Nvidia will likely want to make the Super variant a much better-received offering, one that might well earn a place on our list of the best graphics cards around.
Via VideoCardz
You might also like
[ For more curated Computing news, check out the main news page here]
The post Rumors about Nvidia's incoming RTX Super graphics cards keep getting stranger first appeared on www.techradar.com