From www.tomshardware.com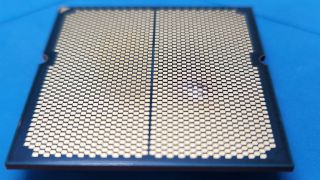 (Image credit: Speedrookie on Reddit)
Asus has added an XMP/EXPO warning notice to its latest motherboard BIOS updates. Traditionally, these kinds of notices have been added to alert users to the dangers of CPU overclocking. However, in the wake of the AMD Ryzen burnout saga, Asus has decided to make it exceedingly clear that XMP and EXPO are memory overclocking functionalities. Obviously, Asus, in this particular case, and as spotted by Twitter's HXL, wants to do its best to make its customers aware that overclocking isn't covered by the warranty.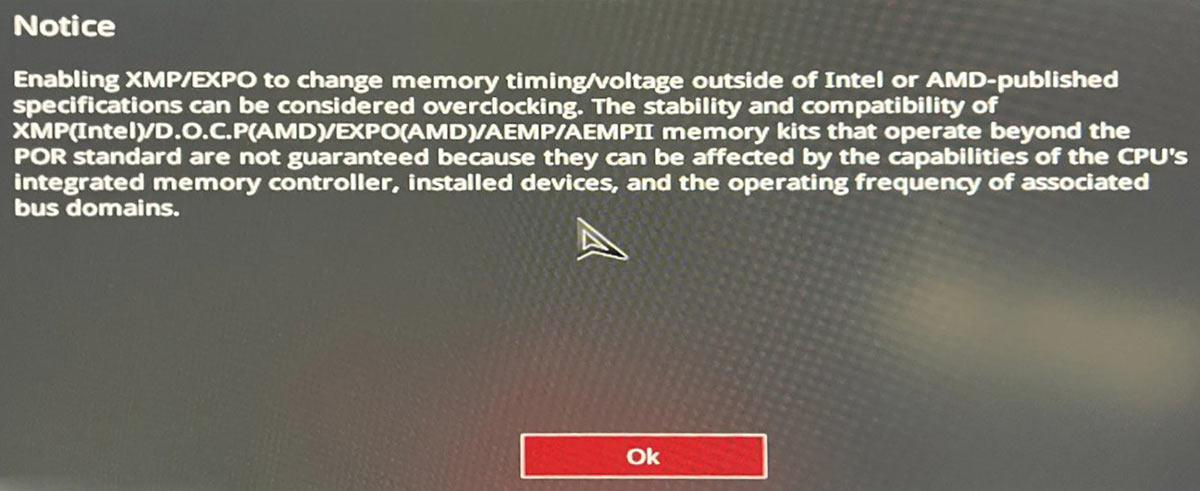 Pictured above is an example notice from a recently updated Asus motherboard. HXL notes that this is BIOS 1410 for an unspecified Asus motherboard. The key phrase is: "Enabling XMP/EXPO to change memory/voltage outside of Intel or AMD-published specifications can be considered overclocking." It goes on to say that XMP/EXPO speeds are not guaranteed due to a wide range of system variables. The message is that all overclocking, whether for the CPU and/or memory, void warranty coverage.
Is it fair for Asus to add this memory overclocking warning? Firstly, memory overclocking, be it XMP or EXPO, has never been covered by warranty by either Intel or AMD. However, Asus was probably as surprised as many others seeing burned-out and bubbled-up AMD CPUs appear. Moreover, there hasn't previously been a clear, practical link between CPUs/motherboards getting damaged due to memory overclocking. There is quite a complex set of power relationships at play causing the damage we have witnessed.
ASUS is now getting smart.(BIOS 1410) https://t.co/SZCaliQn8N pic.twitter.com/MTtHWSx0F5April 30, 2023
See more
Asus has a large roster of engineers and other experts who should be sniffing out these kinds of issues before they hit consumers. It has been shown that the severe CPU and motherboard damage is easily reproducible without esoteric settings, and we know Asus had overclockers pushing the newest AMD CPUs and motherboards for quite some time before general availability. Moreover, Asus is a big promoter of EXPO memory overclocking, with advertising, product pages, and FAQs highlighting EXPO advantages (opens in new tab) — which need updating with appropriate warnings.
To understand why the ASUS overclocking warnings have been extended to memory overclocking, you can check out our article from last week, which includes the latest information from AMD and partners about the new BIOS files created to fix hardware-endangering issues. In brief, AMD has delivered AGESA updates to motherboard partners, which will put a 1.3V limit on SoC voltage when an EXPO memory overclocking profile is engaged. AMD has stated that a 1.3V limit won't materially impact overclocking headroom.
Overclocking in any form wasn't previously supported, but the new BIOS notices make it very clear that features like XMP / EXPO are actually overclocking technologies. It is probably a matter of time until other vendors follow Asus with similar notices and pop-ups in their BIOS and utilities.
The post Ryzen Burnouts Force Asus to Add Overclock Warnings to EXPO Features | Tom's Hardware first appeared on www.tomshardware.com
In many places around the world, horse races are an attraction that a lot of people love to watch. With the fast-paced action and thrill that each game provides, it is no longer surprising to know that millions of fans have grown fond of it.