From www.tomsguide.com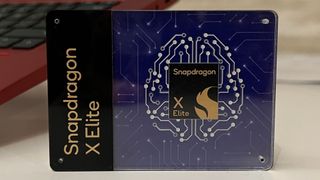 (Image credit: Tom's Guide)
Qualcomm's new Snapdragon X Elite chip is here to shake up the computing world. This mobile CPU is designed for laptops, and promises to deliver significant performance improvements over chips produced by Intel, AMD and Apple. If Qualcomm's claims are true, the X Elite chip could be the next big thing for the best laptops.
I attended a Snapdragon X Elite benchmark session during my time at this year's Snapdragon Summit. While we couldn't perform our own benchmarking, Qualcomm's controlled demos gave us an idea of what the company's mobile CPU can do. This session also showed how the X Elite's benchmark results compare to its rivals.
How well does the Snapdragon X Elite stack up against Intel, AMD and Apple processors? Read on to find out.
Snapdragon X Elite: Specs
Swipe to scroll horizontally
| | |
| --- | --- |
| Row 0 – Cell 0 | Row 0 – Cell 1 |
| Process | 4nm |
| Cores | 12 high-performance cores |
| Frequency (max) | 3.8GHz (4.3GHz dual-core boost) |
| Memory bandwidth | 136GB/s |
| Cache | 42MB total |
The Snapdragon X Elite is built on the same 4nm process as the new Snapdragon 8 Gen 3. Snapdragon X Elite features 12 high-performance cores capable of hitting 3.8GHz — with dual-core boost up to 4.3GHz. Its CPU memory architecture has up to 136GB/s of bandwidth and 42MB total cache.
Snapdragon X Elite: Performance test results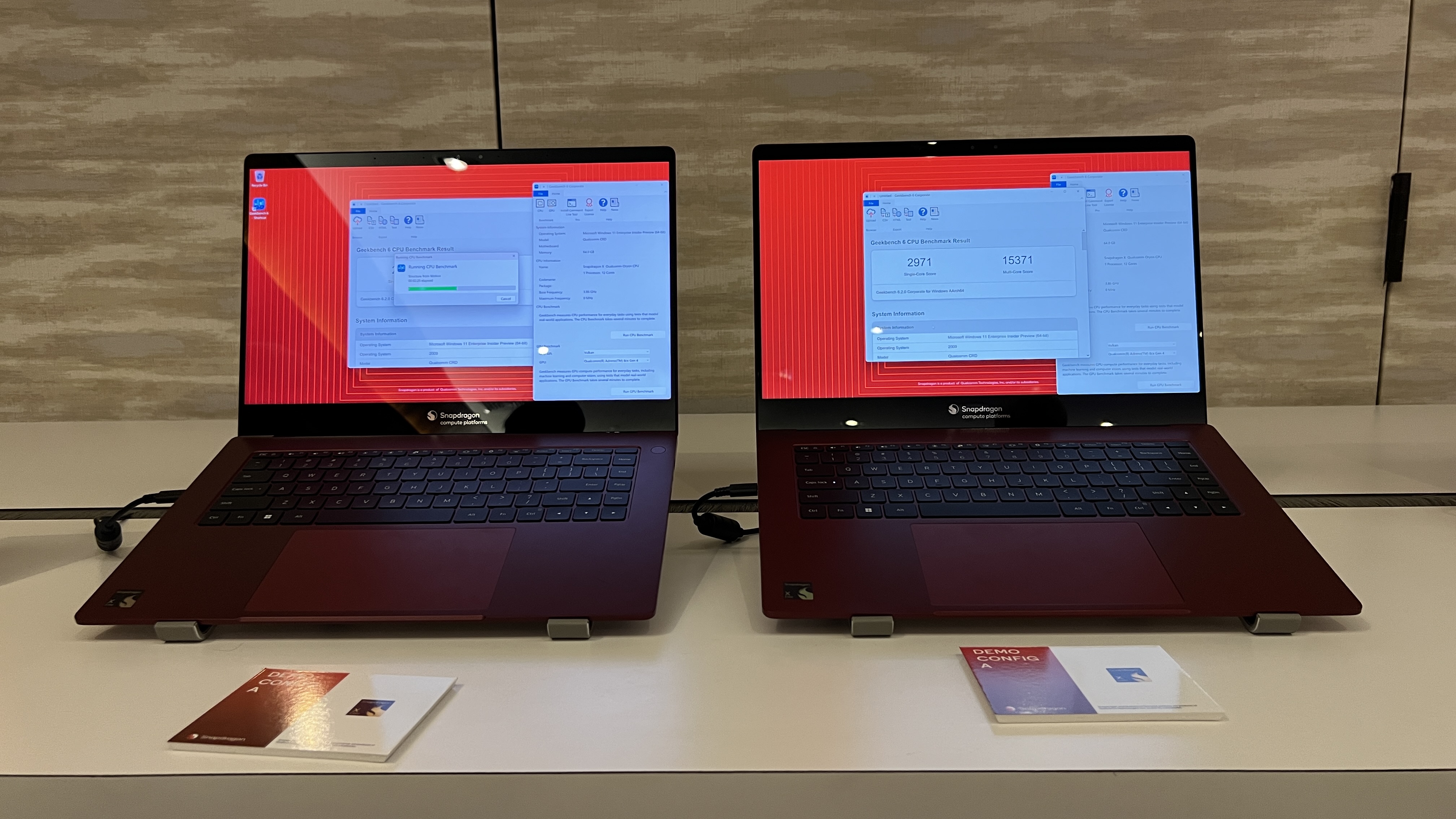 Qualcomm ran Snapdragon X Elite benchmarks on two laptop reference designs. The first configuration (Config A) device had a 15.6-inch (3,840 x 2,160) display with an 80W max TDP (Thermal Design Power) and an 87Wh battery. The second model (Config B) featured a 14.5-inch (2,,880 x 1,800) display with a 23W TDP and 58Wh battery.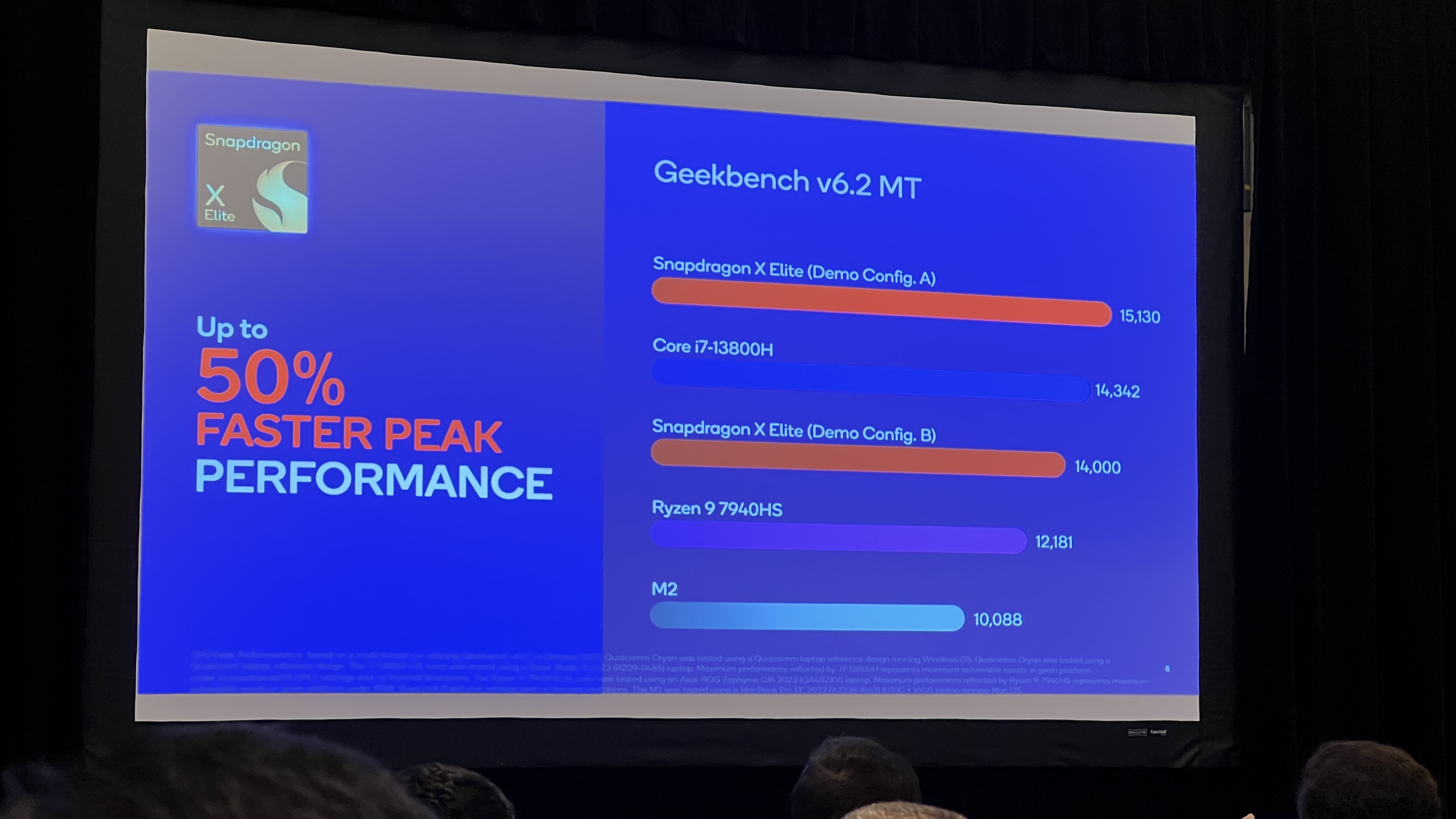 We were provided with a slew of different benchmark results. However, for this article, I'll focus on the results for Geekbench 6 and 3D Mark Wildlife Extreme — which are two benchmarks we use in our reviews. Qualcomm had devices running on Linux and Windows 11, but we're sticking with the latter to make it easier to compare X Elite's numbers to the best Windows laptops.
Swipe to scroll horizontally
Geekbench 6 (multi-core) results

| | |
| --- | --- |
| Row 0 – Cell 0 | Row 0 – Cell 1 |
| Snapdragon X Elite (Config A) | 15,130 |
| Snapdragon X Elite (Config B) | 14,000 |
| Apple M2 | 8,911 |
| Apple M2 Pro | 14,965 |
| Apple M2 Max | 14,939 |
| Intel Core i7-13000H | 12,171 |
On the Geekbench 6 multi-core CPU performance test, the Snapdragon X Elite reference devices (Config A and Config B) scored 15,130 and 14,000, respectively. Those numbers not only trounce the Apple M2 chip in the 13-inch MacBook Pro M2 we tested (8,911) but they're also comparable to the M2 Pro (14,965) and M2 Max (14,939) models of the MacBook Pro 14-inch we benchmarked.
For reference, the 13-inch M2 MacBook Pro ($1,199) we reviewed packs a 1TB SSD, 16GB of RAM and an M2 chip with an 8-core CPU and 10-core GPU. The M2 Pro version of the MacBook Pro 2023 ($3,299) offers a 12-core CPU, 19-core GPU, 32GB of RAM and 2TB, while the M2 Max ($4,099) configuration packs a 12-core CPU, 38-core GPU, 64GB of memory and 2TB of storage.
Qualcomm's graph compares the X Elite's performance to the 13th Gen Intel Core i7-13800H CPU. According to Qualcomm, this Intel chip's performance sits in the middle of the two Snapdragon reference devices. The Dell XPS 15 OLED (2023) we tested packs a Core i7-13700H CPU and it scored 12,171 in the multi-core test. These results are comparable to other laptops with a Core i7-13700H we tested. If accurate, the X Elite smokes this Core i7 chip.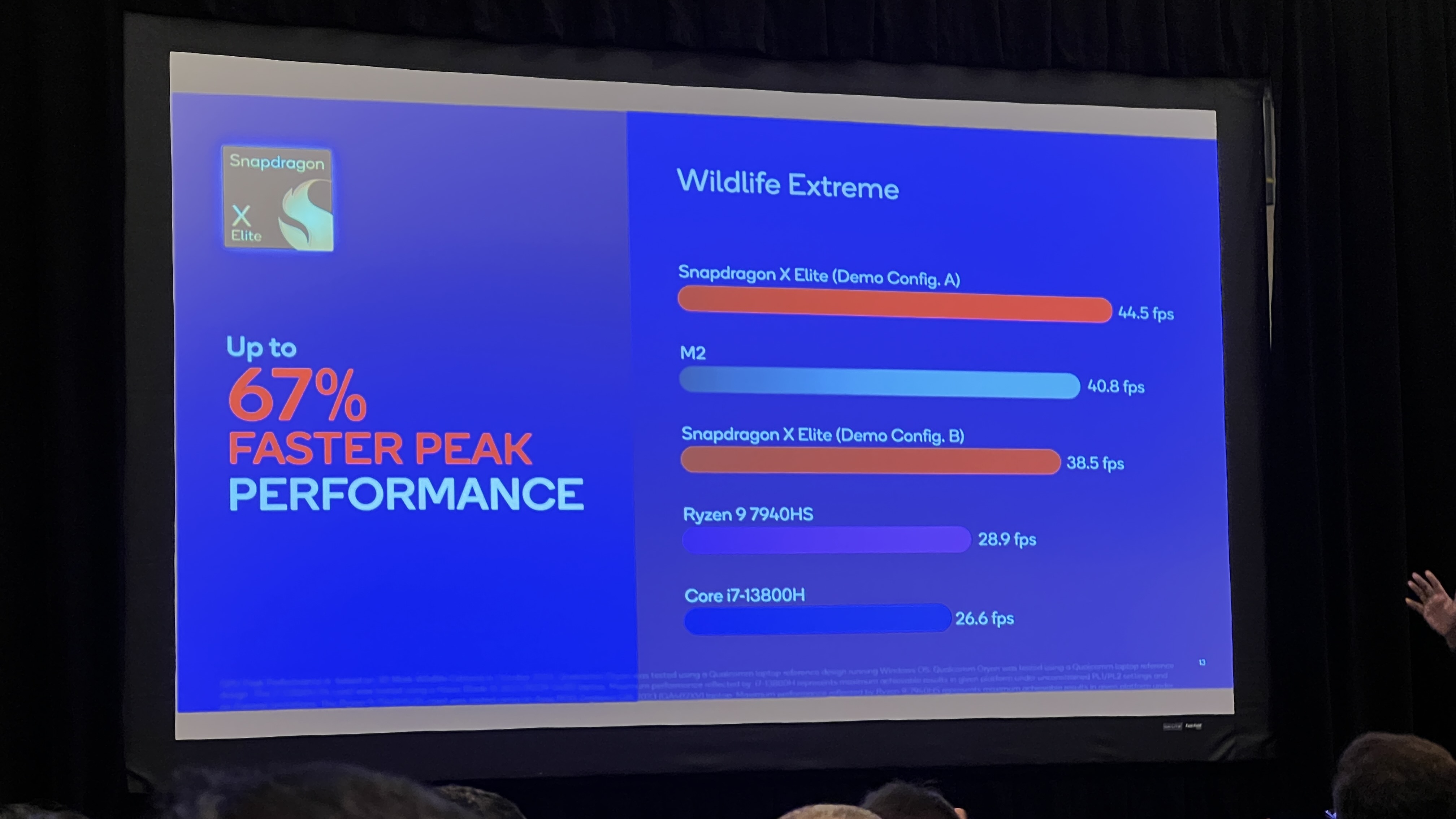 3DMark Wild Life Extreme measures graphics performance — delivering an overall score and frame rate (fps). It is not available on Windows, so we're only comparing Macs in this case. This test delivers both a score and frame rate count. Since Qualcomm didn't disclose scores, we'll stick with fps (frames per second) results.
Swipe to scroll horizontally
3DMark

| | |
| --- | --- |
| | Wild Life Extreme Unlimited |
| Snapdragon X Elite | 44.5 fps (Config A) | 39 fps (Config B) |
| MacBook Pro 14-inch M2 Pro | 73 fps |
| MacBook Pro 14-inch M2 Max | 80 fps |
| MacBook Pro 13-inch M2 | 40.5 fps |
In this test, the Snapdragon X Elite achieved 44.5 fps on Config A and 38.5 fps on Config B. In our testing, the M2-driven MacBook Pro 13-inch hit 40.5 fps, which lines up with Qualcomm's results.
What about the M2 Pro and M2 Max? The MacBook Pro 14-inch M2 Pro achieved 73 frames per second, while the M2 Max chip hit 80 fps. Apple's beefier M2 chips pump out nearly twice as many frames per second as the X Elite.
Outlook
The Snapdragon X Elite boasts impressive specs, based on Qualcomm's math. If the upcoming processor lives up to the hype, it could be huge — especially if its AI capabilities improve the user experience. I'm excited for the Snapdragon X Elite, but, I have one major concern.
Devices featuring the X Elite won't arrive until mid-2024. That's unfortunate given how Apple M3 chips have just been announced. Even if the X Elite demolishes M2 in our testing, M3 might already be well ahead of Qualcomm's promising processor. On top of that, Nvidia and AMD plan to launch their own PC chips by 2025. Let's also not forget that the first batch of Intel Raptor Lake Refresh CPUs are currently available. Qualcomm's chip is certainly entering a crowded market.
MacBooks packing M3 chips might make us forget about the Snapdragon X Elite. However, if the benchmarks we perform next year align with Qualcomm's numbers, we'll consider that a victory.
More from Tom's Guide
[ For more curated Computing news, check out the main news page here]
The post Snapdragon X Elite benchmark scores — Apple M2 is in trouble, but what about M3? first appeared on www.tomsguide.com