From www.slashgear.com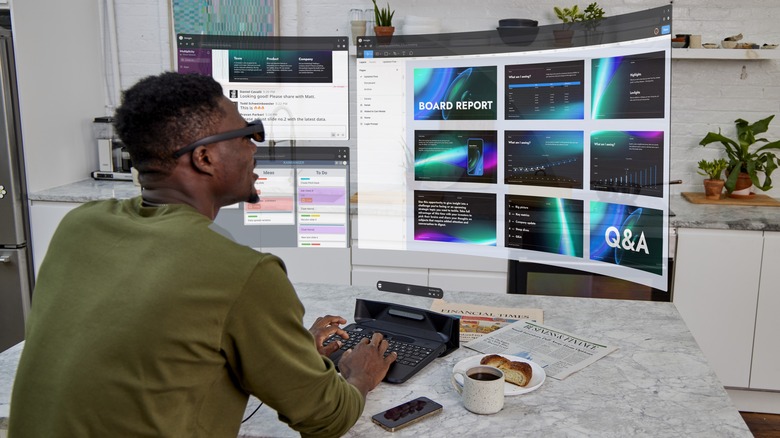 Sightful
In 2018, a relatively unknown brand named zSpace unveiled a laptop that blended AR and VR tech into a single machine. The concept didn't quite stir a revolution, but the idea of computing in augmented and virtual reality continued to live on with wearables like the Lenovo AR Glasses and the Nreal Air. A brand named Sightful is now taking another stab at the idea with Spacetop, a laptop that lacks a screen but offers the convenience of multiple screens using AR glasses, which has a field-of-view covering the equivalent of a 100-inch screen.
Sightful says veterans from Microsoft, Apple, and Magic Leap joined hands to create the Spacetop, combining customized computing hardware with proprietary AR-based experiences. Sightful founder and CEO Tamir Berliner says Spacetop fulfills the role of a machine that exemplifies a "modern, work from anywhere, privacy matters, 'road warrior' mentality." The biggest draw of the machine is that it requires no external hardware, and neither does it impose a learning curve with complicated gestures or specialized software.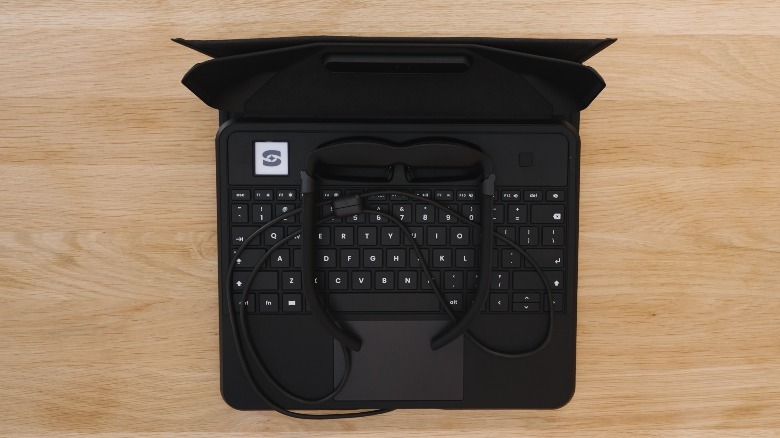 Sightful
While the premise sounds convenient, it isn't really a standout in terms of innovation — the machine itself is akin to what DIY enthusiasts get when they yank off their MacBook's screen, using the base as a combo desktop and keyboard while connecting it to an external monitor. A key difference, however, is that while those DIY setups use an ordinary display, Spacetop adds AR glasses to the equation, offering something similar to what you'd get by pairing your computer with the Lenovo Glasses T1.
Spacetop replaces the monitor with a pair of glasses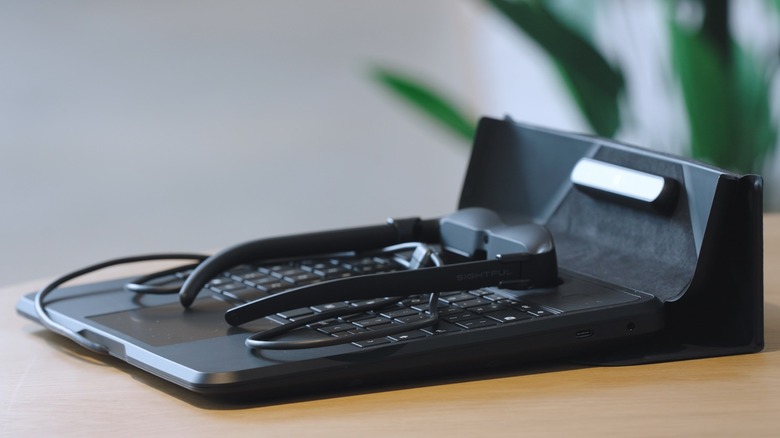 Sightful
The company has created a custom Spacetop OS experience that is capable of running all of your desktop apps like Zoom, Figma, and similar. The idea is to serve a multi-monitor setup that is always in front of your eyes, but also with complete privacy at the same time. Interestingly, Spacetop relies on customized NReal glasses to deliver that convenience. Starting today, the early access program is open, but there are only 1,000 slots available for those who want in early. The company doesn't say how much the whole kit is going to cost.
The Spacetop laptop base comes armed with the Qualcomm Snapdragon 865 SoC, a chip that was introduced in 2019. But the choice is not surprising, as Sightful claims to have been working on Spacetop for the past three years. The Qualcomm SoC is paired with 8 GB of RAM and 256 GB of onboard storage, while wireless connectivity is handled by Wi-Fi 6, Bluetooth v5.1, and Sub-6 GHz 5G band. The elevated edge of the deck also houses a 5-megapixel camera for video calls, alongside a fully-functional keyboard, and I/O ports.
Sightful is claiming over 5 hours of battery life, complete with support for USB-PD 3.0 fast charging that can fill the battery from empty to the 85% mark in less than two hours. Notably, if you feel like interacting with a physical display, there is also a DisplayPort 1.4 outlet that lets you hook up a full-HD monitor to the Spacetop deck, just like a real computer. The company lists these as "early access" tech specs.
The post Spacetop Augmented Reality Laptop Has A Headset Not A Display – SlashGear first appeared on www.slashgear.com
In many places around the world, horse races are an attraction that a lot of people love to watch. With the fast-paced action and thrill that each game provides, it is no longer surprising to know that millions of fans have grown fond of it.