From www.tomshardware.com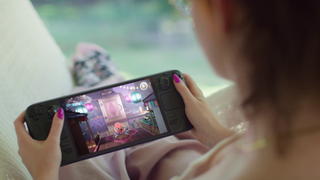 (Image credit: Valve)
Following the release of revamped Steam Deck OLED game console, Valve launched into a promotional campaign for the unit. Part of the campaign involved Valve executives talking to various outlets, including Bloomberg and IGN, about the new unit and the company's vision for portable gaming hardware. Execs at the company are happy with the new Steam Deck OLED. Apparently, they are so happy that they do not feel any need to launch a next generation model any time soon.
Lawrence Yang, product designer behind Valve's Steam Deck and Steam Deck OLED, told Bloomberg that his team would work on Steam Deck 2, which would feature 'next generation' performance, but it would not be on sale for another two or three years. This indicates that Valve is not particularly concerned about the new entrants to the field, including Asus with its ROG Ally, despite the fact that Steam Deck relies on an older AMD platform featuring Zen 2 microarchitecture from 2019 and RDNA 2 graphics from 2020. In fact, Valve's Steam Deck OLED improves the original Steam Deck in almost all the ways possible, except for performance.
Other executives of Valve share the same sentiment with Lawrence Yang. The company is happy with its Steam Deck OLED and feels that technology for Steam Deck 2 is yet to show itself.
"I do not know [when Steam Deck 2 arrives], said Jay Shaw, another Steam Deck designer, in an interview with IGN. "It will be a while. I think it will be quite a while. We do not have any kind of set date. I think we are going to wait for the technology to present itself in a way that we find interesting and for the team to really want to make that leap. We are very, very, very proud of this version of Steam Deck and this is it. This is the one that we are the most happy with and we think customers will be too."
Refreshing Steam Deck with a new bigger and brighter screen and a number of other improvements just 18 months after the launch of the original one is not common. In the game console world, changes like these are made a couple of years after the original launch, but in Valve's case the revamped version comes just in time for the holiday season. We cannot explicitly state that the company is looking at a relatively short three-years cycle for its gaming machine with a mid-cycle update around 1.5 years after the launch of the original model.
Meanwhile, Valve admits that after selling millions of Steam Decks, it is looking forward Steam Deck 2. This is a testament that Steam Deck is not going to share the fate of Steam Machines, but at the same time the company gives a clear signal for its customers to buy existing hardware.
"So, we are thinking about Steam Deck 2 at all times, but I think we are so satisfied here that this is really the kind of high end of what we wanted to do," said Shaw.
[ For more curated Computing news, check out the main news page here]
The post Steam Deck 2 Is At Least Two or Three Years Away: Valve first appeared on www.tomshardware.com