From www.pocket-lint.com
Asus has revealed a new gaming keyboard at CES which is bristling with features you'd normally only find on a custom keyboard.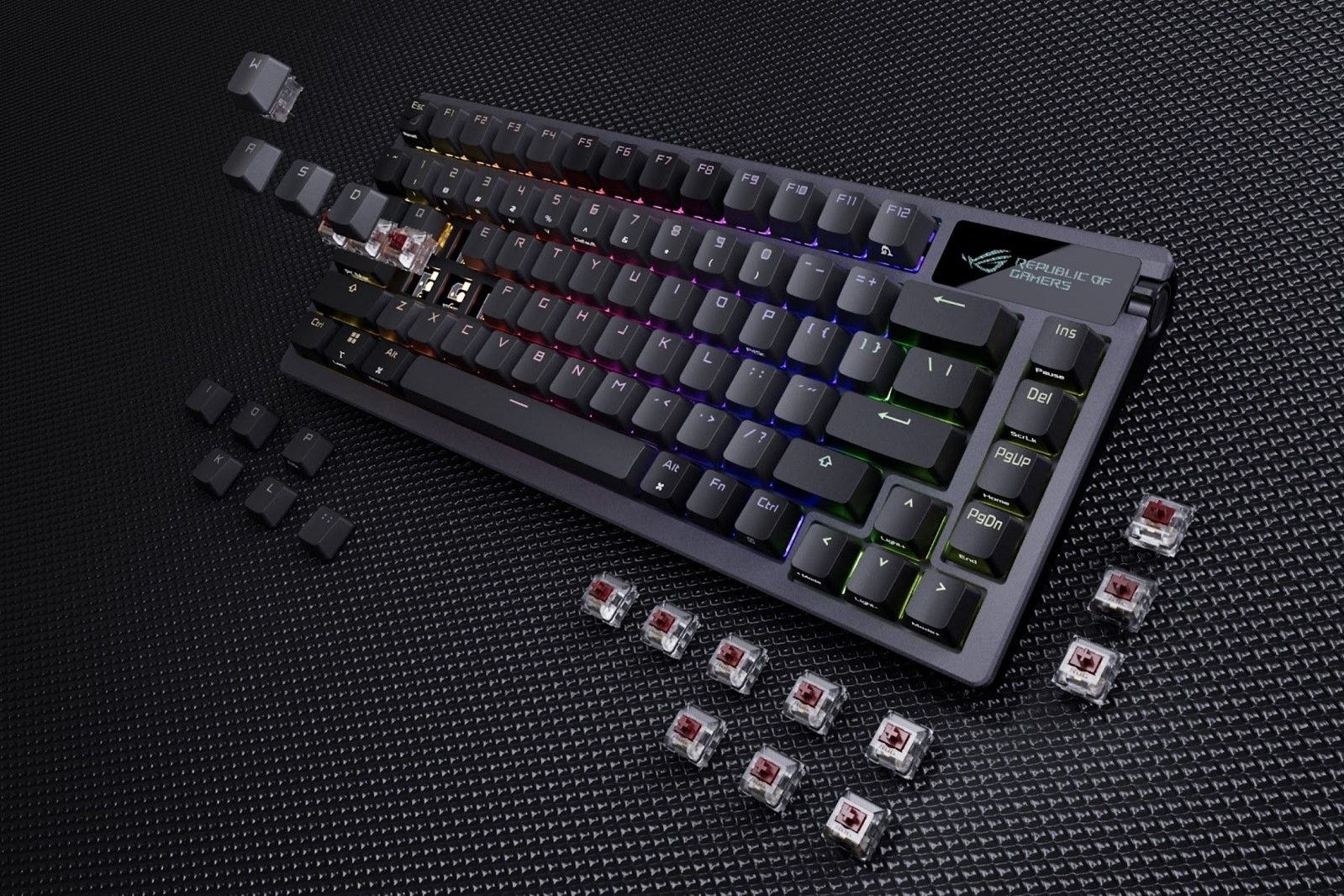 Asus has revealed a new gaming keyboard at CES 2023 which is bristling with features you'd normally only find on a custom keyboard.
The ROG Azoth is a 75 per cent wireless gaming keyboard which includes nifty features like hot-swappable switches, PBT doubleshot keycaps, a built-in OLED display and three layers of sound dampening too.
This is a serious bit of kit which offers all manner of awesome features that gamers will love. It has both 2.4GHz SpeedNova wireless along with Bluetooth connectivity, plus ROG's own NX mechanical switches, on-the-fly macro recording and more.
Like the SteelSeries Apex Pro line-up, the ROG Azoth has a multi-purpose display that can be used to show all sorts of things from system info to animations to the name of the song that you're currently listening to and more.
Asus says the ROG Azoth can manage as much as 2,000 hours of gaming in wireless mode or you can use Bluetooth to connect multiple devices at once.
It's the hidden highlights that should make this one enjoyable to use though, as it has both silicone gaskets and three layers of dampening materials to absorb and eliminate ping noise and enhance your typing experience. This apparently offers a more cushioned and pleasant typing than other custom keyboards and a quieter overall finish too.
Another feature this keyboard has that you'd normally only see on custom keyboards is swappable switches. It comes with pre-lubed switches for a smoother experience, but also allows you to swap them for others with ease.
As standard, there's a choice of ROG NX blue (clicky and tactile), ROG NX brown (ultra tactile) and ROG NX Red (linear and smooth). The red switches are the best choice for gamers with 1.8mm offering fast response, while brown and blue switches require more pressure but are better for everyday typing.
All of these use the same style of stem as the standard Cherry MX switches, so you can easily use your own after-market keycaps if you wish to.
Hopefully, we'll find out more about this one soon. In the meantime watch the full launch stream to see everything that ROG revealed.
The post The Asus ROG Azoth is a 75% hot-swap keyboard with pre-lubed switches first appeared on www.pocket-lint.com
In many places around the world, horse races are an attraction that a lot of people love to watch. With the fast-paced action and thrill that each game provides, it is no longer surprising to know that millions of fans have grown fond of it.
Cybersecurity threats have become vast and more sophisticated. The rate of malware attacks and malicious activity counts within seconds despite the size or sector the organization belongs to — no one is safe enough to expect that foe actors will bypass vital company resources.