Pros
More ports than competitors

Excellent color, contrast, and motion clarity

Bright enough for office work
Cons
HDR doesn't get as bright as advertised

Aggressive auto dimming

White can dim to gray
Games look great on it, but the Xeneon 27QHD240's real strength lies in the features you'll use every day.
About the Corsair Xeneon 27QHD240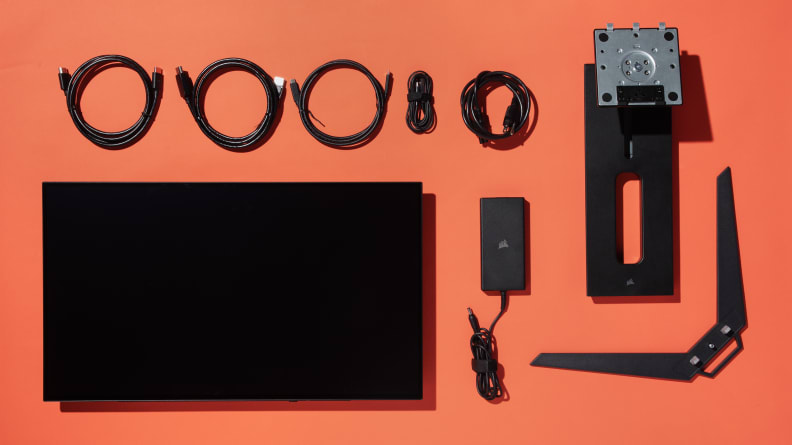 Price: $1,000
Display size: 27 inches
Resolution: 2560 x 1440 pixels
Refresh rate: 240Hz
Peak brightness: 450 nits (rated for 25% white window, SDR), 1,000 nits peak brightness with HDR enabled (rated, 3% white window); 433 nits (tested with 25% window, SDR), 130 nits (tested with 100% white screen), 448 nits with HDR enabled (25% window tested), 627 nits with HDR enabled (10% window tested)
HDR Certification: None
Color depth: 10-bit
Color saturation: 100% sRGB (rated), 98.5% DCI-P3 (rated); 99.9% sRGB (tested), 88.3% DCI-P3 (tested), 95.5% AdobeRGB (tested)
Contrast ratio: 1,500,000:1 (rated)
Pixel response time (GtG): 0.03ms
Ports: 1x DisplayPort 1.4, 2x HDMI 2.1, 1x USB Type-C (DP alt mode) with 15 watts of power delivery, 1x USB Type-C (Upstream), 4x USB Type-A at USB, 3.5mm headphone out
VRR Support: VRR, AMD FreeSync Premium, G-Sync compatible
Warranty: 3-year protection from burn-in and dead pixels
Other features: VESA mount compatible (100×100), integrated USB hub with KVM, included 4-way stand with integrated cable management hole, Kensington lock
What we like
Games look fantastic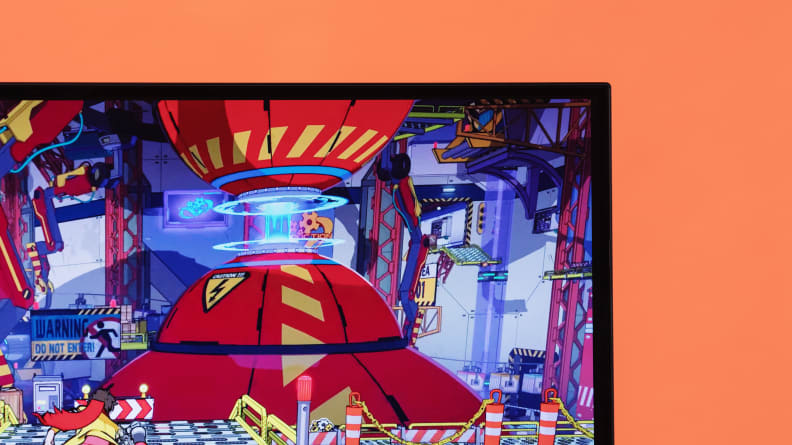 It should come as no surprise that games uniformly look great on the Corsair Xeneon 27QHD240. Everything from fast-paced first-person shooters to story-driven RPGs pops on this monitor.
Colors are bright and accurate across the board—I measured an average Delta E value, the difference between a target value and what's measured, at only 0.78 after calibration. Anything under 3 is imperceptible to the untrained eye, with values under 1 accurate enough for color-sensitive creative work (though there are brightness fluctuation issues I'll touch on later that preclude that use).
Motion clarity is also excellent, as expected, with pixels transitioning near instantly. This means there's no smearing or blurring around fast-moving objects, whether it was whipping the camera around to track enemies in Overwatch 2 or trying out the Blur Buster's UFO test.
This translates to a top-tier gameplay experience, with a few exceptions. I played through the entirety of act 3 of Baldur's Gate 3 on the Xeneon 27QHD240, and traversing the shadowy sewers under the city, casting explosive spells, and even just talking to party members felt vivid and realistic.
The shadowy jungles and ruins of Atropos pop in Returnal, and dashing around like a madman feels smooth and natural, without details getting lost as the camera swings around. The same holds true in Spider-Man: Miles Morales, especially in night scenes where New York's neon really pops, and the shadowy halls of the Bureau in Control feel atmospherically dark and restrictive.
It's not just games, either. Movies and HDR content work extremely well on this monitor—anime and other content with expressions of vivid, solid color in particular. Although the display didn't hit the 1,000 nits peak advertised by Corsair with HDR enabled (more on that shortcoming later), the experience was much better overall than similarly priced monitors like the Sony Inzone M9 or AOC AGON PRO AG274QZM.
As with most other OLED displays, expect uniformly excellent viewing angles and no blooming around bright objects that are against a dark background (each pixel is self-illuminating). And, while it might be polarizing among enthusiasts, the matte anti-glare coating Corsair applied works well. It adds a slight moire effect but cuts down reflections to nearly imperceptible levels even with the monitor next to a bright, sunny window.
It gets bright enough for office work
My biggest problem with the Corsair Xeneon Flex was that it was the perfect form factor for productivity work (think spreadsheets and writing Word documents), but the display dimmed to untenable levels on fully or near-full white screens. This is a common feature on OLED monitors to help prolong the life of the panel, and Corsair included a Brightness Stabilizer option on the Flex that capped brightness at about 150 nits, which was a bit too dark for my liking. I work and game in a room that gets plenty of natural light, so I tend to run my monitors on the brighter end.
That's been fixed. The Brightness Stabilizer on the Xeneon Flex and 27QHD240 caps the brightness at a uniform 200 nits without fluctuations, which is high enough for office work. I measured an impressive 215 nits on a 100% white screen and had no problem typing up this review or completing personal writing, or working in Excel. You'll need to toggle the Brightness Stabilizer off if you want to get the most out of games as it seems to clamp the sRGB coverage down to 86%. It's an extra 5 seconds each time, but it's worth the hassle.
It's loaded with easily accessible ports
Aesthetics are a personal preference and everyone has unique tastes, but there's no denying that the Xeneon 27QHD240 is a good-looking monitor. The integrated USB hub is easily accessible on the back of the monitor with all of the ports facing outward and clearly accessible. The tessellating triangle motif Corsair employs across all of its products lends a decorative edge to the monitor's air vents and back of the stand, the navigation joystick is large and easily accessible, and the panel's edges are wrapped in a pleasing, pebble-y texture.
But let's talk about those ports. The LG UltraGear OLED 27GR95QE-B and Asus ROG Swift OLED PG27AQDM both have two USB-A ports and a single upstream USB-B port to connect everything to your PC. The Xeneon 27QHD240 more than doubles this with a total of four USB-A ports, two USB-C ports (one upstream and the other capable of DisplayPort video-in and 15 watts of power delivery), and an integrated KVM so you can switch between connected devices while using the same attached peripherals.
I had no issue connecting my Steam Deck or MacBook Pro M2 over USB-C for a true single cable solution. This amount of connectivity is pretty standard these days, but Corsair is the only one offering it on an OLED gaming monitor.
What we don't like
The aggressive brightness limiter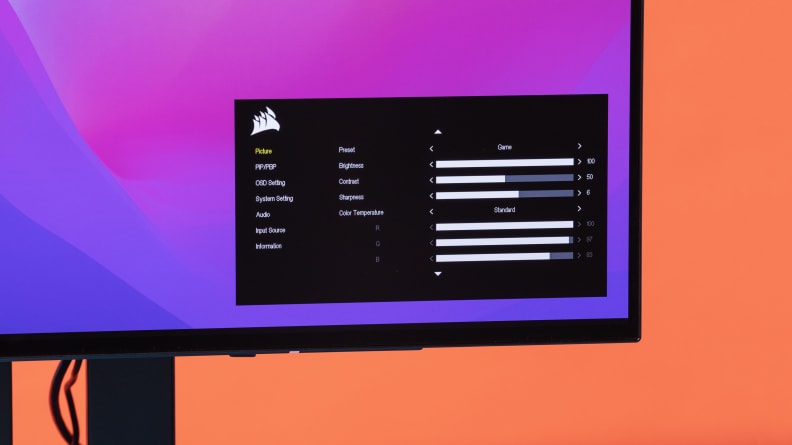 The Corsair Xeneon 27QHD240 suffers from the same problem that all OLED displays do. Corsair has included a number of features intended to reduce image retention and prevent burn-in; the entire display shifts clockwise by 1 pixel per minute, the monitor prompts users to run a 5-minute Image Retention Refresh for every 8 hours of use, and will limit how much power is delivered across the panel at any given time to prevent premature wear. In practice, that means the image will get dimmer as more white is introduced, down to a paltry max brightness of 130 nits on a fully white screen.
While the Brightness Stabilizer can correct this somewhat, the brightness can still rapidly fluctuate even with it enabled. I noticed that when editing an image in Photoshop; even moving my cursor around against the black background surrounding the canvas would cause the display to rapidly brighten and dim. The same thing happened on the menu screen of games like Hearthstone and when I would rapidly move a card around the screen. The worst offender was at the very end of Baldur's Gate 3, as my party emerged triumphant through a giant glowing portal after defeating the final boss and the entire screen dimmed to a washed-out gray.
It's not majorly noticeable unless you know to look for it, and will happen much less frequently with the Brightness Stabilizer enabled, but unfortunately makes this monitor unsuitable for color-sensitive creative work.
HDR doesn't get as bright as advertised
You may have noticed that although Corsair advertises the Xeneon 27QHD240 can hit a peak brightness of 1,000 nits in HDR, it isn't officially VESA certified. It didn't hit that mark in our testing. I measured a brightness of 448 nits across a 25% window with HDR enabled, and 627 nits in a 10% window. A 5% window was under 800 nits.
In practice, the level of detail you get in darker scenes is well fleshed out and nothing is lost. But when brighter highlights come up, they don't pop quite as much as I was expecting. Unlike on an IPS display with mini-LEDs, bright scenes in HDR end up getting washed out. While red laser blasts in Returnal look suitably bright and stand out, the screen dimmed whenever there was a grid of them on screen. And, when I was webslinging in Miles Morales and rounded a skyscraper to catch the sun setting, the image ended up looking more gray and washed out than soaked in orange winter light (a problem I didn't notice in SDR).
Should you buy the Corsair Xeneon 27QHD240?
Yes, it's an OLED gaming monitor you can use day-to-day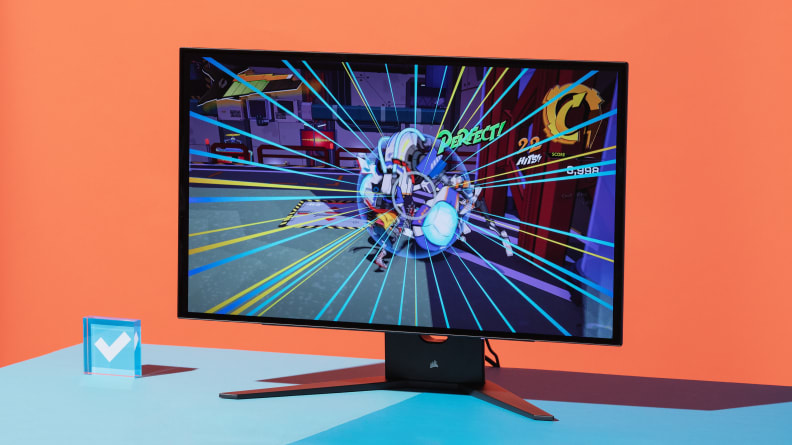 Even if your PC can't hit the 240Hz max refresh rate the Corsair Xeneon 27QHD240 offers, it's still nigh unbeatable for playing games and watching movies on. The near-instantaneous pixel response times, perfect OLED black levels, and serviceable HDR performance can all be found on similar monitors from LG and Asus, but the extra USB ports and easy-to-navigate OSD puts the Corsair over the top.
Those daily quality-of-life features make the Xeneon 27QHD240 one of the best gaming monitors you can buy. An IPS or VA display can maintain a consistent brightness level (so you can push up to 300 or 400 nits for Word docs if you so choose), but neither panel type can match the contrast or pixel response times that OLEDs deliver. Most would be hard-pressed to match the color accuracy as well, especially as the Xeneon 27QHD240 comes calibrated out of the box.
The biggest draw here is price. At the time of writing, the Corsair Xeneon 27QHD240 is on sale for $850, putting it at parity with the LG UltraGear OLED 27GR95QE-B. If you're in the market for one of the best 1440p monitors you can find right now, there's no reason to skimp on features. Go with Corsair.
Corsair Xeneon 27QHD240
The Xeneon 27QHD240 can hit perfect black levels, has excellent motion clarity, and USB ports that you'll actually use. It's one of the best OLED gaming monitors you can get.
Meet the tester
Jonathan Hilburg
Electronics Editor
Jonathan is an Electronics Editor for Reviewed specializing in gaming gear and has experience with everything from controllers to benchmarking the latest GPUs. He was previously the Web Editor at The Architect's Newspaper.
Checking our work.
Our team is here for one purpose: to help you buy the best stuff and love what you own. Our writers, editors, and lab technicians obsess over the products we cover to make sure you're confident and satisfied. Have a different opinion about something we recommend? Email us and we'll compare notes.
[ For more curated Computing news, check out the main news page here]
The post The Corsair Xeneon 27QHD240 stands above its OLED competitors first appeared on reviewed.usatoday.com