From www.techradar.com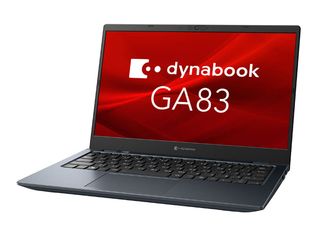 (Image credit: Dynabook)
Sharp's Dynabook has launched a high-end 13-inch laptop in Japan that can reach up to a staggering 24 hours of battery life – but it starts at a cool 393,800 yen (roughly $2,600).
Fitted with either an AMD Ryzen 7 7730U or Ryzen 5 7530U CPU, the Dynabook GA83/XW includes up to 16GB RAM and up to 512GB NVMe SSD. Its thickness of 17.9mm doesn't make it one of the thinnest enterprise notebooks. But it's certainly one of the best long battery life laptops and most versatile notebooks, given its battery life of between 17.5 and 24 hours, and weighs in at 875g.
But one of the most remarkable features is the airflow and cooling system. Dynabook used thermal fluid analysis to understand the flow of air inside the case, and designed the chassis in such a way to dissipate heat as soon as effectively as possible.
This is the lightest AMD enterprise notebook
Elsewhere, the 13.3-inch non-glossy LCD display has a maximum 1,920 x 1,080 pixel resolution and can be bought with touchscreen capabilities. The AI-fitted webcam is equipped with a physical privacy shutter, as well as optional facial recognition. This comes in addition to the choice of a fingerprint sensor.
It includes two USB-C 3.1 ports and two USB-A 3.0 ports, as well as an Ethernet port capable of reaching gigabit speeds, a microSD card slot, and a 3.5mm headphone jack. This comes alongside an optional LTE modem, so you can work on the go, and Bluetooth 5.1.
This isn't the lightest laptop in the world that you can buy, but it is the lightest notebook fitted with an AMD processor. It's 10g lighter than the Lifebook U9311A launched in 2021. This was fitted with a choice of AMD Ryzen 5 4500U or Ryzen 4700U CPUs.
The lightest laptop on sale right now is Lenovo's FMV UH-X 4ZR1L13925, which launched in August. But, like Dynabook's latest entry in the realm of enterprise notebooks, it's not being sold outside of Asia. This machine, which includes an Intel Core i5-1335U chip, weighs just 868g.
Even that isn't the lightest laptop ever built, though. That would be Lenovo's 2018 FMV UH-X 4ZR0X81523, which weighed 778g.
More from TechRadar Pro
[ For more curated Computing news, check out the main news page here]
The post The lightest AMD laptop ever just launched in Japan — and it seems to defy the laws of physics with a 24-hour battery life first appeared on www.techradar.com