From www.laptopmag.com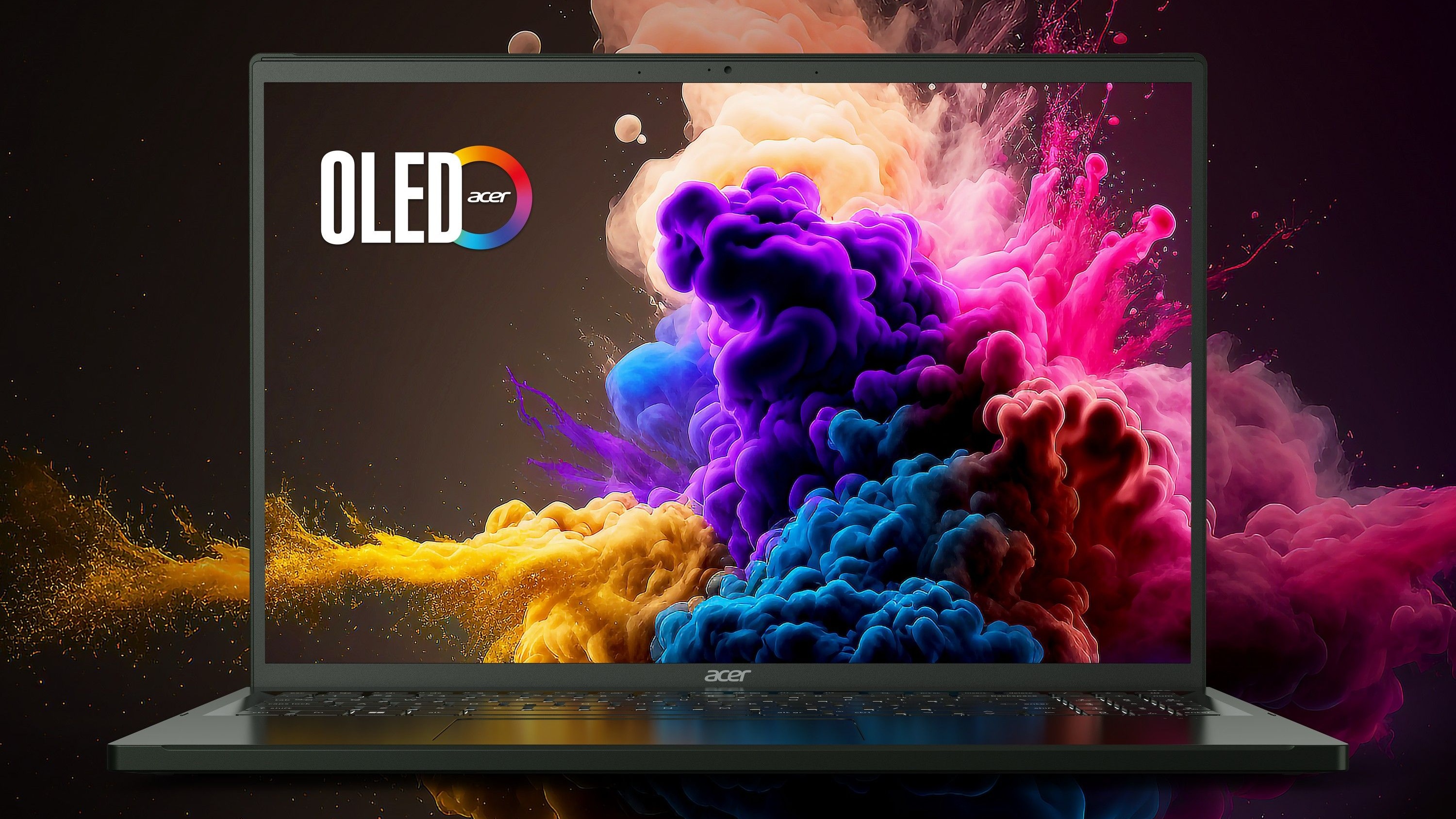 (Image credit: Acer)
Acer is reinvigorating the Swift Edge 16 with brand-spankin' new internals, including AMD Ryzen 7040 series chips, AMD Radeon 780M graphics, and AMD Ryzen AI (only on some models). You know what that means? Apple's MacBooks, particularly the variants packed with the M2 chip, are in trouble.
And quite frankly, Apple should be shaking in its boots. The Taiwan-based OEM has blown Laptop Mag away lately with MacBook-killing laptops such as the Acer Swift 5 that, according to our testing, proved to be cheaper and better than the M2 MacBook Air and the M2 MacBook Pro on most benchmarks. Can the Swift Edge 16 do the same? There's a strong possibility; here's three reasons why.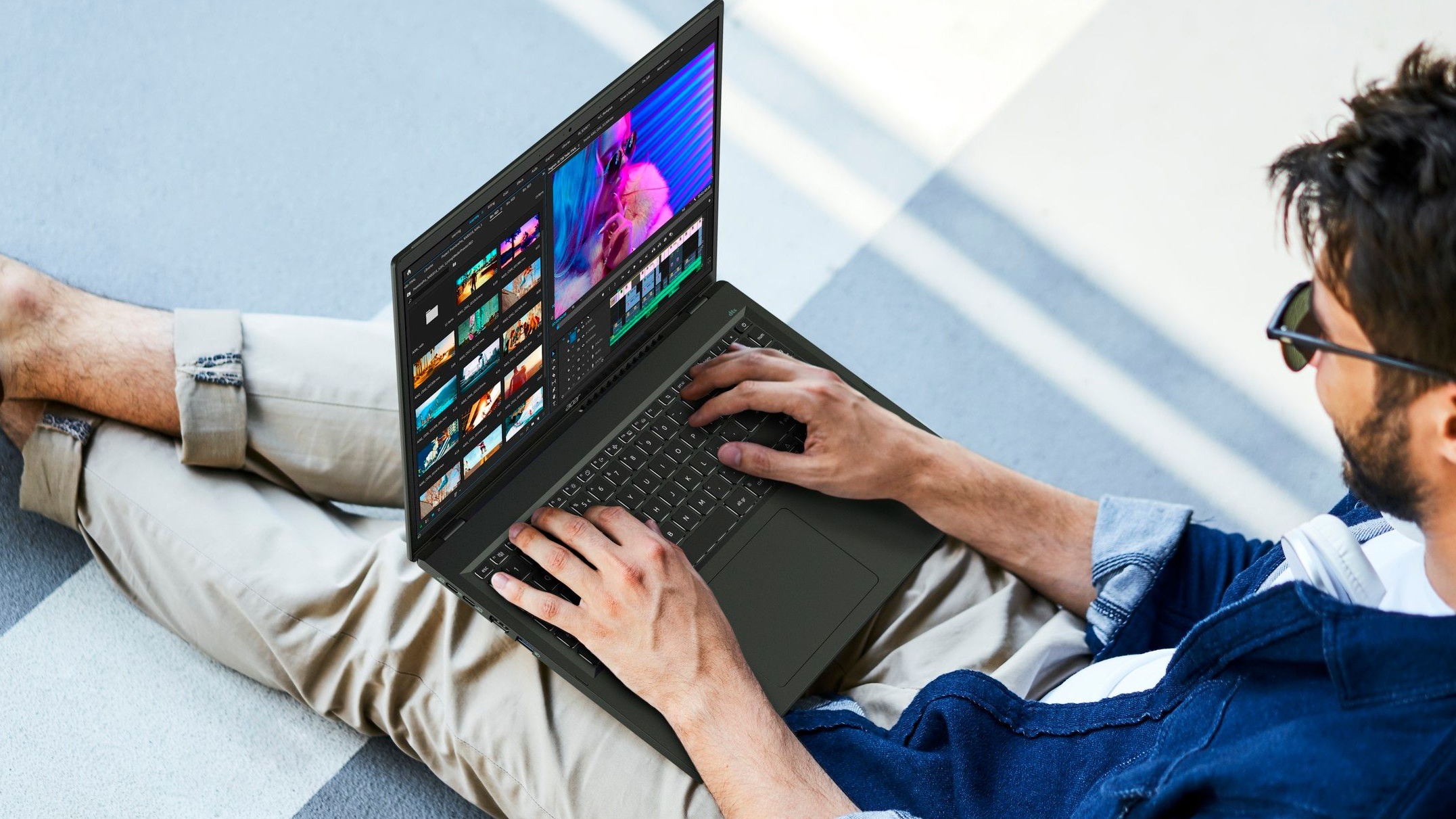 1. Performance could exceed the M2 MacBook Air
First, let's talk about why the AMD chip inside the Swift Edge 16 is likely a MacBook killer.
In early May, AMD proclaimed that the U-series chips among its Ryzen 7040 mobile series can outperform Apple's M2 chip. In other words, AMD is gunning for the M2 MacBook Air, and by extension, even the M2 13-inch MacBook Pro. Check out the performance numbers chart for Ryzen 7040U series chips that convey its superiority against the M2 chip (see chart below).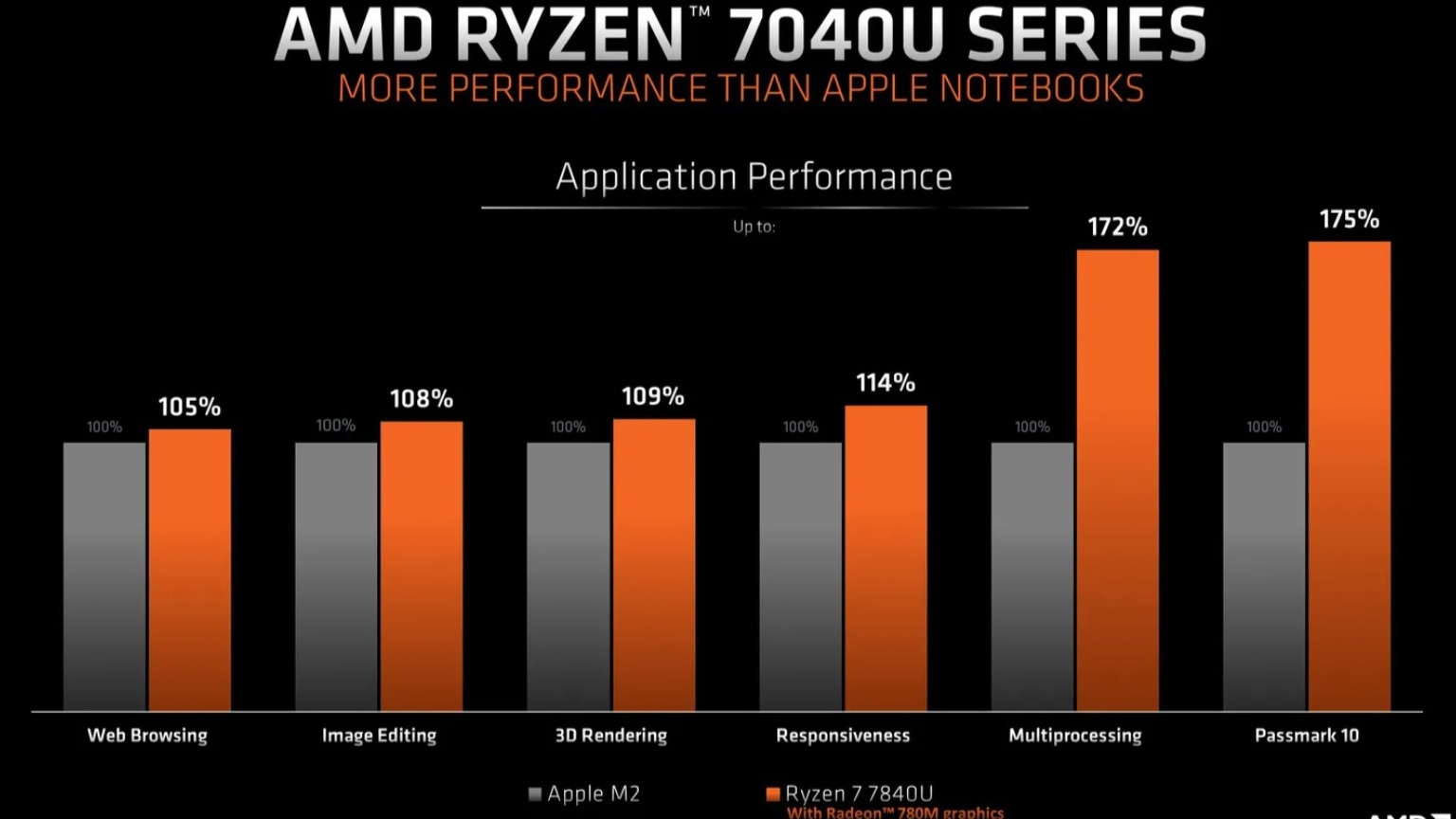 Using the Ryzen 7 7840U chip as an exemplar, AMD showed off its performance benchmarks — and how it outpaced the M2 chip in image editing, 3D rendering, responsiveness and multiprocessing. And if you take a look at the chart below, that same chip beat the Intel Core i7-1360P CPU, which can be found inside the highly rated LG Gram 17 — and this processor outpaced the M2 chip, too, according to our testing.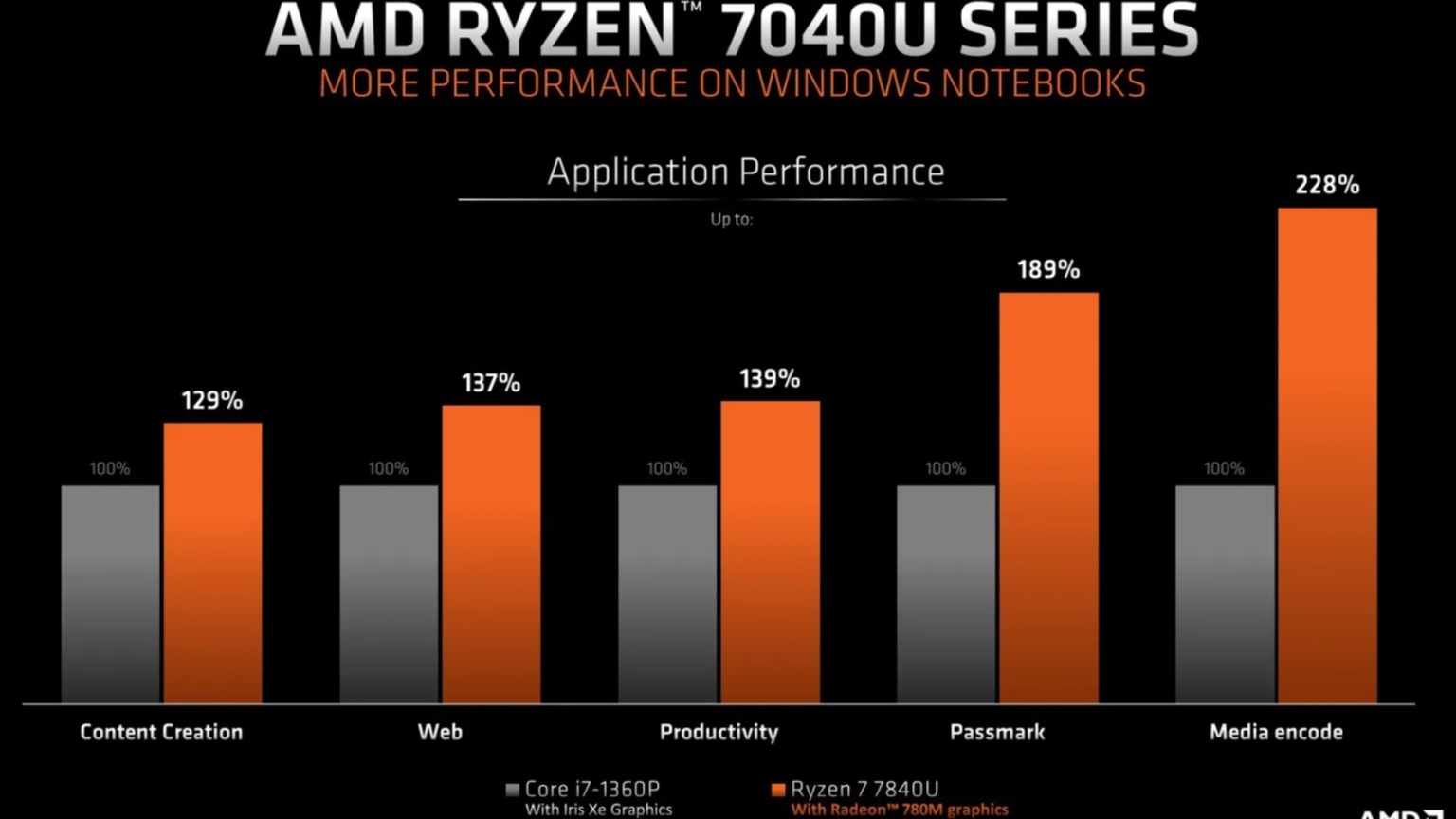 If the AMD Ryzen 7040 series APUs can, in fact, outshine the M2 MacBook Air and the LG Gram 17, two shining stars in their own right, imagine how much "oomph" it will offer to the new laptops they house! AMD PR manager Matthew Hurwitz said that these AMD chips, built for thin-and-light machines, are poised to be packed in Acer laptops — and he was right.
According to an Acer press release, the refreshed Swift Edge 16 will have the following powerful internal components:
AMD Ryzen 7040 series processors
Up to AMD Radeon 780M graphics
AMD Ryzen AI (on models with select processors)
Up to 32GB of DDR5 RAM
Up to 2TB of storage
Up to WiFi 7
We can't wait to test the Swift Edge 16 to see if it does, in fact, proves to be the MacBook killer I'm expecting it to be.
2.The Swift Edge 16 may have a better display
According to Acer, the Swift Edge 16 has one striking display that make the Liquid Retina panels on the M2 MacBook Air and M2 MacBook Pro look like eye sores next to it.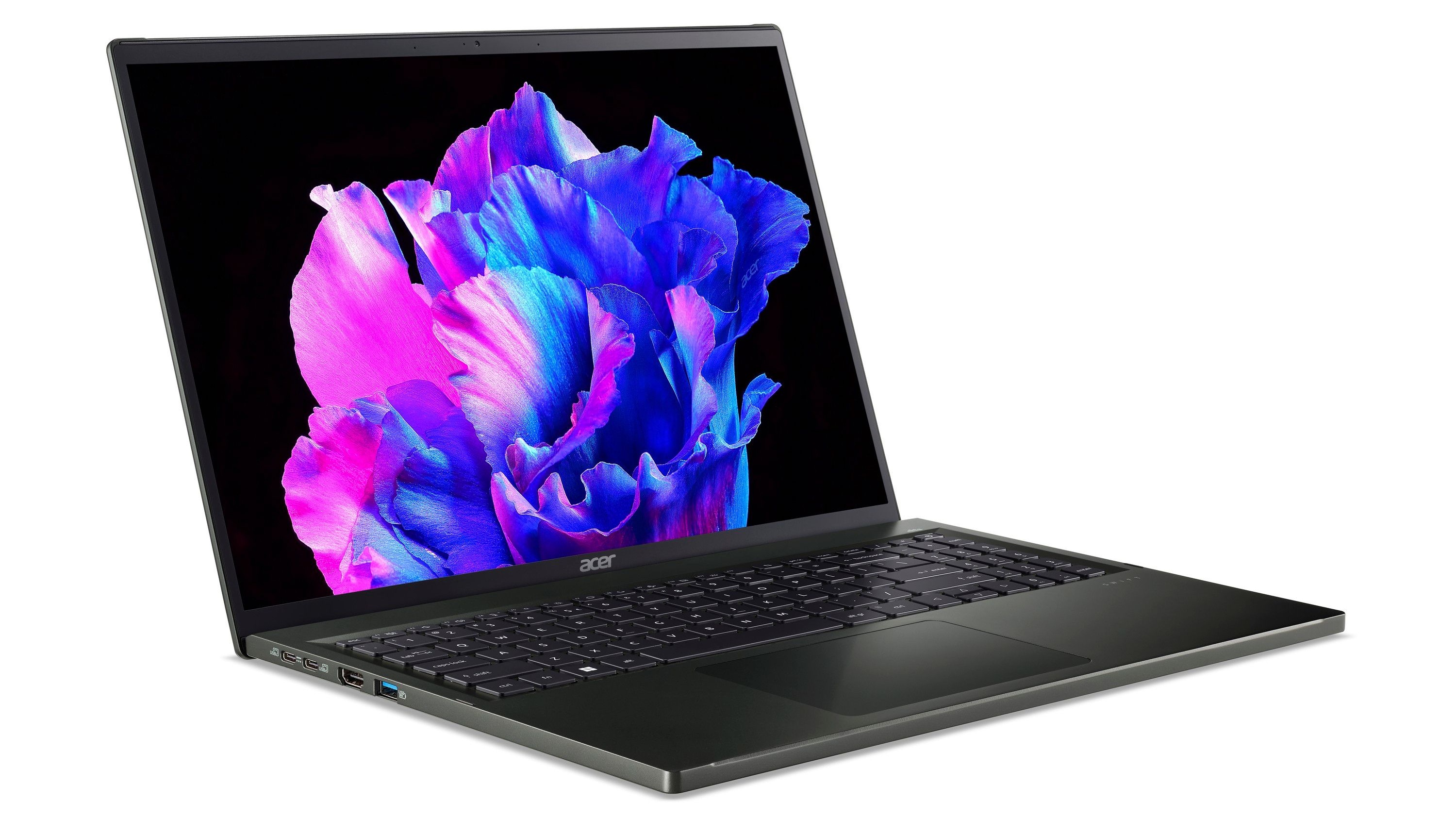 The M2 MacBook Air's 2560 x 1664-pixel, 13.6-inch Liquid Retina display may sound fancy on paper, but it only covers 75.9% of the DCI-P3 color gamut, according to our in-house testing. The same could be said for the M2 MacBook Pro. It boasts a 13.3-inch, 2650 x 1600-pixel Liquid Retina display, but only covers 77.5% of the DCI-P3 color gamut.
Now that you know that both MacBooks cover less than 80% of the DCI-P3 color gamut, take a look at the Swift Edge 16's OLED display specs:
100% DCI-P3 color gamut support
120Hz refresh rate
A 16-inch, 3,200 x 2000-pixel display
A 1,000,000:1 contrast ratio
VESA DisplayHDR True Black 500 certification
0.2 ms response time
So far, the Swift Edge 16 seems like a better choice for artists seeking a panel that can facilitate their creative endeavors, however, we would still have to corroborate these specs with our own testing to validate them.
3. More ports
The M2 MacBook Air only packs two Thunderbolt 4 ports and a headset jack. Sounds like dongle hell to me!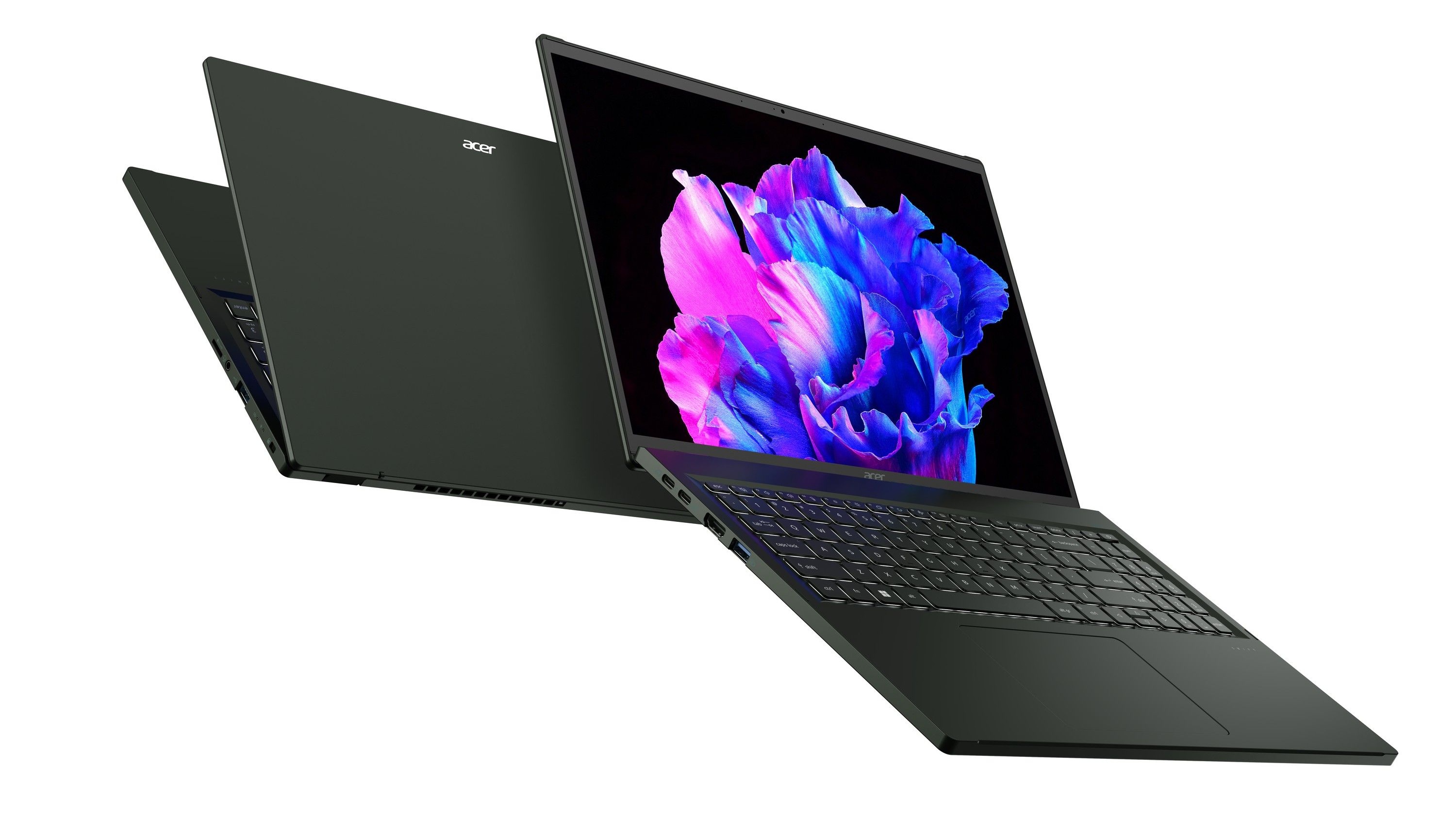 The Swift Edge 16, on the other hand, is less stingy on ports; it offers two USB Type-A ports, two dual USB 4 Type -C ports (with fast charging and display capabilities), HDMI 2.1, a headset jack, and a micro SD card reader.
Bottom line
Admittedly, the M2 chip's power efficiency is difficult to beat. As such, we're not sure if the Swift Edge 16's battery runtime will beat the M2 MacBook Air. However, there's a good chance that will still deliver, at the very least, a satisfactory runtime.
It may not offer the 14-hour runtime that the M2 MacBook Air can deliver, but there's a good chance that it can still keep up with all your productivity needs during your most work-focused hours of the day.
It's also worth noting that the Swift Edge 16 will come with a 1440p QHD webcam with auto framing, gaze correction, and advanced background blur. Plus, an AI feature lets you take advantage of noise reduction for crisper call experiences.
The Swift Edge 16 will be available in July with a starting price tag of $1,299.
Back to Ultrabook Laptops
Load more deals
The post The new Acer Swift Edge 16 could be the next MacBook killer — 3 reasons why first appeared on www.laptopmag.com
In many places around the world, horse races are an attraction that a lot of people love to watch. With the fast-paced action and thrill that each game provides, it is no longer surprising to know that millions of fans have grown fond of it.