From www.techadvisor.com
Image: Anyron Copeman / Foundry
The Surface Laptop Studio is the latest brand-new product in Microsoft's range, although it was announced back in September 2021.
That original device replaced the Surface Book 3, ditching the detachable screen in favour of a design with three fixed positions. You can use it as a regular 14.4in laptop, pull the screen forward in 'Stage mode' or lay it down flat in 'Studio mode'. As mentioned in our full review, each of these is genuinely useful, but there's definitely still room for improvement.
So, what can we expect from the upcoming second generation? Here's everything we know so far.
When will the Surface Laptop Studio 2 be released?
A new Surface Laptop Studio was always likely at some point in 2023, and it looks like we'll see the second generation this spring.
That's according to Windows Central's Zac Bowden, who describes it as a 'shipping target'. However, he doesn't rule out the possibility of it being delayed to later in the year, and mentioned in a January 2023 Windows Central video that recent layoffs at Microsoft could have an effect on the upcoming Surface release schedule.
The article mentions several February 2023 Geekbench 6 listings that were first reported by Gustave Monce. In a subsequent tweet, Monce suggested this could be different models of a new Surface Laptop Studio:
There's no guarantee these will end up being the device, but it seems likely. And appearing on Geekbench is a sign that an official launch isn't too far away. Microsoft typically launches its spring hardware in April or May, although that may change in 2023.
Here's when the last few models were released, both for the original Laptop Studio and Surface Book line that it replaced:
How much will the Surface Laptop Studio 2 cost?
Pricing is one of the last things to be revealed about a product – you may have to wait until the Laptop Studio 2 launches. But unless there are substantial upgrades, it's likely to be roughly in line with the original:
Core i5, 16GB RAM, 256GB storage: $1,599.99/£1,449
Core i5, 16GB RAM, 512GB storage: $1799.99/£1,649
Core i7, 16GB RAM, 512GB storage: $2099.99/£1,899
Core i7, 32GB RAM, 1TB storage: $2699.99/£2,477
Core i7, 32GB RAM, 2TB storage: $3099.99/£2,879
Despite high inflation rates around the world, there's a chance the next Laptop Studio will be slightly cheaper. Price is one of the big things that counts against the original, making it hard to justify for the average consumer. Bringing this form factor to a wider audience will surely be in Microsoft's plans.
What will the Surface Laptop Studio 2 specs and features be?
If the Geekbench 6 listings turn out to be the Surface Laptop Studio 2, a few key specs are revealed.
It looks like there at least two core models: one with a an Intel Core i7-13700H CPU and 16GB of RAM, and another with a Core i7-13800H and 64GB of RAM. The latter also appears to be available with the option for an Nvidia RTX 4060 discrete GPU (rather than Intel Iris Xe integrated graphics), which would make it Microsoft's most powerful laptop to date.
Upgrading to 13th-gen Intel processors and RTX 40 Series graphics would be a big step forward for the Surface Laptop Studio's performance and power efficiency.
However, that might be where the upgrades end. Zac Bowden at Windows Central says "not to expect any major design updates to the external chassis", and that there isn't likely to be an alternative to the 14.4in screen size. Both simply cite his sources, but Bowden has a strong track record for Surface news.
It means the second-gen model is likely to look very similar to the original. It means you'll get the same premium design, three fixed modes and sizeable bezels, although none of these need urgent attention.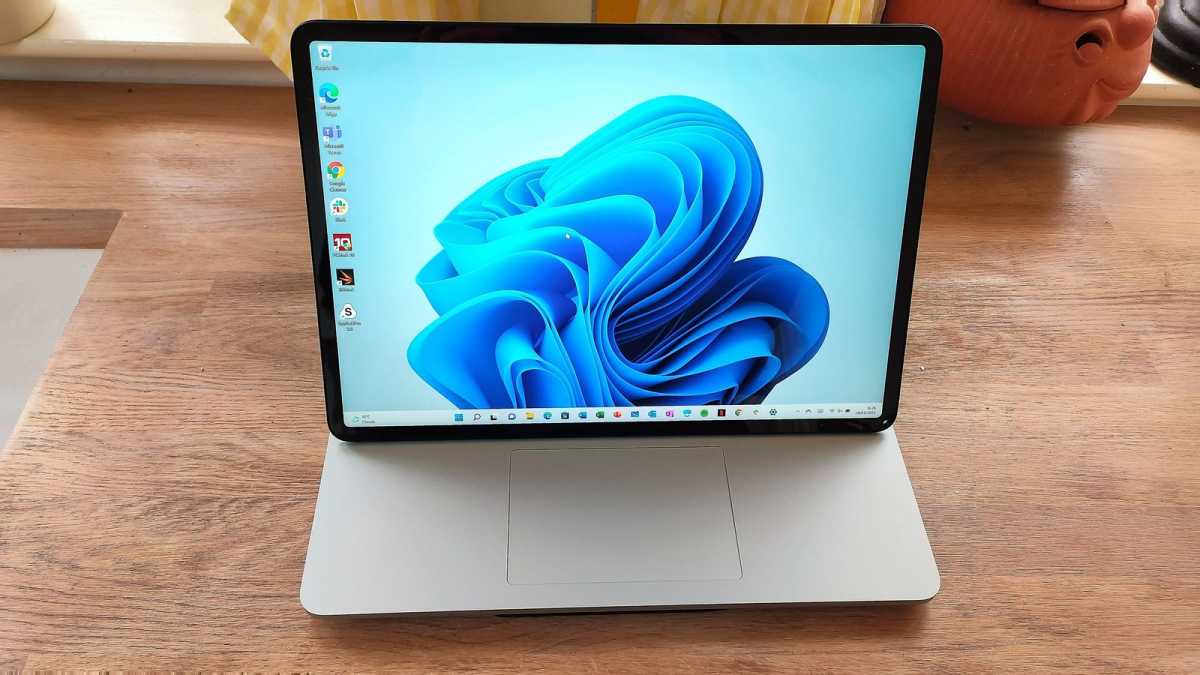 Anyron Copeman / Foundry
There's still a chance Microsoft will update the display specs, although it seems to still be happy with LCD rather than OLED. The screen already has a high 2400×1600 resolution and 120Hz refresh rate that can dynamically adjust depending on what you're doing, making it one of the highlights of the original.
You can say the same for the impressive 1080p and IR sensor, that ensure great video calls and reliable face unlock. But it'd be nice to see a separate fingerprint scanner, potentially one that's built into the power button.
Given how thick the Laptop Studio is, there also needs to be more ports. Adding USB-A and HDMI to the existing USB-C and 3.5mm headphone jack would be great, and ditching the Surface Connect port for USB-C charging could free up some space.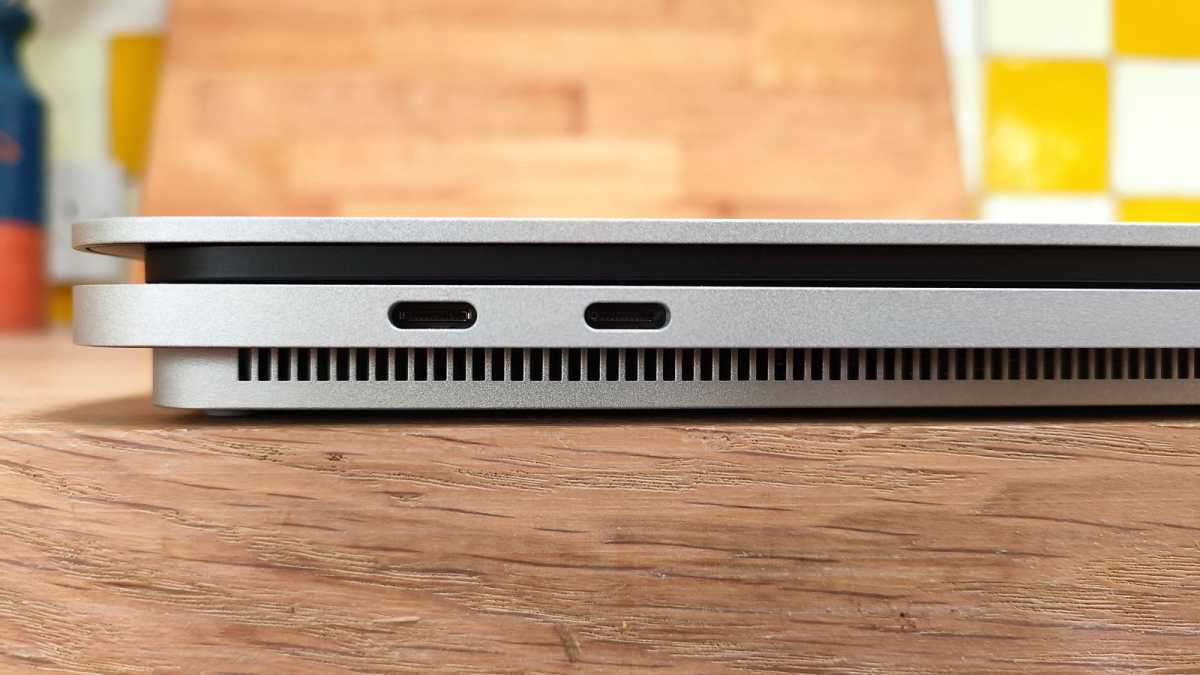 Anyron Copeman / Foundry
Battery life is already a key strength of the device, but it'd be nice to see an increase to the 58Wh maximum capacity. It also currently takes over two hours for a full charge, something which needs to be improved on the next iteration.
As you can see, a few small refinements could make the second-gen Surface Laptop Studio a much more appealing device. But nothing has been confirmed or even rumoured at this stage – we'll update this article once more information is known.
For a look at other products likely to launch this year, see our separate guides to the Surface Pro 10 and Surface Laptop 6.
The post The Surface Laptop Studio 2 is expected this spring first appeared on www.techadvisor.com
In many places around the world, horse races are an attraction that a lot of people love to watch. With the fast-paced action and thrill that each game provides, it is no longer surprising to know that millions of fans have grown fond of it.
Cybersecurity threats have become vast and more sophisticated. The rate of malware attacks and malicious activity counts within seconds despite the size or sector the organization belongs to — no one is safe enough to expect that foe actors will bypass vital company resources.