From www.pcgamer.com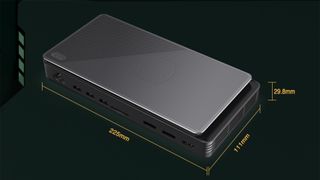 (Image credit: GPD)
At 225 x 111 x 29.8mm, the GPD G1 External Graphics Dock is arguably only pocket-sized if you have extremely large pockets. But I'm willing to make oversized cargo shorts my entire look if it means I can easily supercharge my compact 13-inch 2-in-1 laptop and have it turn it into something resembling a gaming laptop with this eGPU plugged in.
This compact external GPU is powered by AMD's Radeon RX 7600M XT. That's the best mobile chip out of AMD's 7000-series generation so far, delivering 21.4 TFLOPs of compute performance.
As for how that equates to gaming performance, Notebook Check reviewed the slightly slower RX 7600S and found it's on par with Nvidia's RTX 3060 mobile chip. On the product page for the GPD Win Max 2, which is being sold with the GPD G1, GPD says the eGPU will exceed the performance of an RTX 3070, but it's not an apples-to-apples comparison.
At the very least we can expect pretty RTX 3060 or better performance out of the 7600M XT, if it's not too constrained by the G1 dock's compact shell.
The G1's finish does give me hope for pretty decent temperatures, though it will need to disperse 75–120W for the 7600M XT. Included with the G1 is a 240W GaN power supply, so no issues there. It's possible the G1 may pull that GPU back a bit to keep it from throttling too badly, but as GPD notes this dock is a joint development with AMD so ideally they're getting the most out of it.
The world exclusive pocketable eGPU!#gpdg1 pic.twitter.com/9k9xMIlIW3May 19, 2023
See more
The size of the dock shouldn't pose too much of a problem for that mainstream GPU, as the competing and only slightly larger ROG XG Mobile comes with pick of two chunkier cards, the RX 6850M XT or RTX 4090M.
We have an AMD-powered XG Mobile to hand right now and it measures 215 x 165 x 33mm. So it's shorter than the G1, but wider and thicker. It also comes with an ethernet port where the G1 surprisingly does not.
The G1 is rammed with I/O: there are two DisplayPort 1.4a ports, an SD card reader, a single HDMI 2.1 port, three USB 3.2 Type A ports, an OCuLink port, and USB4. Alongside a power connection and on/off switch.
That OCuLink port is not something you see every day. Despite having the worst formatting of a brand name ever known to man it's what will allow this eGPU to hook into laptops with the female OCuLink port. OCuLink was created by PCI-SIG as an alternative to Thunderbolt many years ago, as a way to extend PCIe connectivity outside of a device, but we haven't seen much of it since.
GPD is touting up to 63 Gbps connection via OCuLink, which is higher than I was expecting, but makes sense if the port is able to deliver four PCIe 4.0 lanes.
The obvious issue here, beyond the formatting of OCuLink, is that there aren't many laptops on the market that support OCuLink. In fact, the GPD Win Max 2 is the only one I can think of with such a connector. You can actually buy adapters for M.2 slots that turn them into OCuLink connectors, but that's pretty niche and not a great help for a laptop. It's definitely going to be pretty limited in use on the G1.
TipsThe GPD G1 will launch crowdfuning soon, so don't worry about that you can also order separate G1 from that campaign. pic.twitter.com/jkLxaVMXqFMay 12, 2023
See more
The alternative on the G1 is to use the USB4 connection, which shares a great deal with Thunderbolt, as this can deliver between 20–40 Gbps. Not only is this pretty common on modern laptops, but with the USB4 connection you can use all of the USB A ports and the SD card reader on the G1, whereas over OCuLink you cannot. GPD has confirmed you can connect up any laptop with a compatible USB4 port to the dock, so this will likely be the connection of choice for most.
GPD has confirmed it will be selling the G1 separately in the neat future, but like all things GPD it will be via an Indiegogo campaign. As with crowdfunding, there's a certain risk there, but GPD has released most of its products this way. You can also order a G1 today alongside the Win 2 Max laptop if you want the whole package.
The post The 'world's smallest' external GPU would make for a super portable laptop power-up alongside a pair of generous cargo shorts first appeared on www.pcgamer.com
In many places around the world, horse races are an attraction that a lot of people love to watch. With the fast-paced action and thrill that each game provides, it is no longer surprising to know that millions of fans have grown fond of it.
Cybersecurity threats have become vast and more sophisticated. The rate of malware attacks and malicious activity counts within seconds despite the size or sector the organization belongs to — no one is safe enough to expect that foe actors will bypass vital company resources.