From www.techspot.com
TechSpot is celebrating its 25th anniversary. TechSpot means tech analysis and advice you can trust.
In brief: With the Steam Deck, Valve essentially condensed laptop and controller hardware into a smaller form factor to achieve a more portable gaming device. This has inspired other companies to come up with alternatives, while others are starting to offer aftermarket upgrades for things like the screen and internal storage.
There's no doubt that Valve's Steam Deck has revitalized the handheld console market and pushed hardware manufacturers like AMD to develop more capable low-power APUs and improve driver support for Linux systems.
According to Omdia analysts, Steam Deck sales are expected to hit three million units by the end of 2023, which is no small feat for the first generation of a product that targets a niche market. There are many areas where the popular handheld can be improved, but Valve isn't interested in rushing out upgraded versions for fear of complicating things for game developers.
That said, Valve CEO Gabe Newell explained during an interview last year that the main reason the company was able to create the Steam Deck is the incredible interoperability of the PC. In other words, mixing and matching components from various manufacturers allows companies to quickly come up with new products or upgrades for existing ones.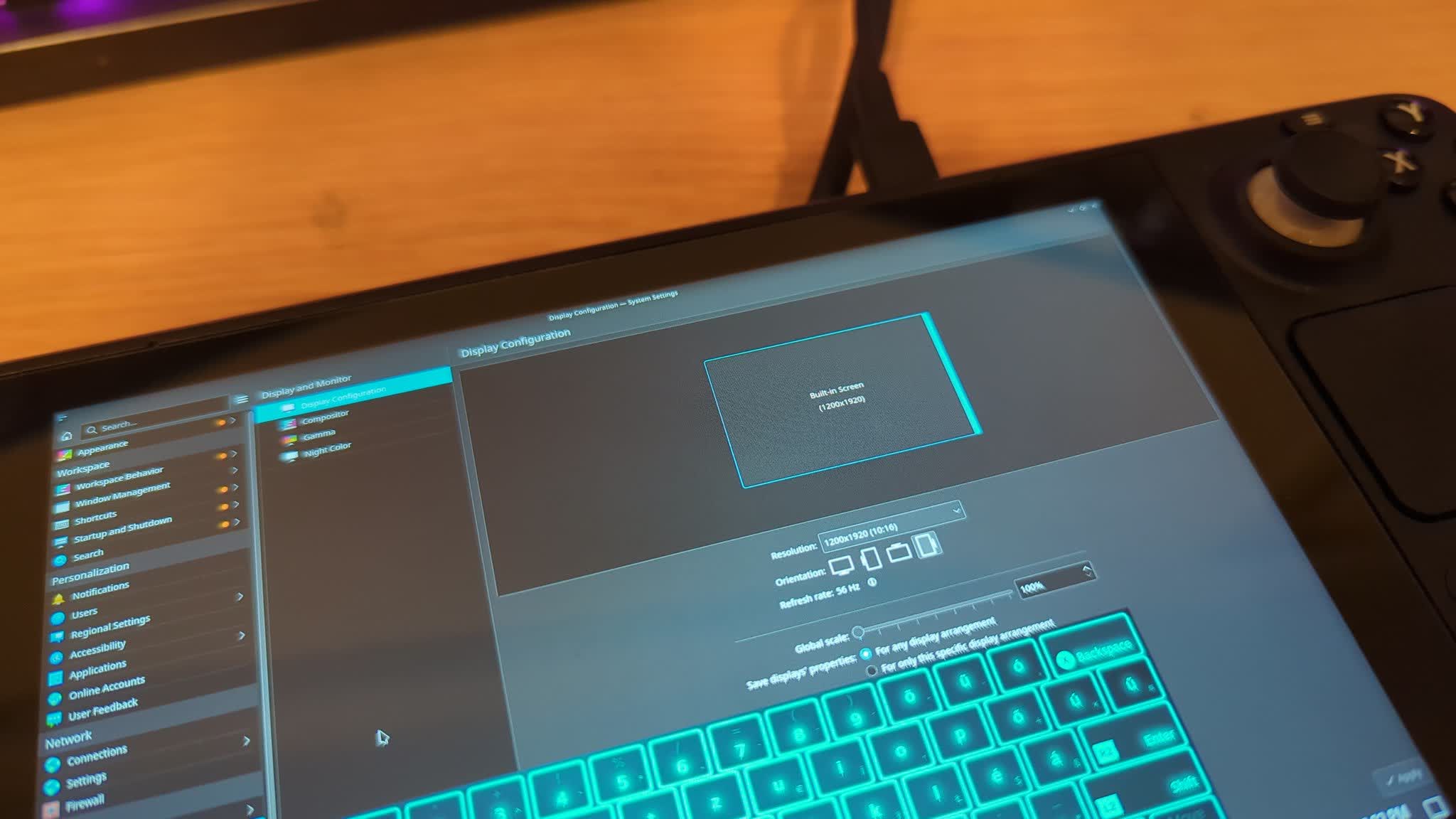 Speaking of upgrades, a company called FX Technology has announced DeckHD – an aftermarket display replacement for the Steam Deck. The new LCD panel sports a resolution of 1920 by 1200 pixels and better color accuracy with 67 percent Adobe RGB coverage. For reference, the Steam Deck screen has a resolution of 1280 by 800 pixels and only 45 percent Adobe RGB coverage. Both screens have a peak brightness of 400 nits and a 60 Hz refresh rate.
The DeckHD will supposedly retail for $99, though the company has yet to reveal any details about its availability. More importantly, people looking to upgrade the screen on their Steam Deck should be aware the replacement procedure requires several steps where you can damage your device, as detailed in this iFixit guide. That's because you'll have to get most of the other internals out of the way before you even reach the display connector.
Also read: Why Steam Deck is One of the Most Significant PC Gaming Moments in Years
Even if you are comfortable working with delicate electronics and a voided warranty, the impact on performance and battery life is yet another important consideration when deciding on such an upgrade. After all, even newer handhelds like the Asus ROG Ally with more powerful internals have trouble maintaining a smooth frame rate in certain games at 1080p. Both the Steam Deck and the ROG Ally come equipped with a 40Wh battery, which doesn't last long unless you limit frame rates and adjust display brightness and graphical settings to the lowest bearable levels.
In any case, if you are interested in this mod you can join the waitlist for the DeckHD here. Alternatively, if you've been looking to upgrade the internal storage on your Steam Deck, Sabrent just launched a 2TB variant of the Rocket Q 2230 SSD which is up for pre-order at $219.99. The 1TB version of the Rocket Q 2230 is currently $109.99.
Masthead credit: Petar Vukobrat
What do you think would be a better upgrade for the Steam Deck?
The post Third-party Steam Deck screen upgrade goes 1200p, likely at the cost of battery life (or your entire device) first appeared on www.techspot.com
In many places around the world, horse races are an attraction that a lot of people love to watch. With the fast-paced action and thrill that each game provides, it is no longer surprising to know that millions of fans have grown fond of it.
Cybersecurity threats have become vast and more sophisticated. The rate of malware attacks and malicious activity counts within seconds despite the size or sector the organization belongs to — no one is safe enough to expect that foe actors will bypass vital company resources.