From www.tomshardware.com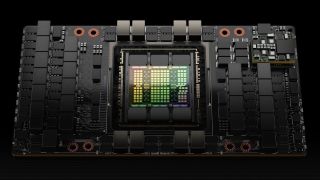 (Image credit: Nvidia)
The chairman of TSMC admitted that the ongoing short supply of compute GPUs for artificial intelligence (AI) and high-performance computing (HPC) applications is caused by constraints of its chip-on-wafer-on-substrate (CoWoS) packaging capacity. This shortage is expected to persist for around 18 months due to rising demand for generative AI applicationsand relatively slow expansion of CoWoS capacity at TSMC.
"It is not the shortage of AI chips, it is the shortage of our CoWoS capacity," said Mark Liu, the chairman of TSMC, in a conversation with Nikkei at Semicon Taiwan. "Currently, we cannot fulfill 100% of our customers' needs, but we try to support about 80%. We think this is a temporary phenomenon. After our expansion of [advanced chip packaging capacity], it should be alleviated in one and a half years."
TSMC is the producer of the majority of AI processors, including Nvidia's A100 and H100 compute GPUs that are integral to AI tools like ChatGPT and are predominantly used in AI data centers. These processors, just like solutions from other players like AMD, AWS, and Google, use HBM memory (which is essential for high bandwidth and proper functioning of extensive AI language models) and CoWoS packaging, which puts additional strain on TSMC's advanced packaging facilities.
Liu said that demand for CoWoS surged unexpectedly earlier this year, tripling year-over-year, leading to the current supply constraints. TSMC recognizes that demand for generative AI services is growing and so is demand for appropriate hardware, so it is speeding up expansion of CoWoS capacity to meet demand for compute GPUs as well as specialized AI accelerators and processors.
At present, the company is installing additional tools for CoWoS at its existing advanced packaging facilities, but this takes time and the company expects its CoWoS capacity to double only by the end of 2024.
In addition, TSMC recently announced intention to invest $2.9 billion in a new facility dedicated to advanced chip packaging. This facility, located near Miaoli, Taiwan, is a testament to the company's commitment to addressing demand for advanced packaging from all sectors and recognized importance of advanced chip packaging in the semiconductor industry going forward
This focus on advanced chip packaging is not exclusive to TSMC; other industry giants like Intel and Samsung are also prioritizing it, with Intel aiming to quadruple its capacity for its top-tier chip packaging by 2025. Traditional outsource semiconductor assembly and test (OSAT) companies like ASE and Amkor also have technologies similar to CoWoS, but they yet have to build up capacity for them comparable to that of TSMC, Intel, and Samsung.
[ For more curated Computing news, check out the main news page here]
The post TSMC: Shortage of Nvidia's AI GPUs to Persist for 1.5 Years first appeared on www.tomshardware.com