From www.tomshardware.com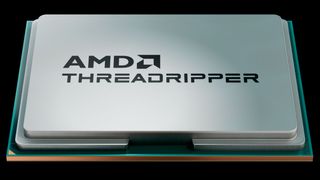 (Image credit: AMD)
Phoronix tested AMD's new Ryzen Threadripper Pro 7995WX 96-core behemoth in a head-to-head, pitting Windows 11 against Ubuntu to see which operating system handles AMD's high-end desktop parts better. Phoronix found that Linux was the dominant OS, outperforming its Microsoft counterpart by a whopping 20%.
The test system was an HP Z6 G5 workstation, featuring a Ryzen Threadripper Pro 7995WX, 128GB of DDR5-5200 Hynix RDIMMs, a Samsung NVMe SSD, and a GeForce RTX A4000 graphics card. For the Windows 11 tests, Phoronix used Windows 11 Pro version 23H2, while for Linux it used Ubuntu 23.10.
Phoronix tested the Threadripper chip in various CPU-intensive tasks, including LuxCore, Intel Embree, OSPRay, Geekbench, Blender, video encoding, and more. Overall, the Linux OS was 19.5% faster on average compared to Windows 11 Pro, which is the default OS for the HP workstation.

Diving into some of the individual benchmarks, Windows 11 Pro did come out on top in a few cases, most notably in Kvazaar (an open-source HEVC encoder), LuxCoreRender 2.6, and Geekbench 5. In these benchmarks, Windows 11 was between 3.2% and 14% faster than Ubuntu. However, the Linux OS showed superior performance in nearly all of the other benchmarks.
At its best, Ubuntu was twice as fast as Windows in ASTC, asmFish, CPU encoding with AV1, OSPRay, LuxCoreRender 2.6 (in the Rainbow Colors and Prism scene), and the DaCapo benchmark.
Linux continues to dominate Windows 11 when it comes to high-core count chips like AMD's new 96-core Threadripper CPU. Threadripper processors have been notorious for running better on Linux distros, due to differences in behavior between the Windows and Linux CPU schedulers. Windows is usually more accustomed to dealing with lower-core count consumer CPUs, while Linux operating systems are used extensively in the enterprise world where high-core count chips are the norm.
Windows has become a lot better over the years at dealing with the intricacies of AMD's high-core count CPU architectures, but apparently it's still not enough to beat Linux. If you use a lot of heavily multi-threaded HPC applications and plan on picking up a Threadripper workstation, it might be worth switching to Linux for the performance improvements alone.
[ For more curated Computing news, check out the main news page here]
The post Ubuntu runs 20% faster than Windows 11 on AMD's new 96-core Ryzen Threadripper Pro 7995WX, demonstrating once more that Linux loves high core count CPUs | Tom's Hardware first appeared on www.tomshardware.com