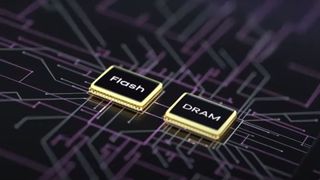 ULTRARAM "universal memory" (Image credit: ULTRARAM)
What you need to know
Quinas Technology developed ULTRARAM, a new type of universal memory designed to outperform and outlast your SSD's flash storage.
The technology leverages quantum mechanical resonant tunnelling to provide a system memory-like performance level while promoting energy efficiency.
It's not yet clear how much the new technology will cost.
---
Leaving your Windows PC in hibernation mode for too long can sometimes land you in tough positions. For instance, not being able to pick up your work from where you left it and need to restart your device all over again is a great deterrent to your overall productivity.
But now, even 1,000 years don't seem as long in hibernation for your PC, at least with ULTRARAM, a new type of universal memory designed to outperform and outlast the conventional SSD's flash storage while simultaneously matching the read/write speeds of the system memory with lower power demand, as reported by TechRadar.
Manus Hayne, a Physics Professor at Lancaster University, is the brains behind this new technology developed by Quinas Technology. At the moment, there are two types of memory that you can leverage on your device.
First, system memory (DRAM) sports incredible read and write speeds and can be rewritten as often as you'd like. However, it requires a constant supply of power to retain storage data. This is why your device still drains the battery, despite being in sleep mode, ultimately losing all the stored data.
On the other hand, flash memory can retain data longer, even after the power is completely drained out. It's considerably cheaper than the system memory but sports slow read and write speeds.
However, ULTRARAM promises a have your cake and eat it scenario where the user can enjoy the best features from both types of memory. ULTRARAM's official website states, "Our patented memory technology uses quantum mechanical resonant-tunnelling, to provide an unmatched combination of speed, non-volatility, endurance, and energy efficiency."
Moreover, the technology boasts over 1,000 years of data retention capability with a system memory performance level while demanding less energy. The technology seems promising because it just bagged an award at the Flash Memory Summit.
ULTRARAM goes on to provide a short explanation highlighting how the new technology works in their brochure:
ULTRARAM is a charge-based memory that stores data by moving electrons into or out of a so-called 'floating gate.' The charge state of the floating gate is read non-destructively by measuring the conductance of an underlying 'channel.' The final component of the memory is the barrier that acts like a 'lock' to retain electrons in the floating gate during data retention. The barrier is unlocked to allow charge to flow when the memory is being written or erased.
PCGamer's Dave James provides a comprehensive explanation of how the technology works. Still, in simpler terms, ULTRARAM will let you leave your PC in sleep mode for much longer and pick up exactly where you left off without any hiccups.
This includes any browser tabs as well as programs you left running. And with ULTRARAM's fast performance, you should have your PC up and running in a jiffy.
In a perfect world
The technology is still in its early stages, and it's impossible to tell its direction. However, this could potentially revolutionize the computing world significantly.
Think of how this will impact how we do things, especially regarding productivity. The whole concept of being able to leave your device on hibernation without a care in the world about you losing your work is simply mindblowing. How will this impact productivity? Does it have any setbacks? Only time will tell as we await its applicability and costing.
[ For more curated Computing news, check out the main news page here]
The post ULTRARAM could potentially revolutionize the PC landscape as we know it first appeared on www.windowscentral.com