From www.techradar.com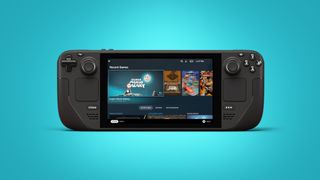 (Image credit: Future)
The Steam Deck is officially one year old, and to celebrate, Valve has just posted the first-ever price cut for this excellent gaming hand-held.
At 10% off, it's not the biggest discount in the world, but it's still a fantastic deal for those who were up until this point on the fence. All three storage variants are available with this discount and there's currently a one to two-week expected delivery date. This particular Steam Deck deal coincides with the ongoing Steam Spring Sale and will be available until March 23rd.
Outside the US? We've displayed USD pricing but this Steam Deck discount is available worldwide. Simply click through to the Steam Store and you'll get relevant pricing for your location.
An awesome little gaming handheld
If you haven't picked one up already, it's well worth considering the Steam Deck if you're a PC gamer with a large steam library. We were impressed during our Steam Deck review when we put the device through its paces, in particular by the overall design and the flexibility that the device offers (you can easily hook it up to big screens, for example).
Overall, performance isn't super high-end but you can play a surprisingly large number of titles at 60FPS thanks to the Steam Deck's modest 800p resolution, which looks tack-sharp on its 7-inch OLED display. Game compatibility, which was a minor issue at launch, is rapidly improving too, thanks to a number of iterative updates from Valve for the Deck's Linux-based Steam OS. We've even seen Valve recently introduce an excellent feature that enables you to file transfer directly onto the device itself – extremely handy for cutting down on lengthy downloads.
According to recent reports and an Interview with the Steam Deck's designer, we're also a few years away from a 'Steam Deck 2'. This, in our opinion, is good news if you're still on the fence. You should be able to squeeze out plenty of hours on the Steam Deck without having to worry about an upgrade looming on the horizon.
Need something with a little more power? Check out our recommendations for this week's best cheap gaming laptop deals to get a decent machine for well under $1,000.
The post Valve celebrates the Steam Deck's birthday with first-ever discount first appeared on www.techradar.com
In many places around the world, horse races are an attraction that a lot of people love to watch. With the fast-paced action and thrill that each game provides, it is no longer surprising to know that millions of fans have grown fond of it.
Cybersecurity threats have become vast and more sophisticated. The rate of malware attacks and malicious activity counts within seconds despite the size or sector the organization belongs to — no one is safe enough to expect that foe actors will bypass vital company resources.