From hothardware.com
This month marks the two-year anniversary of Windows 11 and by the numbers, many of you reading this on a Windows PC are rocking Microsoft's latest-generation operating system. However, even more of you are running Windows 10. A lot more, as it turns out—around three out of every four Windows PCs have Windows 10 installed, compared to around just one out of four for Windows 11.
Both of those are rounded up estimates based on the freshest audit from StatCounter, as there are still some Windows 8/8.1, Windows 7, and even Windows XP stragglers. However, those versions collectively account for less than 5% of all Windows PCs.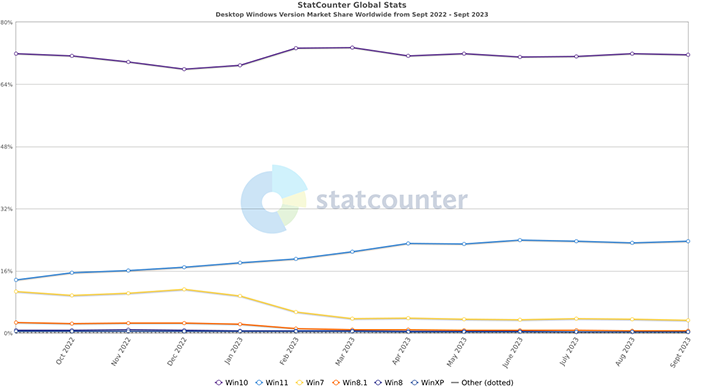 As of the end of the September, StatCounter's figures show that 23.61% of Windows PCs are running Windows 11. From a glass-half-full perspective, that makes it the second most popular version of Windows in a relatively short time. But it's also a distant second behind Windows 10, which is installed on 71.64% of Windows PCs. After those two, you're looking at Windows 7 at 3.34%, Windows 8/8.1 at a combined 0.96%, and Windows XP at 0.34%.
Microsoft undoubtedly hoped that Windows 11 would be further along at this point. There's already chatter of a big Windows refresh looming, which could indicate that Windows 12 is on the horizon. Supposing that's the case, time is running out for Windows 11 to gain market share parity with Windows 10, let alone leapfrog its predecessor. So what gives?
Part of the reason is because Windows 11 was somewhat of a surprise release. Windows 10 was supposed to be the last monolithic Windows release, with Microsoft switching to yearly feature updates rather than introducing a whole new OS version. But somewhere along the way, Microsoft changed its mind.
The release of Windows 11 meant leaving behind systems that didn't meet certain requirements, the biggest one being enhanced security through compatible Trusted Platform Module hardware. I own an ASUS ROG G75IJY laptop from 2015 with an Intel Core i7-4720HQ processor, GeForce GTX 980M, 24GB RAM, and 256GB SSD + 1TB HDD storage that, while still serviceable for general purpose computing chores and lightweight gaming, it's not officially compatible with Windows 11. If that was not the case, it would join the ranks of Windows 11 systems in the wild.
Windows 11 also switched up the taskbar placement and made other changes to the UI, most recently with the addition of Windows Copilot. While these are relatively easy to customize (we recently outlined how to turn off Windows Copilot), some users are obviously opting to stick with Windows 10.
Will the pecking order change before Windows 12 comes out? Time will tell though the market share data doesn't look promising in that regard—Windows 10 was sitting at a 71.88% share exactly one year ago, so it's only lost 0.26% in the past 12 months.
[ For more curated Computing news, check out the main news page here]
The post Windows 11 Is Getting Crushed By Windows 10 In This Stat And It's Not Even Close first appeared on hothardware.com