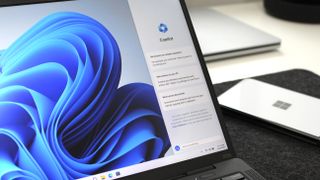 The new Windows Copilot sidebar (Image credit: Windows Central)
What you need to know
Microsoft has announced that it's bringing AI to Windows 11 via integrated "Copilot" experience.
Windows Copilot will be able to offer contextual actions and suggestions based on what's currently on screen.
The feature will be available in preview starting next month.
---
It's finally happening! Microsoft is bringing its AI Copilot functionality to Windows 11 as a built-in tool for enhancing productivity workflows. The company announced the "Windows Copilot" at its Build 2023 developer conference, and it works similarly to how Bing Copilot works in Microsoft Edge.
The Windows Copilot feature can analyze content on screen and offer contextual suggestions and actions based on what's being viewed by the user. The Copilot is accessible via a button on the Taskbar, can be moved around or docked to the right or left side of your screen when running, and features a chat box that runs along the bottom for inputting commands and asking questions.
"Windows is the first PC platform to provide centralized AI assistance for customers," Microsoft Chief Product Officer Panos Panay said in today's announcement post. "Together, with Bing Chat and first and third-party plugins, you can focus on bringing your ideas to life, completing complex projects, and collaborating instead of spending energy finding, launching, and working across multiple applications."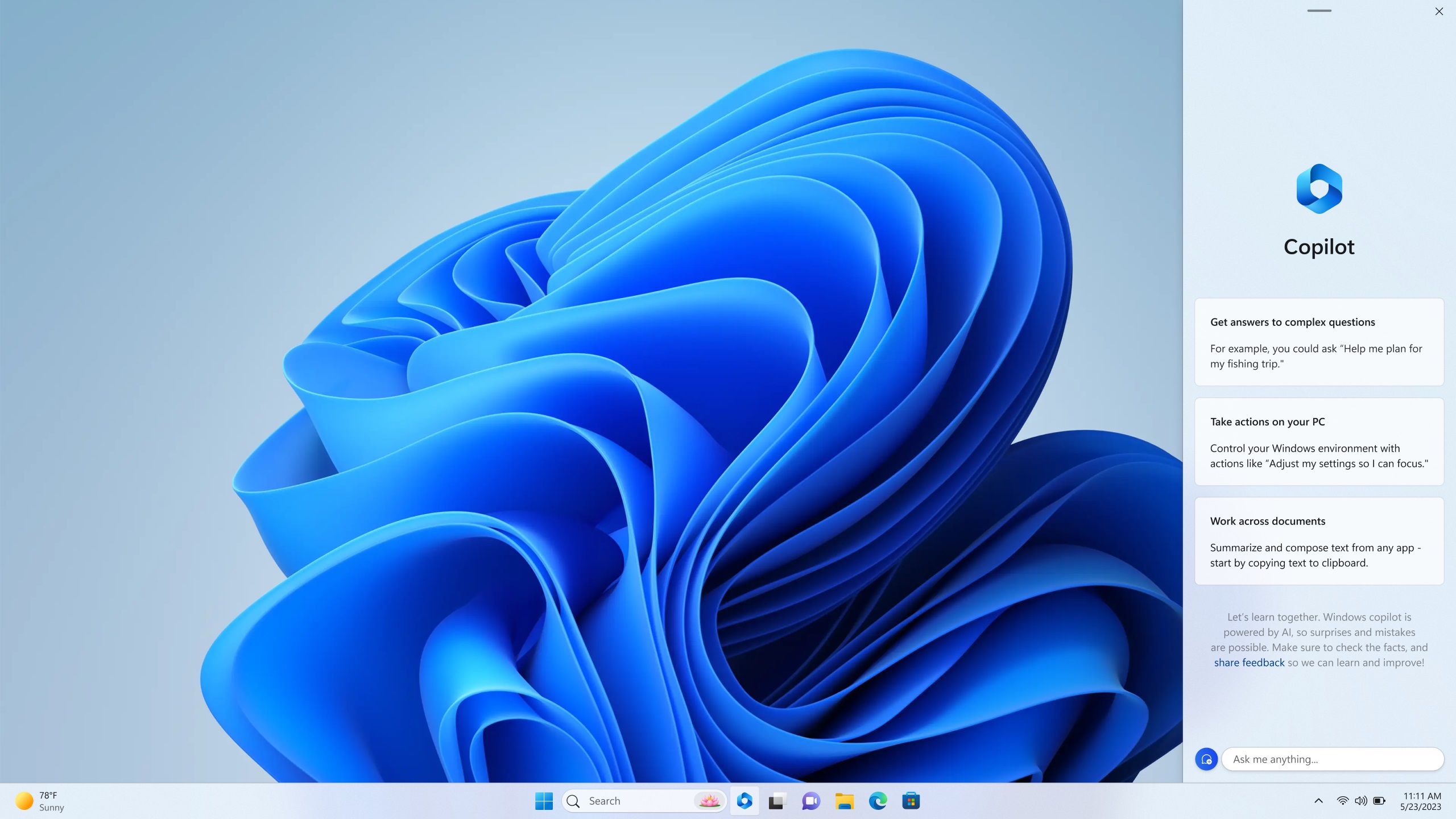 Microsoft says the new Copilot acts like your "personal assistant" for everything Windows, essentially replacing Cortana that came before it. You can ask it to configure Windows settings, open apps, analyze text and images within apps, initiate snap assist, check for updates, and more. It's a tool for controlling many aspects of your computer, turning everyone into a power user.
Unsurprisingly, the Windows Copilot is based on the same AI technology that Microsoft has been using as part of Bing Chat, meaning you can ask Windows Copilot to search the web in addition to helping out with tasks ongoing locally on your PC. It even supports Bing Chat and ChatGPT plugins, making Windows Copilot an extensible platform.
Microsoft says the Windows Copilot will be available in preview as part of the Windows Insider Program sometime in June, which also means it will likely roll out to all users as part of the Windows 11 23H2 release in the fall. In fact, Microsoft has also announced other new features that are in the works for Windows 11. Support for native RGB peripheral controls is on the way, along with in-box support for archive formats such as 7zip and more improvements to the Taskbar.
The company will be talking more about the Windows Copilot during its Build 2023 developer conference, specifically at its AI session hosted by Panos Panay and Corporate Vice President Rajesh Jha on May 24. Be sure to tune in to learn more.
The post Windows 11 is getting its own integrated AI assistant, powered by Bing Chat and ChatGPT first appeared on www.windowscentral.com
In many places around the world, horse races are an attraction that a lot of people love to watch. With the fast-paced action and thrill that each game provides, it is no longer surprising to know that millions of fans have grown fond of it.
Cybersecurity threats have become vast and more sophisticated. The rate of malware attacks and malicious activity counts within seconds despite the size or sector the organization belongs to — no one is safe enough to expect that foe actors will bypass vital company resources.